Jordan Downs housing project's little-told history is embraced as immersive theater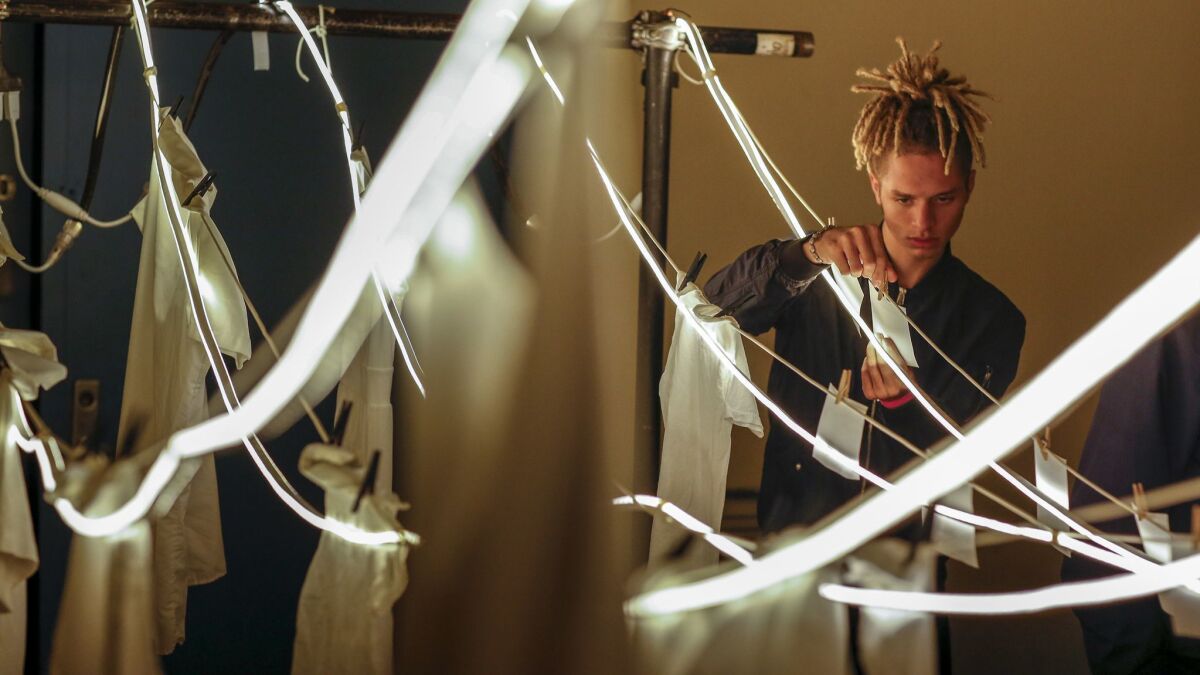 Standing in the courtyard of the Jordan Downs recreation center, cast member Marcenus M.C. Earl opened Cornerstone Theater Company's latest production by cutting right to the heart of the predicament facing the 2,600 residents of the historic housing project: Their 700-unit development in Watts will inevitably be demolished as Jordan Downs is transformed into a mixed-use, mixed-income "urban village."
"We are standing on the bleeding edge of change," Earl said as a crowd of about 60 gathered last week for a preview of "A Jordan Downs Illumination," which runs through Sunday. Set in and around the Jordan Downs recreation center, the immersive production offers residents and outsiders the opportunity to engage with the history of one of the oldest housing projects in L.A.
Like all Cornerstone productions, community members make up much of the cast and crew. Community performers act alongside the professional ensemble members, and residents interviewed in earlier meetings are voices heard throughout the work.
"A Jordan Downs Illumination" is primarily for the community to see itself represented, writer and director Nancy Keystone said, but her intention is to create something interesting for anybody.
During the preview, the convergence of theater and real life played out as children ran through the playground, L.A. police officers stood in the background and helicopters buzzed overhead as participants were split into three groups to experience the performance. Guides, who are residents of Jordan Downs or other parts of Watts, led groups through each of the three stations in the production.
One station, dubbed "Hall of Decades," is a makeshift time capsule dedicated to little-known facets of Jordan Downs' history. Inside small spaces designed to look like era-specific living rooms, performers gave dramatic reenactments of brief snippets from the 1940s to the 2000s.
The performers told stories of Jordan Downs' beginnings as a temporary home for factory workers during World War II, Eartha Kitt's dance classes at the recreation center in the 1970s, and track star Florence "Flo-Jo" Griffith Joyner, who grew up in the development. They highlighted the 1992 Watts street gang truce, declared just three days before the riots, and the shift in Jordan Downs from predominantly black to mostly Latino in the 2000s.
Another station called tackled the challenges of relocating Jordan Downs residents into new units.
After being ushered inside a small tent, this group split even further and was handed a stack of fictitious family descriptions. The goal of game was to determine which families would move into upgraded units and which families would be stuck in temporary housing indefinitely. It's supposed to be an impossible task, mirroring the possible experience of relocating residents.
ARCHIVE: The supposed "rebirth" of Watts makes Jordan Downs residents uneasy »
Jordan Downs is in Phase 1 of an ambitious $1-billion rebuilding plan by the city's Housing Authority. The plan calls for about 1,400 units, green spaces and a retail center. Although all residents "in good standing" are promised a unit in the new development, many have expressed concern, wondering what would happen when their buildings get torn down and others begin moving in.
At the third station, Earl, a longtime Watts resident, gave his own personal history of Jordan Downs before leading the group into the set of a model one-bedroom apartment filled with audio recordings from Jordan Downs residents. Outside of the apartment, residents pinned short, handwritten memories of home on an illuminated clothes line.
For nearly two years, Keystone and others from Cornerstone met regularly with Jordan Downs residents to better understand their concerns about the transformation project. In addition to meetings, the theater artists aimed for full immersion, holding creative workshops with residents involving recipe-sharing, photography, art and other activities. It was important to share narratives other than those of poverty and violence, an association that plagued Jordan Downs for decades, said creative producer Bruce Lemon Jr.
Media usually focuses on the negative stories in Jordan Downs, Lemon said. "That's really hard to deal with when you're growing up in a community and all you're hearing about is the terrible things that have happened. … We wanted to shed a light on a different side."
Keystone's original idea was to set the installation inside several apartments before they were demolished, but that didn't work out. She eventually settled on framing the production around the recreation center. "We were inspired by the actual site and wanting to tell the stories within those actual places," she said.
Raised in Watts, Lemon also noted the importance of staging a production in the community.
"There are kids that are running around on the weekend and after school who are just in our space watching us set this big production up," he said. "The hope is that they are seeing what we're doing and getting ideas about what they can do, and being influenced with more options for their life."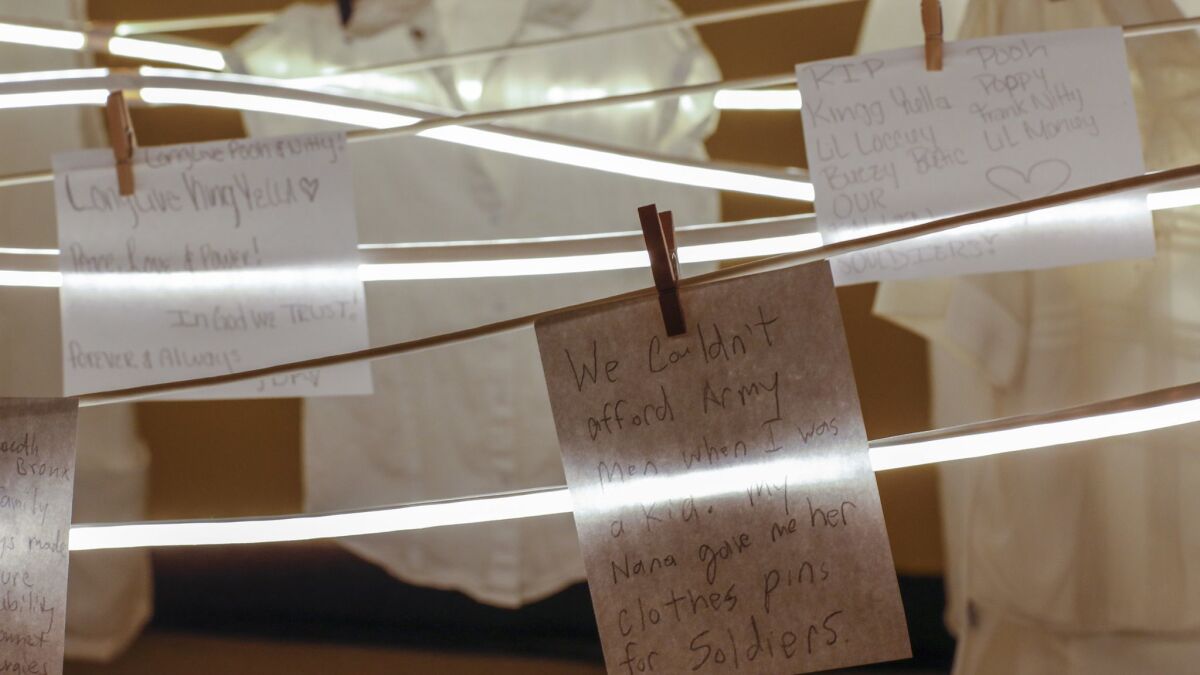 =====
Cornerstone Theater's "A Jordan Downs Illumination"
Where: Jordan Downs Recreation Center, 9900 Grape St., L.A.
When: 8 p.m. Thursday and Friday, 3 and 8 p.m. Saturday, 3 and 7:30 p.m. Sunday
Admission: Pay what you can (suggested donation $20)
Info: cornerstonetheater.org
---
Get our daily Entertainment newsletter
Get the day's top stories on Hollywood, film, television, music, arts, culture and more.
You may occasionally receive promotional content from the Los Angeles Times.