This orchestra wants no conductor: How Kaleidoscope aims to move in different directions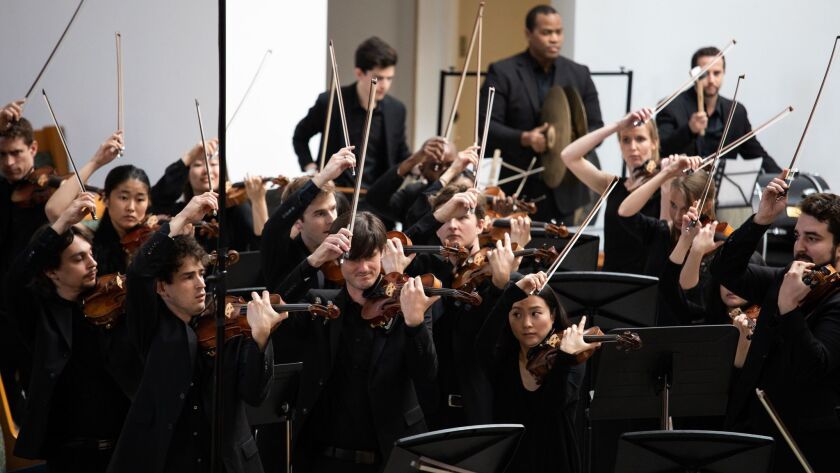 Does an orchestra need a conductor? For clarinetist Benjamin Mitchell, founder of the Kaleidoscope Chamber Orchestra, the answer is a resounding no.
Sometimes a conductor can even create an invisible barrier between the players and their audience, he said.
"The conductor is usually the face of an orchestra," Mitchell said, "but each musician having an equal say in the artistic process brings extra energy to the music."
In Kaleidoscope's five seasons, connecting with the audience has been key, said Mitchell, 38, who didn't want the group to be perceived as stuffy or overly formal — black performance attire notwithstanding. Hence the ensemble's name, which evokes a colorful kids toy while suggesting music's many colors and L.A. as a vibrant, culturally diverse city.
Last season Kaleidoscope performed late-night concerts in downtown L.A. that included a full bar, food trucks, dancing and a post-concert DJ playing electronic music past midnight.
"The idea was to make the concert experience inviting so the audience feels invested and part of what we're doing," Mitchell said.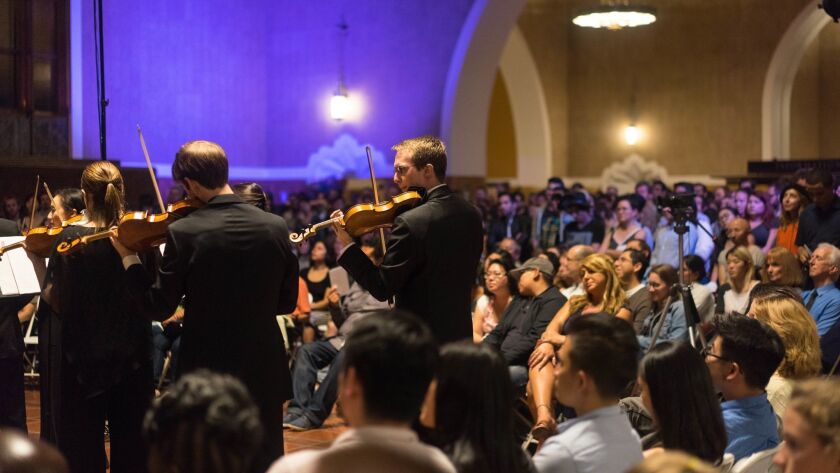 On Thursday, Kaleidoscope is giving a free concert of music by six contemporary L.A. composers at the Hammer Museum in Westwood — part of the group's effort to do things differently. Three years ago, the ensemble gave free concerts in Whole Foods stores in exchange for food donations for homeless shelters. This season 75% of its concerts are free.
Mitchell said the ensemble sustains itself largely on donations and a pay-what-you-can model. Only 4% of its concerts are ticketed, though that does factor in performances at schools and hospitals. Two other upcoming shows — one at the Wallis Annenberg Center for the Performing Arts on Feb. 23 and another at the Musco Center for the Arts at Chapman University in Orange the next afternoon — will be ticketed events with a program consisting of Caroline Shaw's "Entr'acte," Prokofiev's Piano Concerto No. 3 and Beethoven's Symphony No. 5.
The concerts usually run 60 to 90 minutes with no intermission. Aside from the cellists, musicians stand while performing, creating a sense of an orchestra always in motion. Performers have ranged in age from 17 to late 60s.
Mitchell said he was inspired by the conductorless Orpheus Chamber Orchestra, founded in 1972 in New York. That ensemble became known for bringing a chamber-like intimacy and detail to orchestral works.
"Many musicians say that chamber music is their first love," Mitchell said. "Not just for the great repertoire, but also for the process. In Kaleidoscope we take that democratic process and apply it to all repertoire, even large pieces like a Mahler symphony."
Kaleidoscope is nominally run by seven musicians who act as artistic directors, but all the musicians potentially have a say in how a score is interpreted and performed. Interpretive decisions, including the shaping of tricky balances or odd shifts in tempo, become a team effort during rehearsals.
For Rachel Fine, the Wallis' executive director, Kaleidoscope is re-imagining what a concert can be while dynamically advocating for young musicians and composers.
"They are lending themselves to a level of collaboration that most orchestras don't have," Fine said.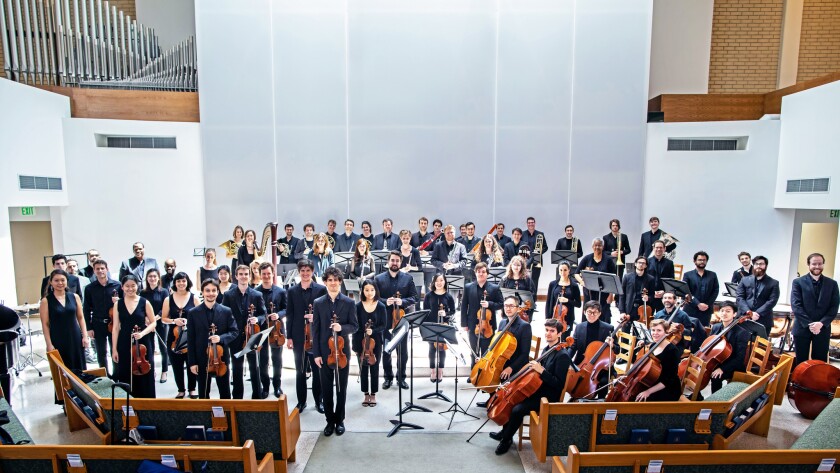 One of Kaleidoscope's most successful ventures so far has been its call for scores. The artistic team received 2,200 submissions last year from composers in 76 countries. Ten pieces were programmed as part of the ensemble's season.
Mitchell said Kaleidoscope chooses new works carefully because some are "less practical to do without a conductor." Almost three-quarters of Kaleidoscope's programming this season is by living composers.
Irene Kim, one of Kaleidoscope's artistic directors and featured soloist in Prokofiev's Piano Concerto No. 3, said the group's more democratic approach to larger-scaled orchestral works can pay big dividends.
"The Prokofiev concerto is usually played too fast," Kim said. "He was a master orchestrator, but textures and timbres can get lost. In Kaleidoscope, we let the orchestra players bring out the fascinating peculiarities of their parts."
The collaborative, artistic side of music always comes first.
"To not have any say can be stifling," Mitchell said. "We certainly don't always agree, but the real danger is if someone has a different idea but can't articulate it, because you need to have a conversation."
Sometimes, Mitchell added, a shared vision arises out of necessity.
"Everyone takes equal responsibility for the product. We don't have a conductor to blame."
♦ ♦ ♦ ♦ ♦ ♦ ♦ ♦ ♦ ♦
Kaleidoscope
At the Hammer: 7:30 p.m. Thursday. Program includes music by Ted Hearne, Sarah Gibson, Billy Childs, Julia Adolphe, Juhi Bansal and Andrew Norman. 10899 Wilshire Blvd., L.A. Free
At the Wallis: 7:30 p.m. Feb. 23. Program includes music by Caroline Shaw, Beethoven and Prokofiev. 9390 N. Santa Monica Blvd., Beverly Hills. $25-$55
At Musco: 4 p.m. Feb. 24. Same program as the Wallis. Chapman University, One University Drive, Orange. $25-$55
Information: kco.la
Support our coverage of local artists and the local arts scene by becoming a digital subscriber.
See all of our latest arts news and reviews at latimes.com/arts.
---
Your essential guide to the arts in L.A.
Get Carolina A. Miranda's weekly newsletter for what's happening, plus openings, critics' picks and more.
You may occasionally receive promotional content from the Los Angeles Times.