Yes, "Black Swan" choreographer Benjamin Millepied still leads the contemporary dance troupe L.A. Dance Project, even though he is now off running the Paris Opera Ballet and living in the City of Light.
He promised from the get-go, please recall, that L.A. Dance Project was a collective, not one person's vision. This freed up the in-demand Millepied, it's true, but it also would benefit the audience, he guaranteed. He was right about that.
The visionary in the spotlight Friday and Saturday nights was Belgian-born Sidi Larbi Cherkaoui, a cerebral and highly theatrical dance-maker whose 2015 "Harbor Me" premiered locally at the company's first show at the Wallis Annenberg Center for the Performing Arts in Beverly Hills.
"Harbor Me" is a tour de force trio, an intense meditation of ceaselessly flowing or staccato motion, in which not a single step or gesture is superfluous. Cherkaoui asks if humans can ever really shelter one another. Or are we, instead, like the elements water, air and fire, metaphorically squelching, blowing or burning one another to oblivion?
On Friday night, dancers Aaron Carr, Morgan Lugo and Robbie Moore (making his debut in a role created for the recently retired Charlie Hodges) provided the answer, and they made a heroic display in this marathon of rolls, spins, shoulder stands and other feats. Their relationships were at once symbiotic and manipulative.
An impulsive force drove their snaking arms and hands, with the rest of their bodies pulled along. They combined and separated into ever-changing shapes, the dance resembling a human kaleidoscope. This was intelligent craftsmanship, without bluster. The piece's focus drifted toward the end, but these three guys were always mesmerizing.
Cherkaoui's collaborators completed his somber atmosphere. Korean composer Woojae Park's "Extension" is a stark, minimalist number with potent reverberation (all the music was recorded). Lighting designer Fabiana Piccioli made the flooring appear striped. The backdrop was simple sheeting with a single vertical line, and golden light rays hit the stage from high above — altogether simulating a prison cell or monastic space. Female dancers performed "Harbor Me" on Saturday night, and they conveyed other stark impressions, no doubt.
The previously seen Justin Peck's "Murder Ballades" (from 2013 to a Bryce Dessner score) and Millepied's "Hearts & Arrows" (from 2014, to music by Philip Glass) were the program's bookends.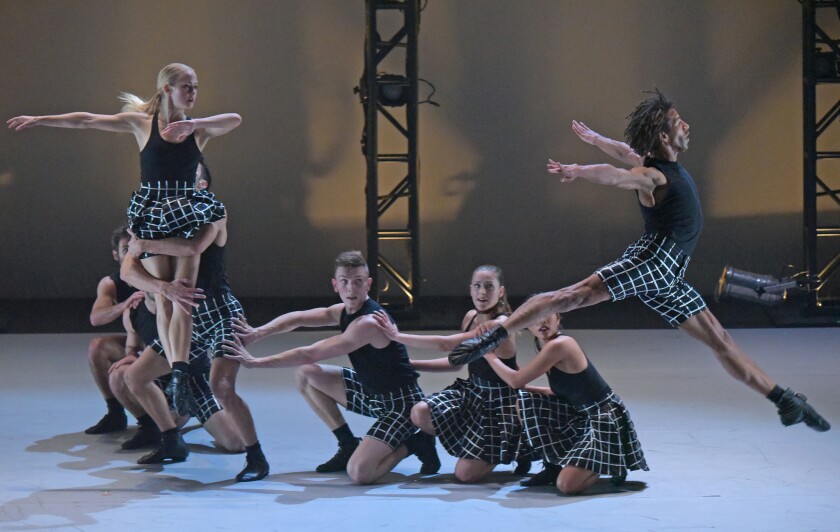 "Hearts & Arrows," called "Untitled" last time at the Theatre at Ace Hotel in downtown L.A., benefited from Liam Gillick's new background of lighting on scaffolds, but this charming if slight balletic work suffered from an anemic lack of energy Friday.
An ensemble of six barreled through "Murder Ballades," on the other hand, a six-part piece of large reach, suggestive games and folk overtones, with a hard-to-detect dark foundation. The enthralling Rachelle Rafailedes and Nathan Makolandra gave us a heartfelt duet, while Julia Eichten was a bright, energetic presence.
Four years young, L.A. Dance Project is leaping past its toddler stage. Veteran performers such as Hodges, who owned my heart, have left for other gigs. Eight of the company's nine members are fairly recent graduates from the Juilliard School. If they turn out like Eichten, all is well; but a sophisticated repertory calls for a little more maturity.
The Times' Culture Monster arts team on Twitter: @culturemonster
---