At LACMA, new urgency to finish raising $650 million for the new museum building
On the 14th floor of a Wilshire Boulevard high rise, Los Angeles County Museum of Art Director Michael Govan strolls the length of the museum's boardroom overlooking LACMA's campus across the street. From this height it resembles a rickety, cardboard architectural model.
The view is not what Govan might have imagined years ago, when groundbreaking on a building designed by Peter Zumthor was set to take place in late 2018. There are no signs of imminent construction. Instead, Govan gazes down on LACMA's mismatched rooftops and rusty air conditioner vents as tiny figures stream across the museum's courtyard like pieces on a Monopoly board.
The Zumthor project is about six months behind schedule. The process, including building permits and entitlements, is taking longer than expected, Govan says. And the museum's $650-million fundraising campaign, he adds, is "in pace with the project." Which is to say: going slowly.
LACMA's latest fundraising total is about $550 million, Govan says. Can he meet a self-imposed goal of $600 million before the end of December, even as new challenges emerge?
"We're steadily raising money and signing pledges. I don't feel there's any danger that the project isn't going forward," Govan says. But, he adds, ever the salesman, "we basically need to be at $600 million by the end of this calendar year."
And if not?
"It's not gonna work," he says.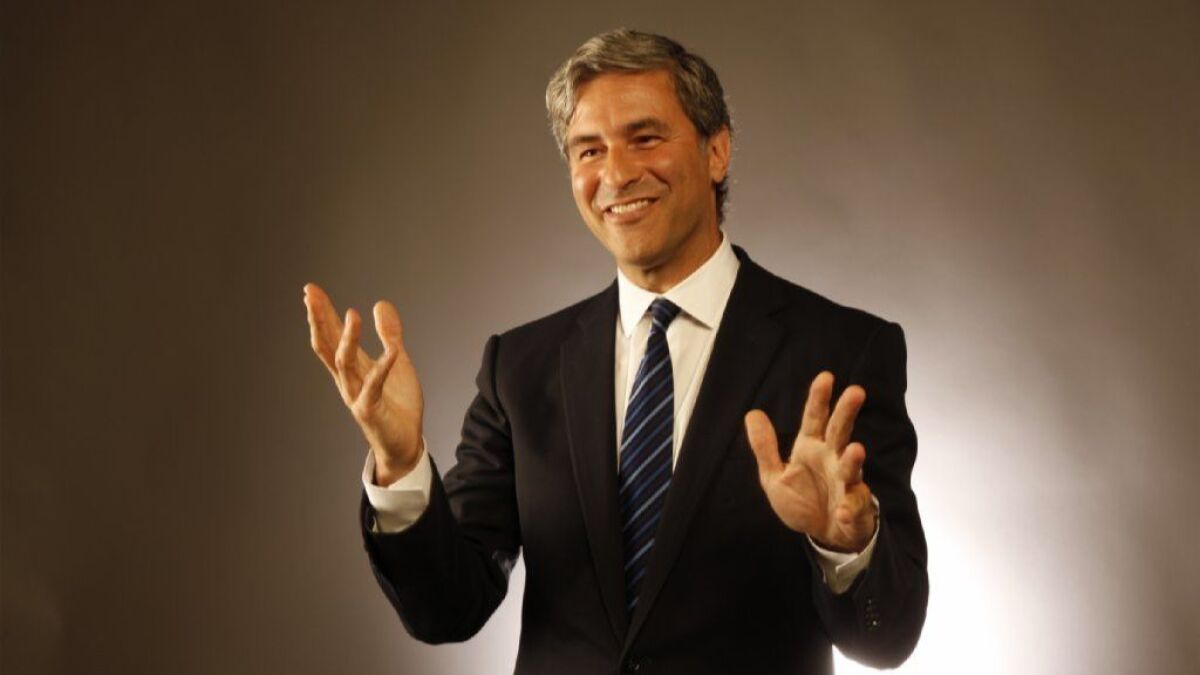 The LACMA building will be the realization of Govan's more than decade-long dream to create a town square along the museum-heavy Miracle Mile. But with groundbreaking tantalizingly close — now aimed for late 2019 — Govan faces a string of new challenges, he says.
U.S. tariffs on steel, other escalating building costs, general inflation and a construction boom in Los Angeles all threaten to further inch up the cost of the project, he says. The building's price tag already has jumped to $650 million from $600 million to provide for contingency costs associated with some of these factors. Govan estimates that unless he reaches the $600-million mark by roughly the end of this year, then "we would really have to reevaluate the amount of money we'd have to raise." Which would extend the fundraising period. Which could further raise building costs.
"If you wait too long, you're raising so much more money to keep up with that," Govan says. "That's why I don't want to be off our timeline. From the beginning, we said we'd be open in 2023 with the new building with the Metro stop. And right now, that's still in sight."
One potentially game-changing deadline, Govan says, comes this fall when the project's final environmental impact report will be complete. "It's the big hurdle," Govan says, since it addresses seismic engineering, geotechnical issues and greenlights building permits and entitlements. It also determines whether L.A. County releases $125 million it promised toward the project.
LACMA got a $150 million pledge from David Geffen last year, but no major gifts have been announced since. New funds, Govan says, are primarily coming from board members and newly cultivated philanthropists.
But how many donors are there to go around? The future Academy Museum next door has raised more than $300 million toward its $388-million campaign. A major Hammer Museum expansion this year received $50 million in gifts from L.A. philanthropists Lynda and Stewart Resnick and Hammer board Chairwoman Marcy Carsey, and the Orange County Museum of Art plans to break ground next year on a 52,000-square-foot building at the Segerstrom Center for the Arts in Costa Mesa.
Govan says that concurrent building projects don't deplete the philanthropy community. They galvanize it.
Many arts resources in the region — the Getty Museum in L.A., the Norton Simon Museum in Pasadena, the Broad museum downtown — have been largely funded by individuals. "Which is typical of L.A., it's a place of individuals," Govan says. "So therefore, there haven't been enough big, ambitious, public funding initiatives. You need big projects like LACMA's, like the academy's — challenging, big projects — to get people to realize they can work together and achieve things as a group … build an infrastructure that's useful for future philanthropy. Because people who give, give again."
LACMA and the Academy Museum, he says, "are getting more people into the game."
Academy Museum Director Kerry Brougher said the number of donors who have made major gifts to both museums is promising.
"There's often skepticism about L.A. and fundraising and the willingness of people to give to these projects," Brougher says, "but what's been raised so far proves that's not the case."
One design element that will link the two museums is artist Robert Irwin's garden plantings. He's planning to expand them up Fairfax Avenue along the Academy Museum side and is considering jacaranda trees, local to the neighborhood, against LACMA's Resnick Pavilion. He'll eventually plant installations to the north, near the museum's "Levitated Mass" sculpture.
Zumthor's design, which crosses Wilshire, has sparked polarized reactions from the public, with some seeing it as innovative and others likening it to a freeway overpass. In response to community feedback, Govan says the museum has tweaked the design, slimming the silhouette, making it more transparent and further opening the view under the building to the park area. LACMA also is considering pushing back the building a few feet off Wilshire to expand garden space, and the crossing over Wilshire has gotten narrower.
The building still looks basically the same, Govan says, but "any tweak we're making is less impact."
The museum is also rethinking gallery sizes, leaning toward a "less hierarchical" configuration that favors more midsize galleries rather than a mix of very large and tiny ones. Gallery exhibition space remains 140,000 square feet.
In preparation to demolish four existing buildings, the museum will have to pack and move about 125,000 objects. A team calling itself PACMA is steering the process. About half of the museum's permanent collection galleries already have closed, including areas displaying art from the Islamic world, South and Southeast Asia, Egypt and the ancient Near East and Japan.
On July 9, Level 4 of the Art of the Americas Building, devoted to the ancient Americas and Latin America, will close. In September, a two-year renovation on Bruce Goff's Japanese Pavilion begins; in the fall, the third floor of the Ahmanson Building, housing the European galleries, will close.
During this two-year period of rolling gallery closures, art will continue to be on view elsewhere in the museum, around the city and even around the world, says museum Deputy Director Nancy Thomas.
Objects from the Islamic collection, for example, are now on view in the museum's exhibition "In the Fields of Empty Days," and a large portion of that collection is on view in Dhahran, Saudi Arabia, at the King Abdulaziz Center for World Culture. Objects from LACMA's Mayan collection will be on display at museums in China over the next year. European art appears throughout the recently opened "To Rome and Back" exhibition at the Resnick Pavilion. And some of the Egyptian collection is on view in at the Vincent Price Art Museum in Monterey Park.
"We're kind of migrating things off campus to partner institutions," Thomas says.
It's a philosophy that's as much a considered strategy for how to curate and exhibit art in the reimagined LACMA of the future as it is a response to the immediate need to move art in the face of gallery closures and construction. When the new building opens, LACMA will prioritize art from its permanent collections over visiting shows in what will be rotating, cross-departmental special exhibitions. LACMA will use satellite locations to widen its geographic reach.
During the 4½ year period of construction, LACMA's Broad Contemporary Art Museum and Resnick Pavilion will remain open with 100,000 square feet of gallery space. It will be a trial run for this new curatorial practice, a way to "lean into that future," Govan says.
LACMA also is raising about $60 million to create two satellite locations in South Los Angeles for exhibitions and educational programming. It has a 35-year lease on an 80,000-square-foot, city-owned space in the South Los Angeles Wetlands Park area. And it's working with Los Angeles County to develop a site at the Earvin "Magic" Johnson Park, which is close to Watts Towers.
All of which might seem overly ambitious given that funding isn't yet secured for the Zumthor project. But Govan says he's tapping different donors for the projects, and he sees the South L.A. expansion as integral to the Zumthor building. It keeps art on view, engages new communities and — a chief motivation — addresses LACMA's need for art storage. The 1911 Wetlands building would require extensive renovations and is therefore more suited for showing, rather than storing, art. The Magic Johnson site could include custom, climate-controlled art storage.
"But my vision for it is sort of anti-storage," Govan says. "It's to put the work out for the public. And to do that, you need additional space over time."
How much space, exactly?
"I can envision a future where we double the size of LACMA over time, but it's in other communities and in other parts of L.A. during my next 10 years."
As Govan looks down on LACMA from the boardroom, his mind seems occupied not by outright optimism per se but building terms: "Liquified earth." "Cantelevers." "Vertical isolation."
"And general anxiety," he jokes of his long-held vision for the museum's town square — or squares — inching closer to reality.
"L.A. doesn't have one center and it never will," he says. "But it needs more centers, plural — more concentrations of cultural and other resources so there's a place to walk, to learn, to enjoy.
"I think that the vision that all of us have for this place — you can kind of feel it now."
Follow me on Twitter: @debvankin
---
Get our daily Entertainment newsletter
Get the day's top stories on Hollywood, film, television, music, arts, culture and more.
You may occasionally receive promotional content from the Los Angeles Times.