Review: For Los Angeles Chamber Orchestra, the welcome return of some familiar faces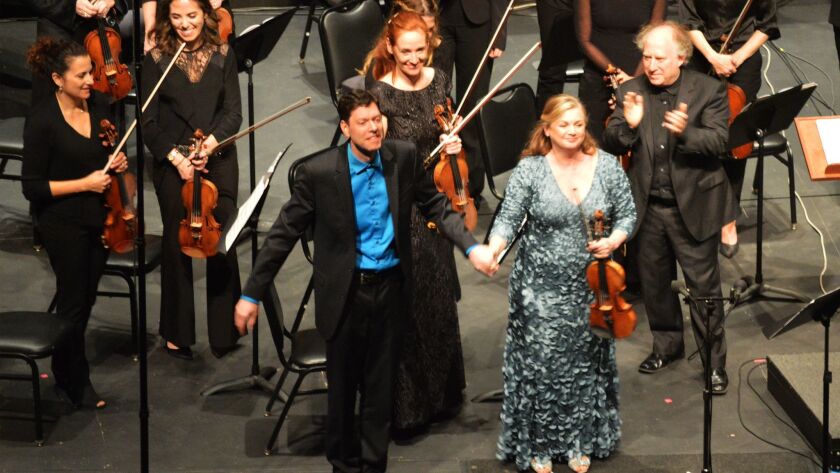 Jeffrey Kahane, the Los Angeles Chamber Orchestra's music director for 20 years, now the ensemble's conductor laureate, was back — if only for a weekend. And it was as if nothing had changed.
There he was, giving the pre-concert talk/interview at Royce Hall on Sunday night, as before. The program had the usual Kahane stamp: something neglected, something new, with a classical-period symphony to wrap up. The orchestra sounded terrific, in sharp, colorful, polished form. So sometimes you can go home again.
The evening also marked a return of sorts for Pierre Jalbert, who was a LACO composer-in-residence from 2002 to 2005 and who wrote the delightful Chamber Symphony for LACO during that time. For these concerts, he delivered an attractive Violin Concerto that LACO co-commissioned with the St. Paul Chamber Orchestra (which performed the world premiere last June) and the Milwaukee Symphony.
At first, I was reminded of the first Prokofiev violin concerto in the way the first movement developed — mysterious opening, gathering speed five minutes later. But it soon became apparent that Jalbert had another structure in mind, telescoping two movements into one. There was occasional use of sliding microtones; one feathery upward slide made an effective close to the first movement.
Otherwise, the 26-minute Jalbert concerto behaved the way most violin concertos do, with some patches of sustained song, plenty of virtuoso display points, two cadenzas for the soloist. The language is tonally based, and the orchestral part is far more than mere accompaniment and always alluringly scored (good to know that Jalbert teaches orchestration at Rice University in Houston).
The concerto was written for the concertmasters of all three orchestras to play. And so, the assignment fell to LACO's Margaret Batjer, who deftly handled the solo line's lyrical excursions and violin fireworks.
Respighi's "Three Botticelli Pictures" is one of those marvelous why-don't-orchestras-play-this-more-often 20th century pieces that you usually get to know only through recordings. Yes, LACO had done it twice before, but the last time was 22 years ago — under Kahane.
Those who know Respighi's "Roman Festivals," "The Fountains of Rome" and "The Birds" would hear a lot of the same brilliantly scored orchestral colors here as well — only now somehow compressed into a leaner chamber orchestra format without losing any lushness. For this rendition, Kahane relaxed the tempos a bit, letting everything flow in deliciously creamy textures.
For Haydn's Symphony No. 99, the classical closer, Kahane turned on the velocity — especially in the Minuet, which felt almost like a fast waltz — heightening the witty comments in the finale. Everyone looked like they were having a fine old time.
Incidentally, the concert was being recorded professionally, I hope for future release — no word as to when. This would be a significant addition to the meager number of LACO recordings made during the Kahane years, one of which happened to be of Jalbert's Chamber Symphony. Better late than never.
Twitter: @cnakano
ALSO
Long Beach Opera raises life's questions, loudly, in Stewart Copeland's 'Invention of Morel'
The week ahead in L.A. classical music
---
Inside the business of entertainment
The Wide Shot brings you news, analysis and insights on everything from streaming wars to production — and what it all means for the future.
You may occasionally receive promotional content from the Los Angeles Times.