Review: L.A. Phil begins season in earnest with Andrew Norman's game-changing 'Sustain'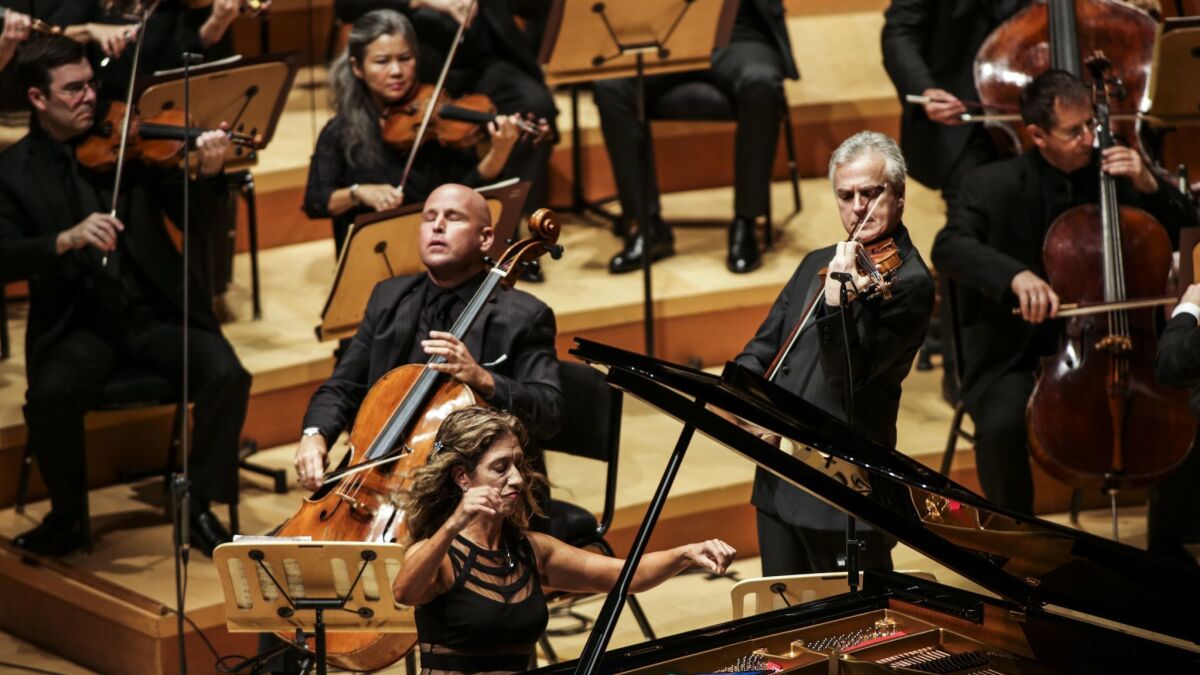 Music Critic
Let it be said straight away: Andrew Norman's "Sustain," which had its premiere at Walt Disney Concert Hall Thursday night, is a near out-of-body acoustic experience that sounds like, and feels like, the future we want, sans dystopia.
But, first, back to the present.
It is a little hard to believe that the L.A. Phil's overfull centennial season, its entertainments already having consumed much of our smoggy city's available arts oxygen, only really began Thursday. That was the orchestra's first regular concert of the season in Disney and the launch of its LA Fest, which features more than a dozen new and old commissions, and only one work more than 25 years old.
In the week before, Gustavo Dudamel led the startling "California Soul" and the unveiling of Refik Anadol's "WDCH Dreams" projected on the Disney exterior (which ends Saturday night). There was the epic "Celebrate LA!" street party Sunday with 1,800 performers followed by a free Hollywood Bowl concert concluding with appearances by Katy Perry and John Williams. By then, the orchestra had also chalked premieres by Julia Adolphe and Paul Desenne.
Thursday morning brought the news that L.A. Phil violinist Vijay Gupta had received a MacArthur "genius" grant for his work with the L.A. homeless and prison population. Another in this year's list was a former Dudamel fellow, Matthew Aucoin, who has moved across the street to be Los Angeles Opera's artist-in-residence.
There were more surprises still.
For Thursday's concert, the players came on stage wearing new concert dress. White tie and tails are finally out (except for very special formal occasions). The new look is all black. For the men: black suits, shirts and ties. Black dresses or pants for the women. Dudamel is also in a dark suit, but with a white shirt. Guest performers can wear what they like.
While the vast majority of the previous week's L.A. Phil attention-getting was about reaching out into the community, its naysayers have argued that any orchestra's essence lies in its fostering a great and unique art form.
For some, how the band plays Beethoven is all that really matters.
Beethoven is played in this opening program that runs through Sunday. So is conductor laureate Esa-Pekka Salonen's "LA Variations," which Dudamel uses to open a program about the orchestra itself. To that end, Beethoven's Triple Concerto featured as soloists concertmaster Martin Chalifour, principal cellist Robert deMaine and the orchestra's pianist, Joanne Pearce Martin.
But it is the stunning "Sustain" that musically thus far has done the most to redefine the modern-day orchestral experience. Its 38-year-old composer has already easily become the leading L.A. (and arguably leading American) composer of his generation. He is well known also as an educator and programmer, connected to programs at the L.A. Phil, Los Angeles Chamber Orchestra (which opened it season last weekend with one of his pieces) and USC, where he is on faculty. A messy early version of his big orchestral piece, "Play," was honored with a Grawemeyer Award, nominated for a Grammy, and called by some the greatest modern orchestral work even before Norman rewrote it for Dudamel and the L.A. Phil, making it live up to some of the hype.
The breakthrough, however, is "Sustain." Here, Norman thinks very big. He's over his various forms of "play" (he first got attention with an irresistible student score music that mimicked video games). In "Sustain," Norman envisions huge time scales, the lifespan of the earth and beyond.
It is a granitic 36-minute score that begins with a little fanfare from two pianos placed on either side of the orchestra and tuned a quarter tone apart. Immediately, we're in another world. And that world is one I've never heard before in this way.
Visually, the score shows massive patterns of notes over 135 exhibition-worthy pages. Aurally, the orchestra dives and ascends through gravity-defying swoops capable of leaving a listener's stomach behind. Inside the big ever-changing patterns that build to an extraordinary climax there are hundreds of titillating instrumental details, tinkles and tweets, fleeting melodic lines, scraping large plywood planks.
The work is made of repeated cycles structured like a spiral. The pianos come back halfway through and start the second one, which is half as long as the first. The third is again sped up double time, and the experience could be likened to being propelled in a spaceship toward a black hole. Eventually, time breaks down. The pianos float away to heaven-knows-where. Other instruments follow suit. In an exceptional feat of musical transformation, we wind up in an indefinable new dimension. This is something new.
Salonen was around the same age as Norman when he wrote "LA Variations," now an L.A. classic, in 1996. That was his breakthrough, a Finnish composer finding his voice on the West Coast. Dudamel has conducted it before and brings his own soulful voice to the luxurious mix.
The Beethoven concerto was swift. The solo trio played as the eloquent close colleagues they are, not showy soloists. In this context of everything else L.A. Phil, the subtly illuminating, sleek performance might have seemed somewhat, if necessarily, understated, as if it would have simply been too much to make a really big deal about Beethoven too.
Beethovenian sustainability is not in question.
LA Fest kickoff
Where: Walt Disney Concert Hall, 111 S. Grand Ave., Los Angeles
When: 8 p.m. Saturday, 2 p.m. Sunday
Price: $20-$216
Info: www.laphil.com
Get our L.A. Goes Out newsletter, with the week's best events, to help you explore and experience our city.
You may occasionally receive promotional content from the Los Angeles Times.