Review: Mahler's 'Song of the Earth' and sky and sea, the L.A. Phil way
Music Critic
Three points of electric blue punctuated Walt Disney Concert Hall on Thursday night in the final seconds of a Los Angeles Philharmonic performance of Mahler's "Das Lied von der Erde" (Song of the Earth), which was given an unconventional cinematic staging.
The cerulean illumination on a large screen behind the orchestra crept into the spaces around the skylights above the stage and above the main seating area. The hall became an embryonic expanse of both ocean and sky, with all the stillness of sun-flooded watery depths.
Appearing as a tiny figure steeped in this blue, mezzo-soprano Tamara Mumford sang "ewig … ewig" (for ever and ever) over and over, elongating each syllable. The notes were few, as a large orchestra thinned to the tinkle of harp, mandolin and celesta littering soft, ethereal drones in the select strings and winds. The sadness was overwhelming but in direct proportion to heightened awareness. Mahler slows down the experience of time just enough to begin to diminish distinctions between illusion and reality, life and death.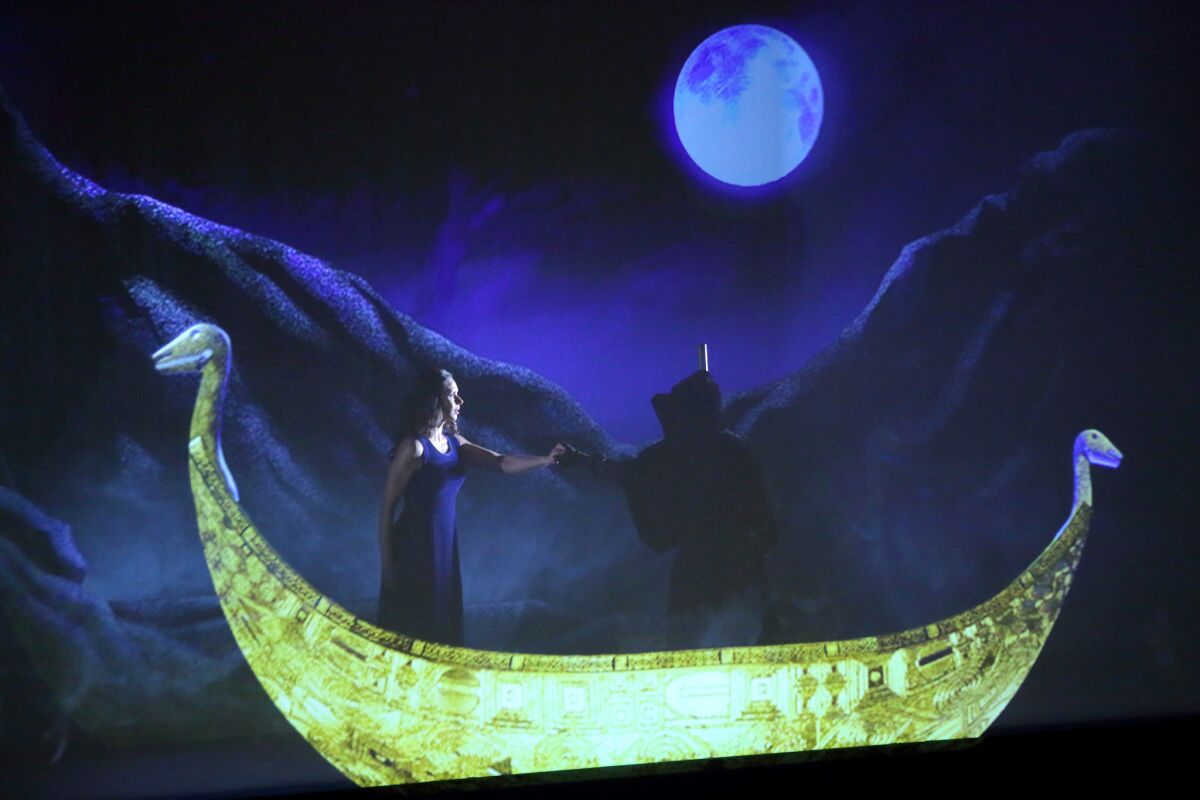 This was music and artistic director Gustavo Dudamel's first "Das Lied," and he was in a somber mood, as he dedicated all this week's four performances to his mentor, El Sistema founder José Antonio Abreu, who died March 24. Dudamel told the audience that every note he has ever conducted had the teachings and spirit of Abreu.
The performance was clearly Dudamel's farewell, but it was also another of the L.A. Phil's extravagant experiments with technology and theater. A joint project of the orchestra's resident director, Yuval Sharon, and the Chilean theater and video collective Teatrocinema, the production placed tenor Russell Thomas and Mumford behind the screen and inside a plethora of visual images meant to fancifully illustrate Mahler's songs.
That required some defense on Sharon's part in his Upbeat Live talk beforehand. A symphonist and composer of song, Mahler wrote no dramatic music, but he was a famed opera conductor and he elevated symphonies into great epics.
In "Das Lied," written late in Mahler's life and following the death of his eldest daughter and the revelation of a heart problem that would kill him three years later, the composer broke the symphonic mold. In these six songs that alternate between tenor and mezzo and have German-translated texts of Chinese poems, life is displayed as fragile, never quite what it seems on the surface and always centered on the expectation of parting.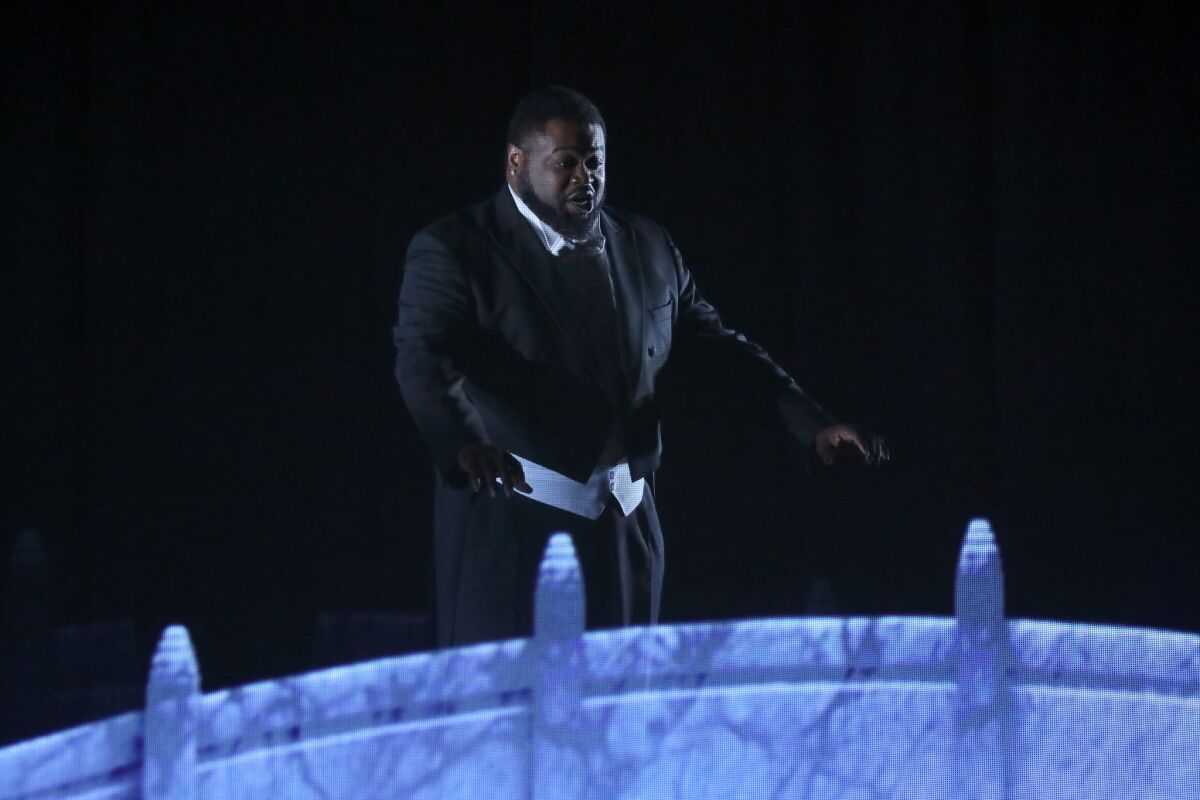 The tenor drinks to forget but forgets to forget. The mezzo shows us nature and love as delights you can see and almost touch, were they not a fraction of an inch out of reach. The long last song, "Der Abschied" (The Farewell), is Mahler's most moving masterpiece. In this saddest of all songs, the suns sinks, the flowers grow pale in the twilight, the world sleeps and a friend departs, for ever and ever.
It is devastating, yet it is suffused with indescribable beauty, the kind we can absorb only when we are on the verge of losing it. Mahler's incredible feat is not only to capture a sense of that beauty but then to do the impossible of extending it a minute or two longer than you might hope for, making that seem the most precious gift in the world.
Mahler does this in part by tying the six songs together musically, developing melodic themes symphonically in ways that have an overwhelming subconscious effect. This is, if ever there was, music of the mind.
So how to visualize or dramatize any of this? Sharon has the intriguing, and I think original, idea that the vocalists are friends or lovers. We are experiencing their parting, and that is what makes the work feel so personal.
Teatrocinema has other ideas. The troupe, headed by Juan Carlos Zagal, who was responsible for the visual concept and served as co-director with Sharon of the production, does the technology superbly. The singers become a seamless part of the animation.
But they are also dwarfed by it. The projections command greatest attention, and they vary in their effectiveness. The German theorist Theodor Adorno defined what has become to be known as late style by noting that in "Das Lied," Mahler "no longer admits the thought of triviality."
He did, though, admit trivial poetic images that can then be distorted out of their triviality. Unfortunately, those images, distorted or not, can seem banal on the large screen. A giant wine glass towers over Thomas, who also pilots a ship made of orchestral instruments, with a carved figurehead of Mahler on the bow and a French horn for a stern (from which Thomas sings).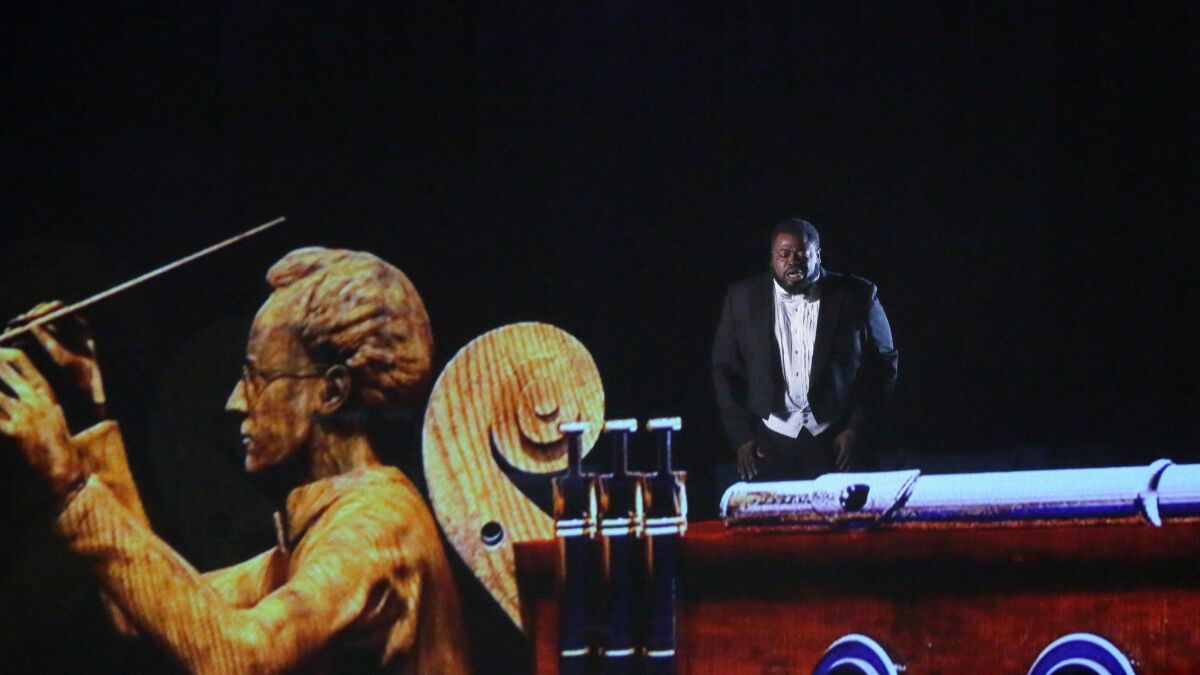 Girls see young men on horses and they are here nutcrackers. In "Der Abschied" a piano flies apart, the ivory keys becoming the unsteady ground underfoot. There is probably some symbolism in all this, but there is already more than enough symbolism to contend with in Mahler.
All of this took away from the immediacy of Thomas and Mumford, who were effectively game and never less than appealing. Dudamel's own relatively understated somberness with the orchestra felt less a tribute to Abreu than an attempt to hold everything together.
Throughout most of the 65-minute performance I wondered whether Sharon might not have had a greater effect merely directing the two soloists as characters with little or none of the visuals. But then he wouldn't have had that ending, where sea and sky merged and Mumford, whose voice seemed to grow and grow to meet Mahler's spiritual demands, became one with the universe.
Dudamel here found Mahler's exact hushed wonder. For a fleeting moment, the one we knew could never last (didn't want to last but also didn't want to end), the world was as it should be. Everything worked. Abreu had his hero's send off.
'Song of the Earth'
Where: Walt Disney Concert Hall, 111 S. Grand Ave., L.A.
When: 8 p.m. Friday and Saturday; additional performance 2 p.m. Sunday (music only, no projections)
Tickets: $65-$204 ($20-$199 for Sunday)
ALSO:
Meet the theater illusionists conjuring a red rainstorm inside Disney Hall
Kathleen Battle, Julia Bullock and the saga of opera singers of color
Get our L.A. Goes Out newsletter, with the week's best events, to help you explore and experience our city.
You may occasionally receive promotional content from the Los Angeles Times.