Twenty years old and counting, the Troubadour Theater Company has been celebrated for its blend of rock music, commedia-based clowning and improvisational flair, building an audience composed of not so much fans as followers — and eager participants in the Troubies' sold-out Christmas shows.
This year's offering, "Little Drummer Bowie" at the Falcon Theatre, is loosely based on a 1968 Rankin-Bass animated special and liberally infused with the driving music of David Bowie. However, despite some rousing musical numbers and a great title pun, the effort falls short of the group's typically antic heights.
A large problem is that the original source material is hardly as familiar or beloved as, say, "Rudolph the Red-Nosed ReinDoors" or "It's a Stevie Wonderful Life," two of the group's previous offerings. Also unsettling is the fact that, except for a couple of taped voiceovers, company founder Matt Walker has recused himself from the onstage action — an absence that's keenly felt.
Or perhaps the recent loss of the beloved Bowie, not to mention Hollywood heavyweight and longtime Troubie booster Garry Marshall, founder of the Falcon, contributed to the slightly subdued atmosphere.
Any Troubie show, even when less than stellar, is entertaining. "Bowie" is no exception, thanks to company stalwarts such as Rick Batalla, Beth Kennedy and Lisa Valenzuela, who deliver reliable laughs throughout. Longtime musical director Eric Heinly and his onstage band can always be trusted to raise the roof.
Broadway-seasoned Joseph Leo Bwarie, who plays the title role and shares a co-director credit with Walker, is a standout. Glitzily attired in Sharon McGunigle's witty costumes, Bwarie has a casually offhand manner that nicely balances his fellow Troubie pranksters, a reliably madcap crew.
------------
"Little Drummer Bowie"
Where: Falcon Theatre, 4252 Riverside Drive, Burbank
When: 8 p.m. Wednesday-Fridays, 4 and 8 p.m. Saturdays, 4 and 7 p.m. Sundays, plus select Tuesdays; ends Jan. 15 (check for exceptions)
Tickets: $30-$45
Information: (818) 955-8101, www.falcontheatre.com
Running time: 1 hour, 35 minutes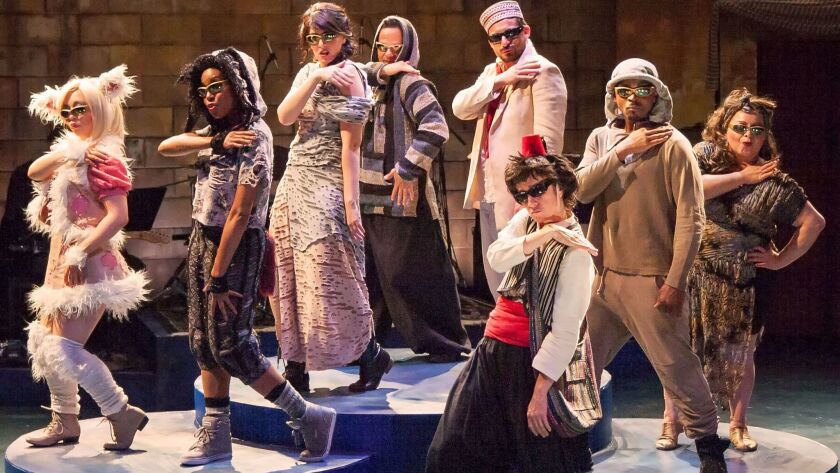 SIGN UP for the free Essential Arts & Culture newsletter »
Follow The Times' arts team @culturemonster.
ALSO
Pasadena Playhouse locks in Al Pacino for new production about Tennessee Williams
---