Review: The best classical music performances of 2016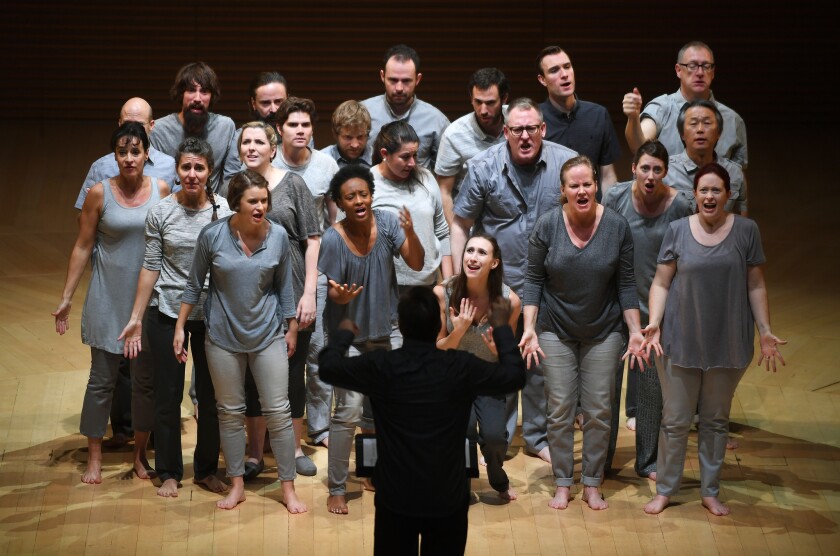 Music Critic
Yuja, Mirga, Mahler, Lenny, Louis, Luis and more. A year of the naked, the dead and the saved. The young and old and forgotten. A year in which 10 won't do:
YOLA. Youth Orchestra Los Angeles celebrated its 10th anniversary by giving music education a shot in the arm wherever the group went. That wherever was big time. Gustavo Dudamel took YOLA to the Super Bowl to join Beyoncé, Bruno Mars and Cold Play at halftime and also to the National Gallery of Art, where President Obama celebrated the national medals in arts and humanities. YOLA also made its first tour, traveling to California's Central Valley and ending with Dudamel conducting a concert that brought cheer to Oakland.
Yuja. Chinese pianist Yuja Wang had two milestones in her 30th year. She played her first performance of Beethoven's mighty "Hammerklavier" Sonata impressively in Santa Barbara; she also made her Salzburg Festival debut in Austria, exquisitely joining baritone Matthias Goerne in Brahms' "Die Schöne Magelone" song cycle. Along the way she nailed "Rhapsody in Blue" with Dudamel at the Hollywood Bowl like few others have.
Mirga and Santtu. Two young conductors who were assistants at the Los Angeles Philharmonic not all that long ago took their first major steps toward the big time. Mirga Grazinyte-Tyla became music director of the City of Birmingham Symphony in England, and Santtu-Matias Rouvali was appointed to the Gothenburg Symphony of Sweden. Leading riveting concerts with the L.A. Phil this year, both showed why.
Mahler. Mahler's last three completed symphonies got profound performances by conductors who have shown astonishing growth since their early days conducting the L.A. Phil. Simon Rattle (a principal guest of the orchestra in the 1980s) led an opulently textured Mahler Seventh with his Berlin Philharmonic at Walt Disney Concert Hall. The first concert by Riccardo Chailly (who made a problematic U.S debut with the L.A. Phil also in the 1980s) as music director of the Lucerne Festival Orchestra was a glorious Mahler Eighth. Dudamel returned to Mahler's Ninth, after having recorded with the L.A. Phil in 2011, with gripping new depth.
Peabody. Operatic voyeurs had all the full-frontal nudity they could ask for this year. At San Francisco Opera's "Carmen" and Los Angeles Opera's "Akhnaten," it was male. But the standout vocal performance was mezzo-soprano Peabody Southwell, who starred as a naked corpse in the L.A. Opera world premiere of David Lang's "anatomy theater."
Lenny. Leonard Bernstein's first three musicals got revelatory symphonic treatments thanks to illuminating conducting in semi-staged performances. Michael Tilson Thomas did the honors with the San Francisco Symphony for "On the Town," Grant Gershon carried most of the theatrical and musical weight in L.A. Opera's "Wonderful Town," and Dudamel found the soul of the L.A. Phil's "West Side Story" at the Hollywood Bowl (although Dudamel couldn't save an ill-conceived Salzburg Festival production of the show staring Cecilia Bartoli).
Louis. The L.A. Phil may just be the opera company of the year, having commissioned and given first-rate performances of not one but two of the year's most astonishing new operas — Louis Andriessen's "Theater of the World" and Gerald Barry's "Alice's Adventures Under Ground." The L.A. Phil also presented a musically illuminating performance of Debussy's "Pelléas et Mélisande" conducted by Esa-Pekka Salonen at Disney Hall and Puccini's "Tosca" with Dudamel at the Bowl.
Luis. The world premiere of composer Thomas Adès' "The Exterminating Angel," based on Luis Buñuel's film, about upper-class party-goers trapped in lethal upper-class inertia, was just the thought-provoking, unforgettable new opera to infringe on the upper-class opera-goers at the Salzburg Festival. They recognized a modern masterpiece when they saw it.
"Carré." Revelatory performances of German visionary composer Karlheinz Stockhausen's neglected "Carrè" for four choruses and works of Japanese visionary composer Toru Takemitsu's "The Dorian Horizon" for strings were reminders of just how magnificent the psychedelic 1960s were for music capable of producing magical sonic auras. "Carrè," a highlight of last summer's Ruhrtriennale, was performed in a magnificent industrial space in Bochum, Germany. "Dorian Horizon," part of program commemorating the 20th anniversary of Takemitsu's death, was brilliantly conducted by Oliver Knussen in Tokyo.
Cry. Peter Sellars oversaw the therapeutic theater staging of wrenching productions about life's last breaths: Orlando di Lasso's late 16th century ritual madrigal cycle "Tears of St. Peter" performed by the Los Angeles Master Chorale, and Claude Vivier's late 20th century opera "Kopernikus," presented at the Ojai Music Festival just as news arrived about the mass murder in a gay Orlando nightclub.
Comfort. Let the year's 10 not end in sad tears. We need an 11th, and it came just under the deadline wire with the performance of "Comfort ye" as part of the Street Symphony's "Messiah Project" at Midnight Mission, sung with irrepressible feeling (and knowing) by Don Garza, a longtime skid row resident.
---
Your essential guide to the arts in L.A.
Get Carolina A. Miranda's weekly newsletter for what's happening, plus openings, critics' picks and more.
You may occasionally receive promotional content from the Los Angeles Times.