Review: Joe Orton's 'Loot' cuts with softened edges at the Odyssey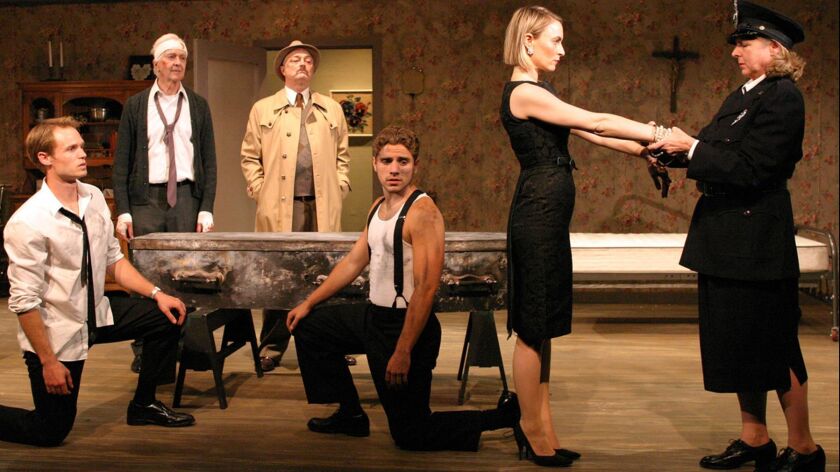 It took 50 years, but an uncensored version of Joe Orton's "Loot" finally opened in London in 2017 to commemorate the anniversary of Orton's death. That production restored the cuts made by the Lord Chamberlain at the time of the play's 1966 premiere. Even with those deletions, "Loot" was hugely controversial in its day, sending up society's sacred cows.
I'd love to get a peek at that "Loot." The play's current production at the Odyssey, which is launching its 50th anniversary season, is based on the long-published version that has been prolifically produced for decades. Although much of Orton's signature mordancy and wit has survived, his much-vaunted iconoclasm may strike some as tame by modern standards.
The wackiness commences when thieves Hal (Robbie Jarvis) and Dennis (Alex James-Phelps) conceal the cash from a bank robbery in the coffin of Hal's recently deceased mother, whom the guys offload, head down, into a locked wardrobe — just the beginning of the corpse's peregrinations.
ONSTAGE: Our weekly look at what's new in SoCal theaters »
Hal's religiously devout father, Mr. McLeavy (Nicholas Hormann), has no idea of his son's shenanigans, but his wife's murderous caregiver, Nurse McMahon (Elizabeth Arends), soon discovers their scam and wants in on the take. When Inspector Truscott (Ron Bottitta) arrives, the action becomes a farcical blur, with all the bad guys benefiting richly from their corruption, while the only good guy seems headed for doom — his punishment, apparently, for playing by the rules of a system gone mad.
Director Bart DeLorenzo is a wily hand who tweaks his material into a contemporary context. This production casts a live performer (Selina Woolery Smith) as the corpse, rather than use a stage dummy as was dictated by the early British censor. Also, DeLorenzo makes Hal and Dennis' romantic attraction more explicit — enriching their characters' interactions in the process.
The reiterative slapstick can wear thin and certain performers seemed a bit shaky on their lines opening weekend. However, all are droll, deft and well cast, with Hormann as the standout of the show playing the father. The actor is a master of comic timing whose subtle double-takes are pure pleasure to watch.
=====
'Loot'
Where: Odyssey Theatre, 2055 S. Sepulveda Blvd., West Los Angeles
When: 8 p.m. Fridays-Saturdays; 2 p.m. Sundays, through Aug. 10 (dark July 19-21)
Tickets: $32-$37
Info: (310) 477-2055, Ext. 2; OdysseyTheatre.com
Running time: 2 hours, 10 minutes
=====
Support coverage of local theater by becoming a digital subscriber and reading our latest news and reviews at latimes.com/arts.
---
From the Oscars to the Emmys.
Get the Envelope newsletter for exclusive awards season coverage, behind-the-scenes stories from the Envelope podcast and columnist Glenn Whipp's must-read analysis.
You may occasionally receive promotional content from the Los Angeles Times.