Zubin Mehta, now L.A. Phil conductor emeritus, lets the soul flow out of Brahms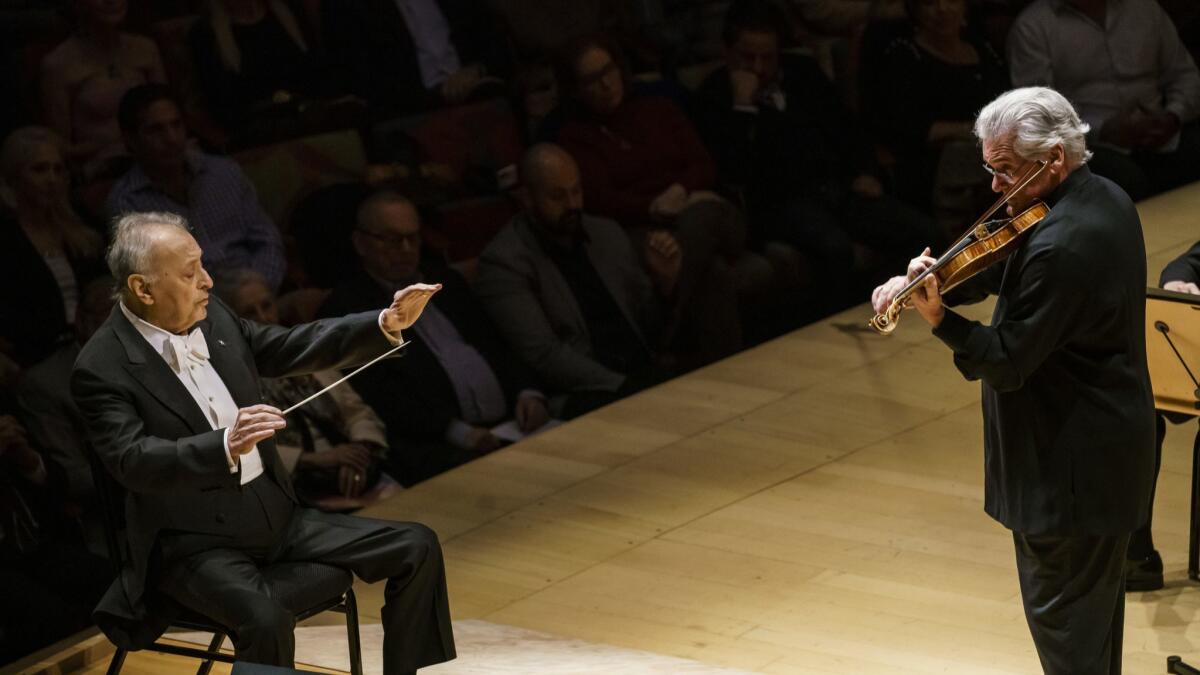 Music Critic
The ever-restless Los Angeles Philharmonic, possibly the most progressive and news-making arts institution anywhere, surprisingly began 2019 exactly as it ended 2018: suffused in tradition. Over the weekend, Zubin Mehta, long one of the world's most famous conductors, finished a cycle of Brahms' four symphonies and four concertos, which he had begun at Walt Disney Concert Hall at the end of December.
Aimez-vous Brahms? Aimez-vous Zubin?
Maybe you do, maybe you don't. But Francoise Sagan's romantic novel, "Aimez-vous Brahms?" was a bestseller back in 1959, which is to say ancient history. Three years later, a 26-year-old Mehta became the L.A. Phil music director. He's been in the limelight nearly 60 years. What more is there to be said about him? Or, for that matter, about Brahms, whose symphonies and concertos have been played to death?
It so happens, plenty. At Mehta's first Brahms concert last month, it felt like time to rethink that standard Mehta wisdom of an imperious conductor strong on bravura and drama, less heralded for depth. After the full cycle, there is no question.
At the concert last Thursday night, as Mehta began the second half of his cycle, there was a small ceremony to name him the L.A. Phil conductor emeritus. It was an obvious honor. In his 16 years as music director, he basically created a new orchestra, appointing 86 musicians. He moved it into the Dorothy Chandler Pavilion. He gave it a bold new sound that symbolized L.A.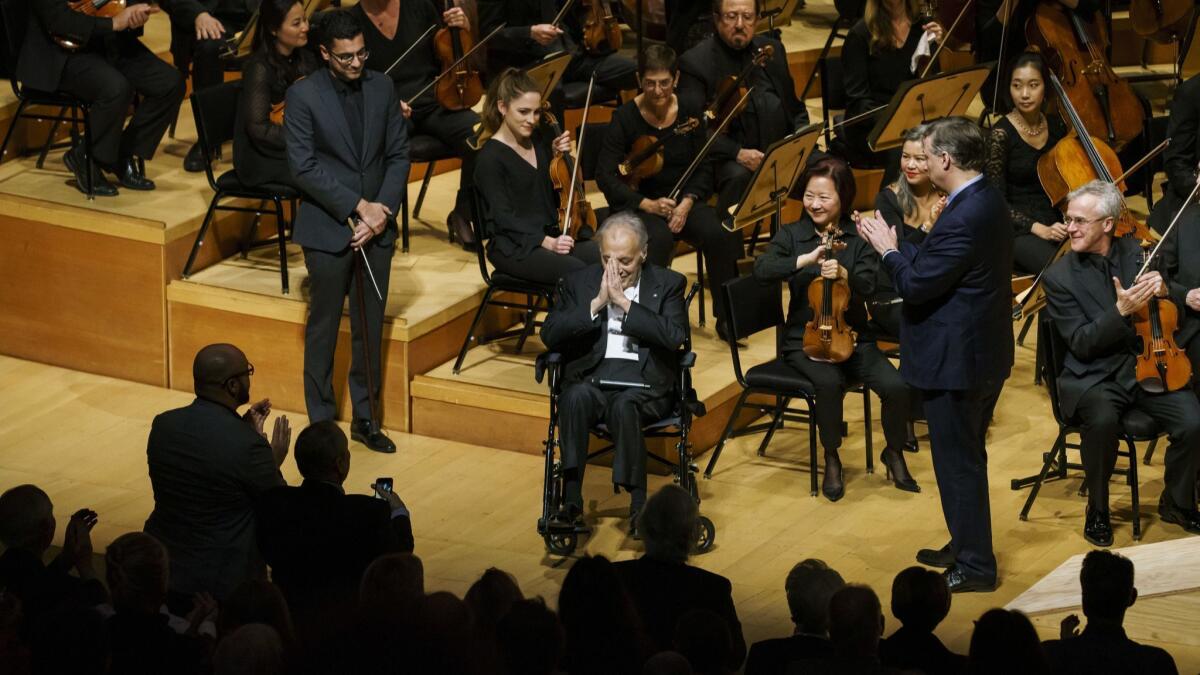 But the 82-year-old Mehta who accepted the honor was not the magisterial figure we have known all these decades. A serious bout with cancer and recent hip surgery has left him needing assistance onstage and having to conduct seated. He is likely conducting in pain or dealing with the effects of medications — or both.
"It all started here," he said of his career, speaking to the audience from his wheelchair. He had been young and inexperienced and learned much of the repertory in L.A. working with musicians who had played under the greats. "With their experience and my supposed humility, we were a good team." He then broke into tears, something that was hard to imagine Mehta ever having done before onstage.
But he refused to relinquish the microphone, continuing to reminisce about the past, rambling a bit. He then began Brahms Third Symphony somewhat unsteadily. There was a bit of rambling here as well. But with Mehta's defenses down, I found the performance downright revelatory.
As a young critic 40 years ago — it then being fashionable to harp on Mehta's shallowness — I had called Mehta's performance of Beethoven's "Eroica" Symphony formless. An editor objected. I might protest the form, I was told, but everything has form. Still, Mehta did not appear to have been thinking structurally, and I thought about nothing else, seeking the essence of music in its most hidden, abstract and complex underlying building blocks.
I've learned over the years to care more about experience than structure. Life is like that. All that is solid melts into air, etc., etc. Mehta can no longer parade onstage, head held high like a conqueror of orchestras. He still commands, no question about that. But the humility is no longer supposed. His connection with the music feels far more authentic.
It's clear, moreover, that he's always thought about music in ways that go beyond form, although that was hard to appreciate under all the bravura. Maybe this has something to do with Mehta having grown up in India. His father may have been India's leading orchestra conductor, and Mehta boasts a classic Viennese training. Yet, despite his obvious musical expertise, on some level Mehta brings an illuminating Indian sensibility to Western music.
To massively oversimplify, that sensibility is to treat music as something that flows like a river, as does a raga, rather than, say, a frozen symphonic edifice composed of harmonic building blocks. As a conductor, Mehta has always known exactly where he was going. Early on he made a name for himself having memorized scores, such as Stravinsky's "Rite of Spring," thought unmemorizable. But it was the journey rather than the whole that characterized his performance. Arrival, which is to say climaxes, have always been, and still are, his specialty. Audiences love him for that. Critics aren't supposed to.
And especially when it comes to Brahms, whose orchestral works are formally old-school with harmonies heavy as a German winter meal. But Schoenberg saw him as a progressive, because complexity opens a world of ambiguity.
The Third Symphony is the most ambiguous of the four. Brahms pretends he's as rock-solid as ever, with a forceful opening. Key structures, however, are uncertain. Gorgeous melodies come out of nowhere for no reason. Brahms gets gets carried away with melodic invention. Rapture is lifelike, it comes when you least expect or understand it. A conductor's job is to make sense of it all.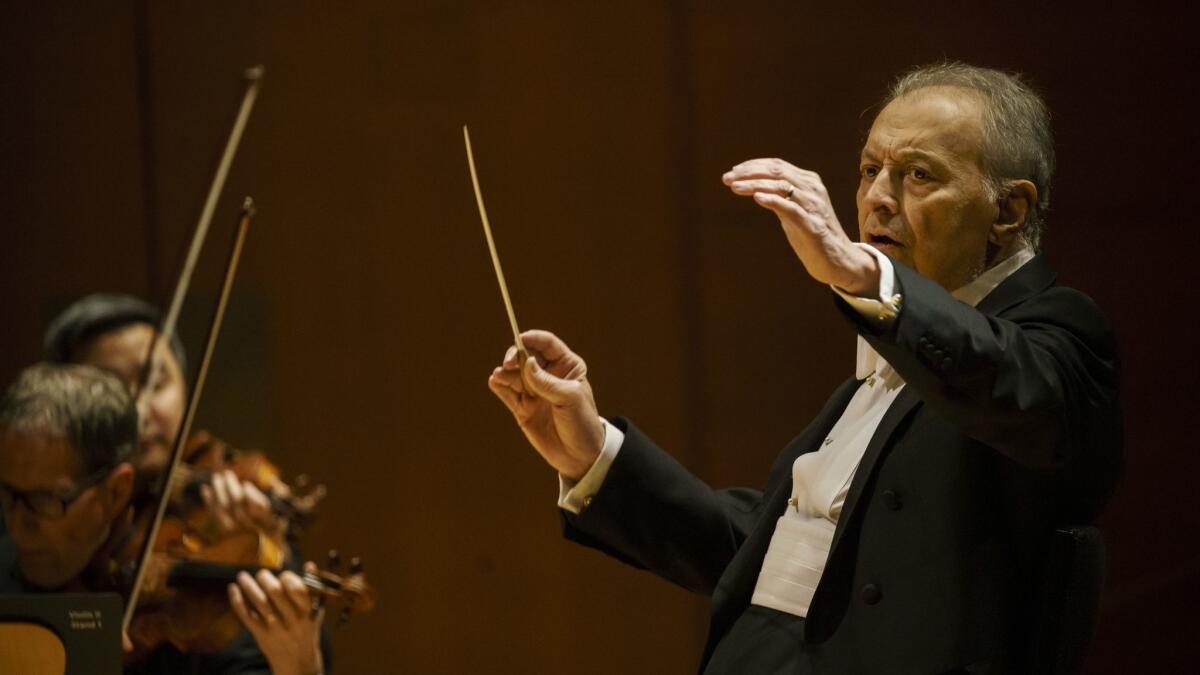 Mehta, though, followed Brahms and he followed his own bliss. He conducted from memory. There was never doubt that every note is embedded in his being, beyond the reach of pain or meds. The playing could be a little sloppy. It could also be downright brilliant, filling all the senses.
Of the four symphonies, the Third was thus the standout. In the bold First, Mehta made his own I'm-still-here bold statement, and some of that could also be found intruding into the lyric Second. The Fourth is a work of a certain resignation; Mehta gave it compassion and power.
As far as the concertos were concerned, Mehta proved a mensch, putting his soloists first. Violinist Pinchas Zukerman was slow to warm up Thursday in the Violin Concerto, with nuance coming more easily than tone quality. He was joined by the impressive cellist Amanda Forsyth on Saturday for a dramatic reading of the Double Concerto, which proceeded the Fourth Symphony.
Gustavo Dudamel, in a statement about Mehta, wrote that his "soul permeates the sound of the orchestra." In these concerts, Mehta's sound was unmistakable, but it was his soul that came across most of all.
Get our L.A. Goes Out newsletter, with the week's best events, to help you explore and experience our city.
You may occasionally receive promotional content from the Los Angeles Times.