Review: The indomitable Zubin Mehta, back with the L.A. Phil with something to prove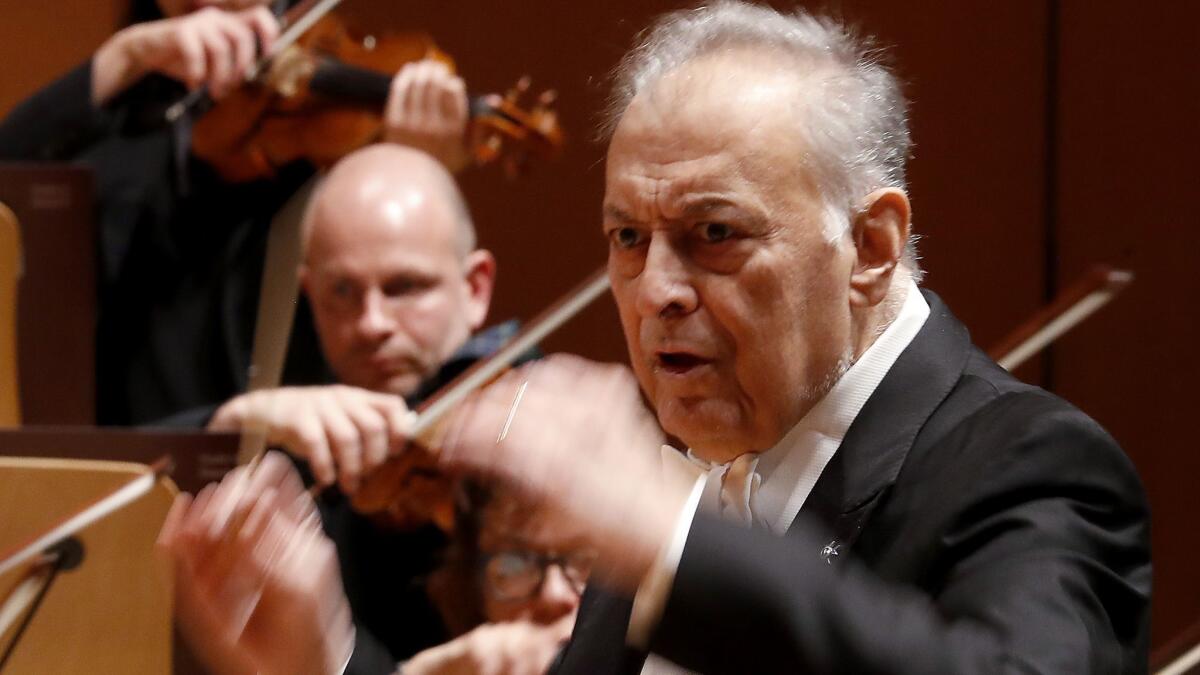 Music Critic
He became music director of the Los Angeles Philharmonic in 1962 at age 26, a post he held for 16 years, and he remained an L.A. resident ever since, so Zubin Mehta clearly has nothing left to prove in this town. He's been a sex symbol. He was Zubie baby. He has a star on Hollywood Boulevard.
Yes, he's had a rocky time with the press here and on the East Coast, where he served/survived as music director of the New York Philharmonic for 13 years. But in Europe he's been a fixture at the Vienna Philharmonic and Berlin Philharmonic for as long as anyone can remember and served an honorable tenure as music director of Bavarian State Opera in Munich. He has been music director of the Israel Philharmonic for half a century, although he's now finally stepping down. He is a national treasure in his native India.
In fact, Mehta does have something to prove: Brahms has been his bête noire, particularly when it comes to recording. Thursday night, when he began a cycle of Brahms' four symphonies and four concertos with the L.A. Phil at Walt Disney Concert Hall, his chosen programs for the orchestra's centennial season, he had something more important to prove as well.
Throughout his career, Mehta's performances have ranged more widely than any major conductor I can think of, from brilliant to hollow, from imaginative to haphazard, from exacting to inconsiderate, from caring to arrogant seeming, from tightly managed to showily episodic. But that was then.
Thursday night Mehta arrived a master. He was master of Brahms. He was master of a vibrant L.A. Phil, which gave him more than I've ever heard the New Yorkers, Berliners or Viennese give him. Most of all he was master of himself, rising above a year of health problems.
A shoulder operation and a malignant tumor sidelined Mehta for much of 2018. This fall, though, Mehta was back in Israel. The last day of November, he could even be found in Seoul filling in for an ailing Mariss Jansons with the touring Bavarian Radio Symphony Orchestra. Then he fell, requiring hip surgery a week ago Monday.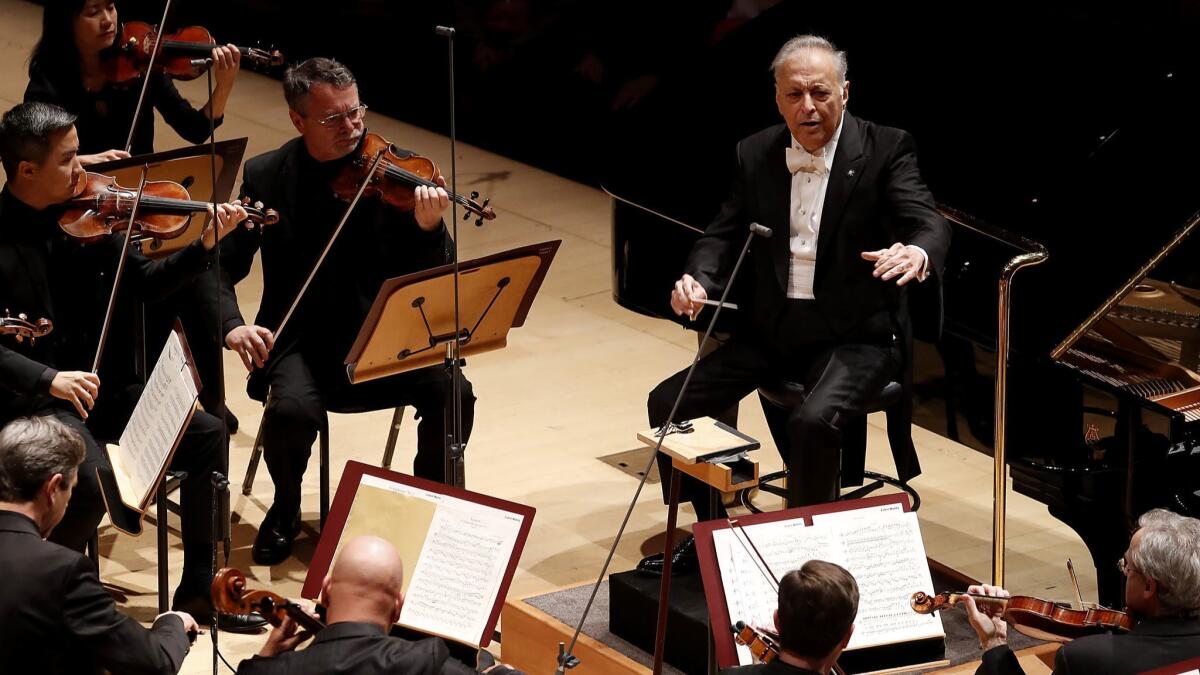 No matter, by Sunday he was rehearsing at Disney Hall. Thursday night, he walked slowly onstage with a cane and held onto Yefim Bronfman, his soloist in Brahms' First Piano Concerto. Mehta had lost weight. He no longer cut the dynamic figure, head always held high as though making a victory lap from wings to podium.
Even so, this was a victory lap like no other, an occasion for a sustained standing ovation that turned, in the end, into an evening-long love fest. He conducted while seated, but when Mehta lifted his arms for the downbeat, his trademark vitality was not only still there but greater than ever. He no longer has room for anything extraneous. Every gesture goes straight to the gut.
When it comes to Brahms, this meant something special. His leaden recording of the First Piano Concerto with Artur Rubinstein and a messy Israel Philharmonic in 1976, when the legendary pianist was 89 and failing, is beyond painful to listen to. Mehta's Brahms cycle with the New York Philharmonic — badly recorded, the orchestra recalcitrant, the conductor overcompensating — was not well received, although there are compensations from his soloists, violinist Itzhak Perlman and pianist Daniel Barenboim. (Fun fact: Both Mehta and Gustavo Dudamel have recorded the Brahms piano concertos with Barenboim.) On a dreary recent recording of the Brahms piano concertos with the Vienna Philharmonic, the orchestra is stuffy and Mehta's soloist, Rudolf Buchbinder, might as well have been playing on a distant planet.
Happily, Mehta has a soloist very much of the here-and-now at Disney Hall. He was an early champion of Bronfman, which has led to not only one of the great solo careers but also the pianist's enduring relationship with the L.A. Phil through its subsequent music directors.
Bronfman is well known as a powerhouse pianist with a tone of crystalline clarity. When he turns the volume down, each note stands out like a perfectly shaped pearl. When he doesn't, look out. You might get hit by flying chords.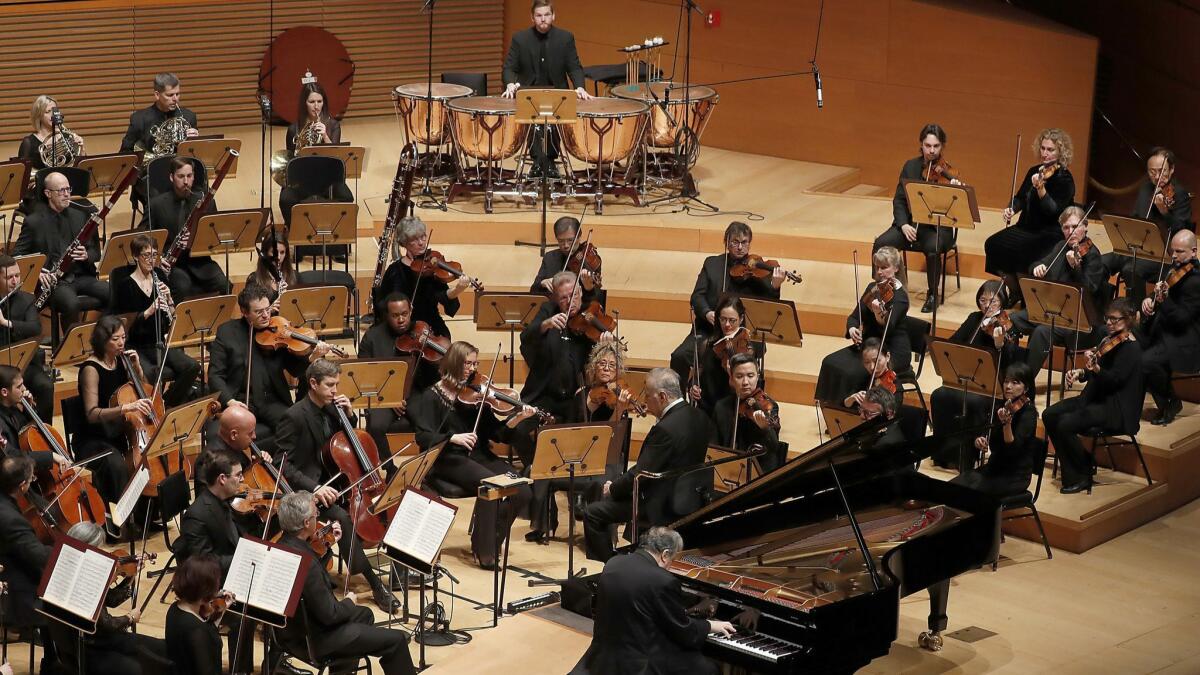 Mehta has always been a responsive accompanist, the one conductor who could follow Vladimir Horowitz, for instance, to the absolute furthest reaches of his undaunted mind. I've witnessed Mehta thrillingly accompany Perlman at the Hollywood Bowl with no rehearsal. And I've seen him graciously keep things together with the Vienna Philharmonic in Salzburg when a pianist in her unreliable late years started making things up during a performance. What happened with the Brahms First this time was more like an exceptional meeting of minds.
Mehta sculpted the orchestral opening as though cutting granite, edges sharp and glistening. In his early years with the L.A. Phil, the conductor had taken pride in trying to replicate the plummy sound of the Vienna Philharmonic. This sounded absolutely nothing like Vienna as Mehta sliced through Brahms' thick instrumental textures. It sounded like Mehta, but a better Mehta than ever before.
He is still an episodic conductor, but episodes follow with a sense of rightness, and audiences happen to listen more episodically these days anyway. Climaxes have not lost their magnetic appeal to Mehta, but he judges them wisely now. Bronfman fit right in, astonishing when he unleashed fistfuls of metallic notes, astonishing when he didn't for the sake of supreme lyricism.
The Brahms First Symphony in the second half had all the same virtues. Mehta showed restraint as storminess turned into a triumph that had no emptiness to it. But he didn't show too much restraint when it came to timpani. Treating Brahms like jewelers in the act of polishing, the orchestra was full-bodied, flawless in its ensemble playing, loving in the execution of wind, horn and string solos. Nothing was extraneous. Brahms was bête noire no more.
Mehta continues his Brahms cycle with the Second Piano Concerto and Symphony on Saturday and Sunday, and then he completes the cycle on the first weekend of the new year.
♦ ♦ ♦ ♦ ♦ ♦ ♦ ♦ ♦ ♦
Los Angeles Philharmonic: Mehta conducts Brahms
Where: Walt Disney Concert Hall, 111 S. Grand Ave., L.A.
When: 8 p.m. Friday (Piano Concerto No. 1 and Symphony No. 2); 8 p.m. Saturday and 2 p.m. Sunday (Piano Concerto No. 2 and Symphony No. 2)
Tickets: $20-$232
Info: (213) 850-2000, laphil.com
MORE MUSIC:
Best classical of 2018: Our critic's list
With Patricia Kopatchinskaja, all bets are off
St. Lawrence String Quartet's marathon of early Haydn is in-your-face exhilarating
Get our L.A. Goes Out newsletter, with the week's best events, to help you explore and experience our city.
You may occasionally receive promotional content from the Los Angeles Times.