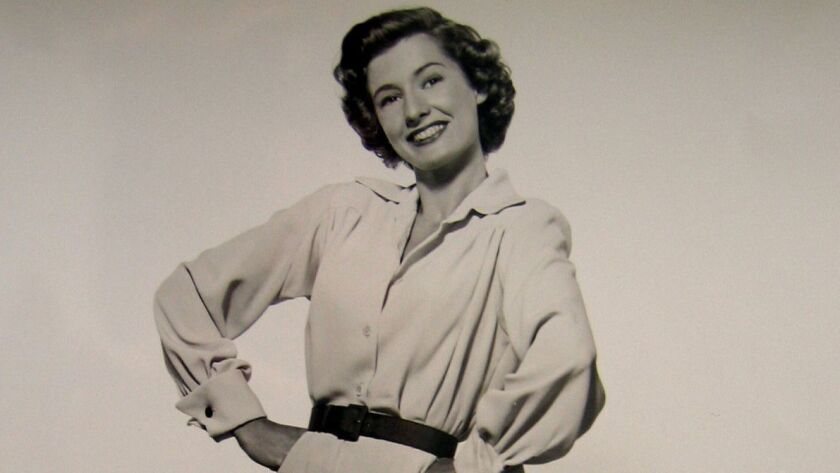 She choreographed pivotal scenes in the films "The Apartment," "Breakfast at Tiffany's" and "Bob & Carol & Ted & Alice," and she also conceived the dance moves for Judy Garland's first TV special, two Academy Awards telecasts and episodes of "The Red Skelton Hour," "The Lucy Show" and "The Bob Hope Show."
Miriam Nelson may not have achieved the kind of fame as the actors who executed her moves. But Nelson, who died Aug. 12 at her home in Beverly Hills at the age of 98, left behind a sizable body of film and TV work as well as the legacy of being the rare female choreographer in a field that was dominated by men.
Born Miriam Lois Frankel in Chicago, she was captivated by tap dance at an early age. In a 2015 interview, she recalled hearing a tap studio down the hall from her family's apartment and listening at the door. She was soon taking lessons, and when her family relocated to New York when she was a teenager, Nelson continued her studies.
Her first job was dancing in the New York version of Billy Rose's nightclub revue Casa Mañana, with Van Johnson as her dance partner. She made her Broadway debut in the 1938 show "Sing Out the News" and appeared in five other musical comedies including Cole Porter's "Panama Hattie" through 1943, using the name Miriam Franklin or Franklyn. Among her fellow Broadway chorus performers were June Allyson and Vera-Ellen, who became close friends.
By then she had married Gene Nelson, an actor, dancer and former ice skater. The couple moved to Los Angeles when he was cast in a film, and she quickly found work as a contract player at Paramount. In early film roles — some uncredited — she danced in "Lady in the Dark" and "Cover Girl" and appeared as the secretary to Edward G. Robinson's insurance company man in Billy Wilder's "Double Indemnity."
Nelson established herself as a film choreographer by assisting on, and co-choreographing, numbers for her husband and his dance partners, including Doris Day. Nelson received her first film choreography credit in Blake Edwards' 1955 "Bring Your Smile Along" and worked often with Edwards over the years. The director and his wife, Julie Andrews, provided the foreword for Nelson's 2009 memoir, "My Life Dancing With the Stars."
During the 1950s, as television took off in popularity, Nelson worked regularly on variety shows, other series and specials. She choreographed the live televised opening of Disneyland in July 1955, a 90-minute extravaganza that had dancers performing lavish numbers in various "lands" within the park.
Nelson's work could be seen on early classics such as "The Donna Reed Show" and "Father Knows Best," and she continued working through "Colombo" and "Murder She Wrote." She was nominated for an Emmy Award for her work on the 1978 TV film "Ziegfeld: The Man and His Women."
She also became the go-to choreographer for nightclub acts, working with Carol Channing, Ann Miller, Howard Keel, Steve Lawrence and Eydie Gormé, Donald O'Connor and others.
Nelson's deft feet provided the tap sounds for many films, and she was dubbed "the Marni Nixon of tap" — an allusion to the performer who sang uncredited for celebrated actresses in classic movie musicals.
Nelson's enthusiasm and love for tap dancing continued into her 90s, and she remained a beloved member of the Los Angeles dance community.
She and Gene Nelson divorced in 1956. Her second marriage was to producer Jack Myers, who died in 1988.
She is survived by her son, Chris Nelson; three grandsons; and one great-granddaughter.
See all of our latest arts news and reviews at latimes.com/arts.
---