With rumors swirling, the future of MOCA director Philippe Vergne remains a big question mark
Is Museum of Contemporary Art Director Philippe Vergne on his way out?
That's the question swirling in the art-world air following his surprise firing of MOCA's chief curator one month ago, the sudden cancellation of the museum's annual gala fundraiser and, perhaps most important, the pending expiration of Vergne's contract.

For the record:
10:45 p.m. April 17, 2018In 2012, MOCA chief curator Paul Schimmel was forced to resign by the museum's board, not by then-director Jeffrey Deitch.
On all of these points, MOCA continues to respond with the same communication strategy: No comment.
It's a veil of secrecy that feels familiar, echoing how the museum has dealt with leadership changes in the past.
Vergne has placed his $4-million Hollywood Hills mansion on the market, and on Tuesday, real estate websites showed a sale pending. Neither Vergne nor a museum spokeswoman would comment on the house, however, nor on whether the director would be staying in L.A.
On March 14, The Times reported that Vergne had fired Helen Molesworth, shocking the arts world with the dismissal of a chief curator widely respected for organizing popular and critically acclaimed exhibitions such as "Kerry James Marshall: Mastry" and a retrospective of Brazilian artist Anna Maria Maiolino. MOCA issued a statement that characterized Molesworth's departure as a parting of ways due to "creative differences." When The Times asked whether the museum's board of trustees stood by Vergne, MOCA would not respond.
On Tuesday, the museum again refused to comment on whether the search for a new chief curator had started. The museum also would not say how it intends on filling a funding gap created by the cancellation of its annual gala.
This year's event was canceled after artist Mark Grotjahn declined to be honored, citing concerns over of a lack of diversity in past honorees, who are all straight white men. The cancellation translates to a loss of millions of dollars; the 2017 gala, honoring Jeff Koons, raised more than $3 million for MOCA.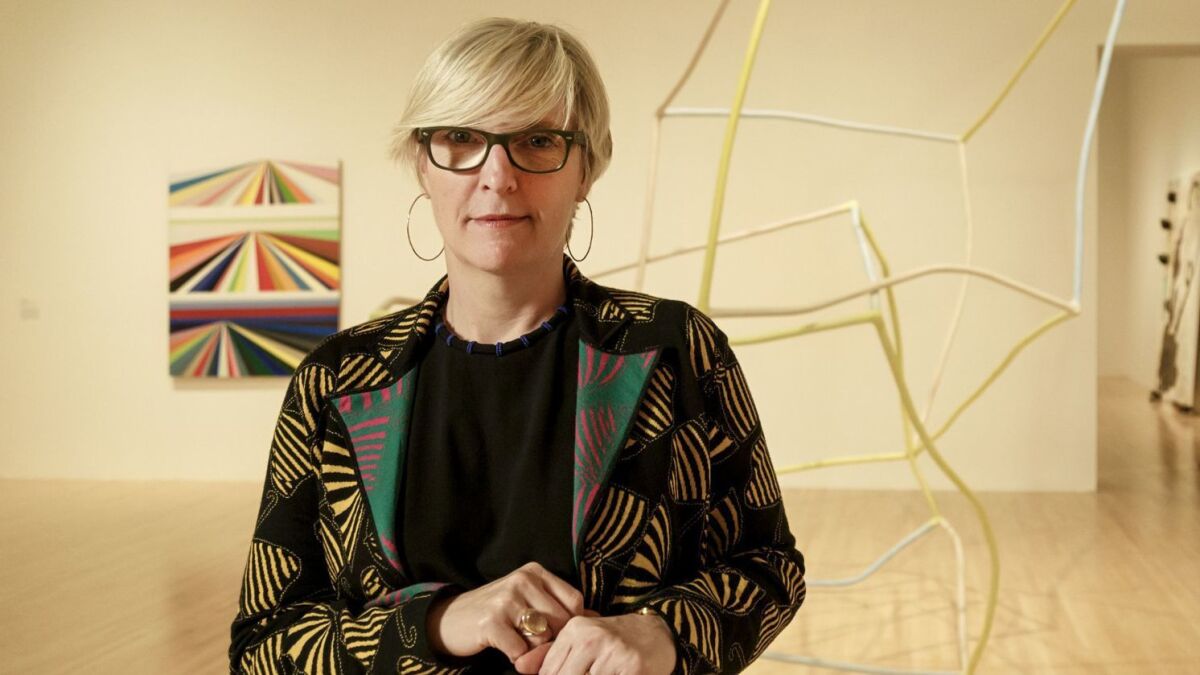 The uncertainty hovering over the museum today is reminiscent of how MOCA has faced past problems. In 2010, Jeffrey Deitch was named director and quickly became a divisive force, firing the museum's longtime, esteemed chief curator, Paul Schimmel, in 2012.
That firing also came with an information vacuum, as MOCA took a day and a half to make the news public. When the museum did issue a press release, it said Schimmel had resigned — an explanation contradicted by MOCA sources who maintained that the curator had been fired.
Artists were outraged. Catherine Opie, Barbara Kruger, Ed Ruscha and John Baldessari protested by resigning from the MOCA board.
Meanwhile, the museum had spent much of its endowment to stay afloat and was relying on a lifeline from philanthropist Eli Broad, who a few years earlier had pledged $15 million for exhibitions plus up to $15 million for the endowment.
The Los Angeles County Museum of Art stepped forward, proposing to absorb MOCA. The board declined LACMA's offer, announcing a $100-million fundraising campaign.
Deitch resigned in 2013, and MOCA brought in Vergne from New York's Dia Art Foundation. Molesworth came later that year. Opie, Kruger and Baldessari rejoined the board. It seemed like a fresh start.
Current and past board members and other MOCA stakeholders would not speak on the record about the most recent events or did not respond to interview requests.
"To me, the lack of transparency hurts the most — because it feels almost like an act of censorship," artist Analia Saban said.
Other major arts institutions have faced sudden institutional changes or controversy more openly. When the Metropolitan Museum of Art announced the resignation of Director Thomas P. Campbell last year, the museum issued a press release and its chairman sent a letter to the board and staff. When Dallas Museum of Art curator Gavin Delahunty suddenly resigned last year, he was quick to respond with a statement sent to staff and the media.
"You'd think a museum would be a place for disagreement, in a healthy way, and discussion," Saban said. "Arts institutions, academic institutions, that's what they are about. But here, we're all left wondering why. And that's where the anger comes from."
But some in the art world remain hopeful.
"It is a problem, the no transparency issue," said Eva Chimento of Boyle Heights gallery Chimento Contemporary. "But I know Philippe as a curator and I know how seriously he takes artists. So I'm just trusting until I see otherwise. I hope in good time all these questions will have answers."
For those wondering what's next for Molesworth, one answer has emerged. She'll give the keynote address in June at the UCLA School of the Arts and Architecture's 2018 commencement ceremony.
Follow me on Twitter: @debvankin
Get our L.A. Goes Out newsletter, with the week's best events, to help you explore and experience our city.
You may occasionally receive promotional content from the Los Angeles Times.