Review: The resurrection of Julius Eastman: gay, black and brilliant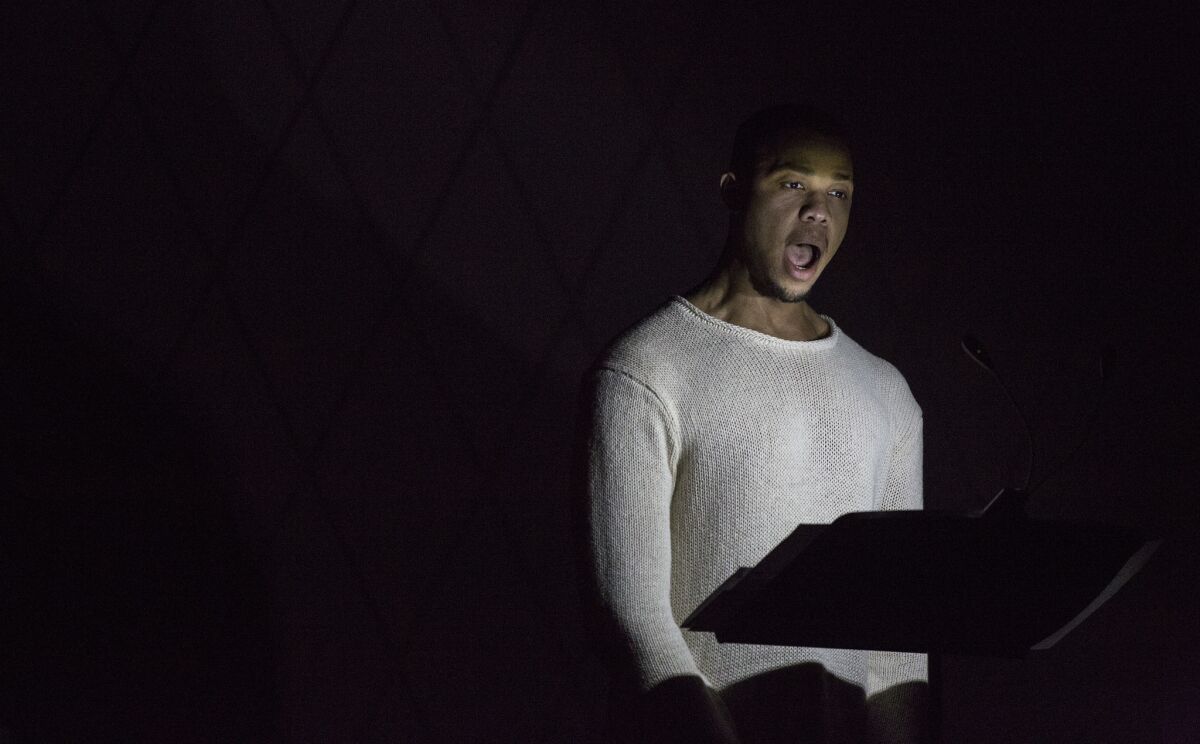 Music Critic
Julius Eastman was a lost Minimalist and a lost soul. He was a composer, baritone and pianist of blinding, brilliant talent who died in 1990 at age 49, homeless and forgotten, in Buffalo, N.Y.
Two decades earlier he had helped to usher in the Los Angeles Philharmonic's first contemporary music festival at the Music Center, Contempo '71. Performing with Music Director Zubin Mehta, Eastman was called by critic Martin Bernheimer in these pages "a young man who can do anything with his voice."
He could do much more. He was a composer ahead of his time, which is what mainly led to his self-destructiveness and subsequent neglect. But attention is now being paid, as the Monday Evening Concerts series proved by opening its season at the Colburn School's Zipper Concert Hall with an all-Eastman program. The hall was packed with new music old-timers and many younger newcomers.
In the final piece on Monday's program, four pianos thundered for 55 minutes unlike four pianos had ever been asked to thunder before the music was written in 1979. The purposely provocative title, "Crazy [N-word]," tells you something, but far from everything, about Eastman, who was African American, gay and out-of-step with the new-music community in which he was a rising star.
It was a community that many thought was basically without prejudice, sexually or racially. Many were gay. And if all but a very few were white, that was widely thought regrettable. Eastman, who was recognized from the start as a major talent, was immediately welcomed.
But he and the community nevertheless turned out to be a troubling fit. The musical avant-garde, be they European radicals, the experimental New York School around John Cage or the Minimalists, espoused an abstract art form meant to open ears to new ways of hearing. Composers practiced ego removal in an effort to liberate music, in belief that whatever thoughts and feelings the music engendered must be allowed to belong to the listener.
Eastman's contribution was to expand hardcore process-oriented Minimalism, finding ways to fit in expressive dissonances, improvisation and elements of African American music, including its spirituality. His pieces had power and compositional integrity, and they sounded like no one else's. Many had proud, angry titles, such as his N-word series of scores for multiple pianos. But the new music scene was simply, and in Eastman's case tragically, not ready for identity politics.
All of that, of course, makes Eastman speak with tremendous immediacy to our own time, and a revival of Eastman has been brewing for a while. The piece performed Tuesday had its West Coast premiere 10 years ago at REDCAT, and the L.A. Phil included Eastman on its 2014 Minimalist Jukebox festival. Historical recordings have been released. (The newest, the hourlong "Femenine," is compulsively listenable.) An important study, "Gay Guerrilla," titled after one of Eastman's pieces, has recently been published.
If the gripping performances, and the gripped crowd, on Monday are any indication, we will be hearing much more Eastman. But from what I remember of Eastman, I doubt that he would have been happy. He may have felt he was still a voice in a white wilderness, but he would, nonetheless, have been thrilled by what he heard.
The Zipper program began with a darkened hall and the young bass-baritone Davóne Tines placed high above the stage. Lighted with a halo, Tines sang Eastman's solo "Prelude to the Holy Presence of Joan d'Arc" with what may be even more otherworldliness and mesmerizing sanctity than the composer himself brought to his performances. A short text exhorts Joan to speak boldly with phrases that repeat, growing in intensity. It took one's breath away.
The stage then brightened for "The Holy Presence of Joan d'Arc" for 10 cellos, which were conducted by Monday Evening Concerts artistic director Jonathan Hepfer. This is an immersion into the essence of cello. A phrase from Patti Smith's "Rock 'n' Roll … " (the title also ending in the epithet Eastman used) becomes processed through repetitions, metrical and harmonic additions, into a mass of low string sounds that effuse the atmosphere for 20 minutes.
The four-piano finale — offered by Eastman's friend and noted new music specialist Joseph Kubera, along with younger local colleagues Richard Valitutto, Brendan Nguyen and Todd Moellenberg — was more extreme. This is horrendously punishing music. Pulses and tremolos never stop. The pounding is stupendous.
Changes happen within these humongous clouds of sounds with 90-second frequency, but they are subtle, under the overwhelming sonic surface. There are points of such explosive density that restarts are necessary, but each time that means only something more so is on the way. Near the end, eight young pianists leaped onto the stage from the audience and joined in for a climax of complexity.
Imagine, if you will, spending an hour in an MRI machine designed by an advanced civilization not only examining your brain but also massaging it into a contrivance for higher thought.
The coming to terms with Julius Eastman has just begun.
ALSO
A gamble pays off: Long Beach Opera transports 1692 'Fairy Queen' to modern-day Vegas
Los Angeles Opera announces 2017-18 season
With a nod to L.A. protests, Master Chorale rips into Beethoven's search for peace
Itzhak Perlman does his thing: easy delights for comfortable listening

Get our L.A. Goes Out newsletter, with the week's best events, to help you explore and experience our city.
You may occasionally receive promotional content from the Los Angeles Times.