Ojai Music Festival expands its eclectic vision under the eye of Vijay Iyer
Looking at the schedule for the Ojai Music Festival — that annual gathering in the bohemian, spiritually searching Shangri-La some 88 miles from downtown Los Angeles — and something may seem unusual this year.
Usually a destination for fans of classical music, dance and opera since its start in 1947, Ojai has seen artistic direction from a who's who from those worlds, including recent turns with Peter Sellars, Mark Morris and Jeremy Denk, who all were empowered to build a festival according to their vision.

For the record:
10:57 a.m. Nov. 30, 2022For the Record: An earlier version of this story misidentified Vijay Iyer as artistic director of this year's Ojai Music Festival. The title of the position is music director.
The four-day festival opening Thursday, however, packed with names like Anthony Braxton, Jen Shyu and Tyshawn Sorey, bears less of an immediate resemblance to where Ojai has been and instead resembles a new destination, something akin to John Zorn's New York avant-jazz incubator the Stone.
The reason for the change: this year's music director, Vijay Iyer. The prodigiously talented pianist's vision as a composer and improviser has stretched beyond his typically designated genre of jazz to encompass hip-hop, chamber music and South Indian classical music. Most of these styles will be in some way reflected at Ojai, which this year looks like L.A.'s most adventurous jazz festival as well.
"I knew [this year's festival] would sort of bring a pretty different story to Ojai, or a different perspective or a different set of aesthetics or different ways of making music into that sphere," Iyer said by phone from his home in Harlem. Days before, he had completed a run of shows at New York's storied jazz club the Village Vanguard.
"But Tom [Morris, the festival's artistic director] was open to all of it and I figured if he doesn't say no, who else is going to?" Iyer added with a laugh.
Morris, for his part, doesn't see this lineup as a diversion for an eclectic festival that has long made room for jazz, including a 1962 performance of Edgard Varèse by the great Eric Dolphy. Every Ojai festival is different from the rest, he said. "When a member of the audience has a great time at the Ojai festival and says, 'How are you going to top that next year?' We don't even think about that."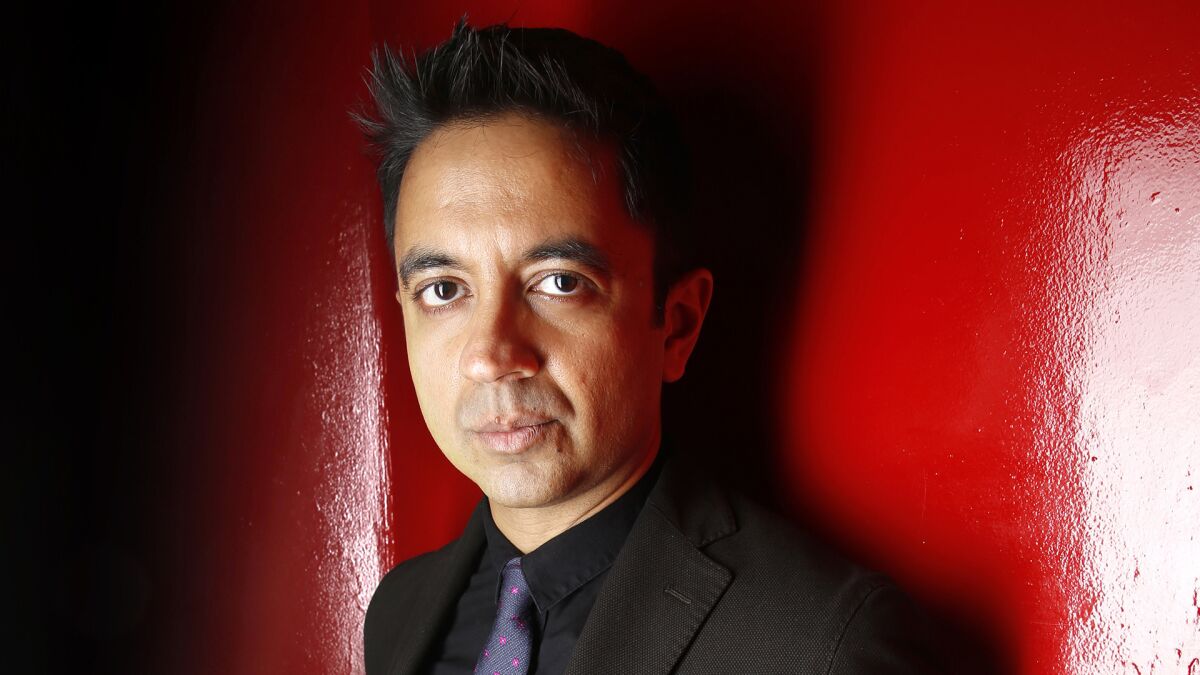 Iyer, 45, was born in Rochester, N.Y., and earned a PhD at UC Berkeley, where he explored the meeting of technology and the arts. He has lived since 1999 in New York, where last year he curated a month-long run of shows at the Met Breuer as artist-in-residence for the Metropolitan Museum of Art.
Somewhat unfamiliar with the Ojai festival before being tasked with shaping it, he joked about being mystified as to how he came to join the ever-changing cast of curators. It happened not long after Morris caught one of Iyer's sets at the Stone in 2015.
"What's most interesting to me is he's a very hard artist to describe," Morris said. "To call him a jazz pianist is hopelessly limiting. But he's a serious composer, he's an improviser, he's a collaborator, he's a writer, he's a teacher, and a very deep thinker. He sees music in a social context, which is intriguing."
That interest in reflecting the world beyond the bandstand can be heard in many of Iyer's projects, including "Holding It Down: The Veterans' Dreams Project," a 2013 recording that blended poetry and jazz to examine the Iraq war and its aftermath, and a three-part "Suite for Trayvon (and Thousands More)," a turbulent piece in response to the death of Trayvon Martin that teamed Iyer with the veteran jazz ensemble Trio 3.
"I guess the music I've found myself to be a part of has always had a certain kind of sensibility of defiance and insistence on dignity and being treated as human beings," Iyer said. "Being heard as human beings, not as mere entertainers or as commodities."
See the most-read stories in Entertainment this hour »
Winner of a MacArthur "genius" grant in 2013, professor of music at Harvard and fixture atop year-end lists for albums such as his trio's 2015 "Break Stuff" and his 2016 duet with Wadada Leo Smith, "A Cosmic Rhythm With Each Stroke," Iyer is hardly an unknown commodity. The Ojai bill reflects the broad, collaborative reach of his musical vision in performances that include his trio, his duet with Smith, a new group featuring tabla master Zakir Hussain and vocalist Aruna Sairam and a festival-closing set by his sextet.
"It's all stuff that I've genuinely been a part of," Iyer said of the eclectic scope of his music. "It's not like, 'Oh, this is my Indian music bag, and this is my classical music bag,' or something like that. It's really like, well, all of this deserves to be heard together because it's all part of one breath."
But Iyer also has reached for something broader: nods toward Mozart, Bach and Stravinsky, as well as work by Courtney Bryan, a New Orleans-born pianist and composer whose operatic piece "Yet Unheard" delivers a sort of elegy for Sandra Bland, a black woman in Texas who died in police custody in 2015.
"This piece is channeling her spirit, you know?" Iyer said. "There's something mystical and devotional about it, there's something very haunting about it and also righteous and very stirring. I'm really glad it's going to close that night because that's a heavy day of music, and I think it's going to send us all home with something to meditate on."
The weekend also offers a snapshot of Chicago's Assn. for the Advancement of Creative Musicians collective, or AACM, a broad creative music incubator that formed in the 1960s and counted among its members 2016 Pulitzer Prize winner Henry Threadgill. Ojai will also feature flutist and composer Nicole Mitchell, the West Coast premiere of an opera by George Lewis and a trio summit of some of the organization's key figures in Lewis, Muhal Richard Abrams and Roscoe Mitchell.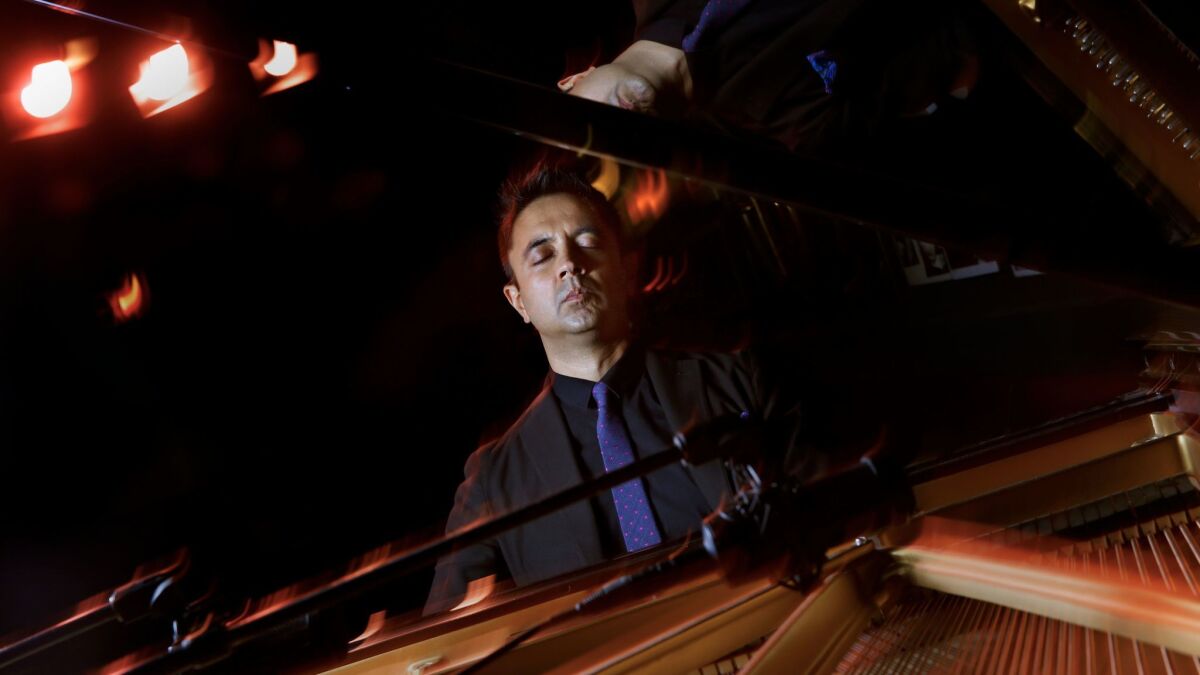 While AACM resists fitting under a single ideology, its history of independence and self-determination has long drawn Iyer's admiration. "There's a sensibility," he said, "that's worth studying and learning from."
Though aspects of Iyer's vision for Ojai inevitably can be read as a reflection or response to the tumultuous political climate, he laughed off the idea. "We started programming it two years ago," he said. "A lot of this was in place long before the election."
That said, in Iyer's view the Trump administration has made resistance a human imperative as well as an artistic one. Through music, he finds as much of a means to transcend a divided time as well as confront it.
"It's probably about getting off of the screen and into each other, being among each other," Iyer said. "We just got out of playing a week at the Vanguard, and you're playing in a packed, very cramped room, and summoning some kind of ancient energies.
"It's not that one wants to escape but one wants to sort of remind ourselves of what else it is we're capable of as people," he said. "Especially as a gathering of people."
Ojai Music Festival
When: Thursday, June 8, to Sunday, June 11
Where: Libbey Bowl, 202 Signal St., Ojai; various venues around Ojai
Cost: $20-$150; some events free
Info: www.ojaifestival.org
Follow me over here @chrisbarton.
---
Get our L.A. Goes Out newsletter, with the week's best events, to help you explore and experience our city.
You may occasionally receive promotional content from the Los Angeles Times.