Review: Stravinsky's exceedingly slow 'Rake's Progress' from West Hollywood to Ojai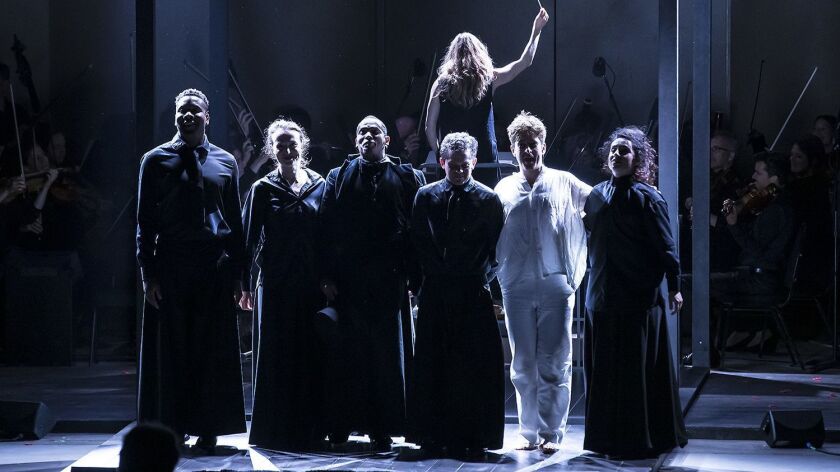 Music Critic
A dazzlingly daft Barbara Hannigan in the title role of Gerald Barry's madder-than-a-mad-hatter "Alice," given its premiere by the Los Angeles Philharmonic in 2016, left a listener wondering whether there was anything the Canadian soprano can't do. It was a rhetorical question.
She is a fearless femme fatale actress, dancer, athlete, sports psychologist, educator, cook and rising star conductor. And now she is music director of this year's Ojai Music Festival, which began Thursday night with a semi-staged performance of Stravinsky's opera "The Rake's Progress," in which she demonstrated yet another skill.
The performance began with Hannigan coming onstage at the Libbey Bowl in black tights and sleeveless top performing a stagehand's duty of spraying theatrical fog. She then ascended to the podium to conduct.
This was Hannigan's "The Rake Project," which she created for Equilibrium Young Artists, her mentoring initiative that facilitates young singers in their typically trying first professional years. With 20 singers from 11 countries in the program, she has trained three casts and made a touring production first given by the Gothenburg Opera in Sweden and then throughout Europe.
I don't know whether irony was meant with the fog, but for all the interest in hearing these sophisticated young singers, the main object of this "Rake" seemed to be to lift the fog — and pollution — from Stravinsky's only full-length opera.
The heaviest lifting was Hannigan's conducting. It has all her virtues as a singer, which she also plans to display over the weekend in works ranging from the avant-garde to Gershwin. Those virtues include precision, rhythmic alacrity, a high level of theatricality and, of course, her remarkable versatility.
The "Rake" is not an opera easy to illuminate or propel. Written in the late 1940s by Stravinsky and his British librettist, W.H. Auden, it adds a Faustian framework to the 18th century William Hogarth lithographs about a naïf falling prey to the temptations of the big city.
A devil deceives Tom Rakewell, who exchanges his ever-true country fiancée, Anne Trulove, for London's houses of pleasure; marries a famed bearded woman, Baba the Turk; and, returned too late to Anne to be saved, winds up in Bedlam. Auden's lines are arch. Stravinsky houses 18th century Mozartian opera style in mid 20th century modernism.
Hannigan had many reasons for wanting to start her festival with this "Rake." Anne was the first role she learned a quarter-century ago when she was 23. Ojai was Stravinsky's playground for trying out both neoclassical and modernist scores in the 1950s. Plus, this now-standard repertory opera written in West Hollywood has had little success in Southern California. Los Angeles Opera has never staged it. The L.A. Phil has, but only in Paris.
With all that baggage, Hannigan necessarily as much propelled "The Rake" as conducted it. She has brought LUDWIG, the cheeky Dutch chamber orchestra named after Beethoven but more at home with Moondog and minimalists, as the ensemble for her festival. And she conveyed a springy instrumental transparency that had Stravinsky's score seeming to leap off the page.
There was less leaping onstage, however. The stately production directed, designed and lit by Linus Fellbom makes its strongest impression with its look, and especially the strikingly fashionable costumes by Anna Ardelius. The billowy pants-skirts worn by the men and women were suitable for an Antwerp runway.
The main set is a large shipping crate. The sides fall down, and it serves as a kind of empty, and sometimes negative, space. The result is stately Stravinskyan ritual, particularly in the formalized use of the Los Robles Master Chorale, creating an 18th century morality play for the 21st century.
The hipness, though, becomes hard to carry off. Anne here is a sophisticate. Tom's a doofus. Nick Shadow, the devil, is chained to hell, to show his lack of free will.
The hard-working, multicultural Equilibrium cast was most impressive as an ensemble. Elgan Llyr Thomas' Tom never quite managed to figure anything out throughout his evening's worth of abuse, although he died touchingly. Aphrodite Patoulidou's elegance as both singer and actress put her a class above Tom, who thus became less her love than a charity case.
Yannis Francois' heavily accented English and imposing stage presence made Nick truly seem a creature from elsewhere, even in a top hat. Fleur Barron's Baba was, maybe, the one revelation. Her meltingly rich mezzo-soprano and flair removed the ridiculousness. Likewise, there was a welcome reaction against silliness from James Way as Sellem, the auctioneer, and Antoin Herrera-Lopez Kessel in three small parts.
Still, this "Rake" belonged to Hannigan. Many singers have successfully turned to conductor. But none has done it quite like Hannigan.
---
From the Oscars to the Emmys.
Get the Envelope newsletter for exclusive awards season coverage, behind-the-scenes stories from the Envelope podcast and columnist Glenn Whipp's must-read analysis.
You may occasionally receive promotional content from the Los Angeles Times.