After playing on-screen dad to Molly, Helen and Julia, Paul Dooley gets to play himself
You probably know him as the grumpy dad of the Italophile bicycle racer in "Breaking Away." Or as Molly Ringwald's understanding dad in "Sixteen Candles." Or as the long-suffering dad who walked Julia Roberts down the aisle four times in "Runaway Bride."
His name is Paul Dooley, and for decades he's been one of Hollywood's most reliable character actors. But his resume also includes joining the original cast of Broadway's "The Odd Couple," being a valued member of Robert Altman's stock company in the 1970s and '80s, serving as head writer for the public-TV children's show "The Electric Company" and writing more than 1,000 radio commercials.
Starting on Thursday, as part of the Hollywood Fringe Festival, Dooley will perform a one-man show, "Upright and Personal." He calls it "a little stroll down memory lane," with anecdotes, stills, clips and humor. He insists it won't be, as songwriters often do in these shows, "and then I wrote ..."
Rather, audiences will see "a window into an actor's life, where you may start wanting to be one thing, then you turn out to be another," he says. Dooley, 88, was a cartoonist, an improv sketch comedian and commercial pitchman before finding steady work as a character actor.
"For about 20 years, people have said, 'Why don't you write a book?' And I've always said, 'If I write a book, and there's stuff in it that's funny, I won't be there to get the laughs,'" the actor said. "So I'd rather do it on stage. And if it goes well, maybe I'll convert it. I'll probably call the book 'Movie Dad.'"
Dennis Christopher, who played Dooley's son in the 1979 best picture Oscar nominee "Breaking Away," said one of the joys of his life has been to keep reconnecting with the actor. Dooley also played his dad in Robert Altman's "A Wedding," and they were subsequently reunited in episodes of TV's "Kate Brasher" and "Law & Order: Criminal Intent" (in the latter, playing creepy father-and-son murderers).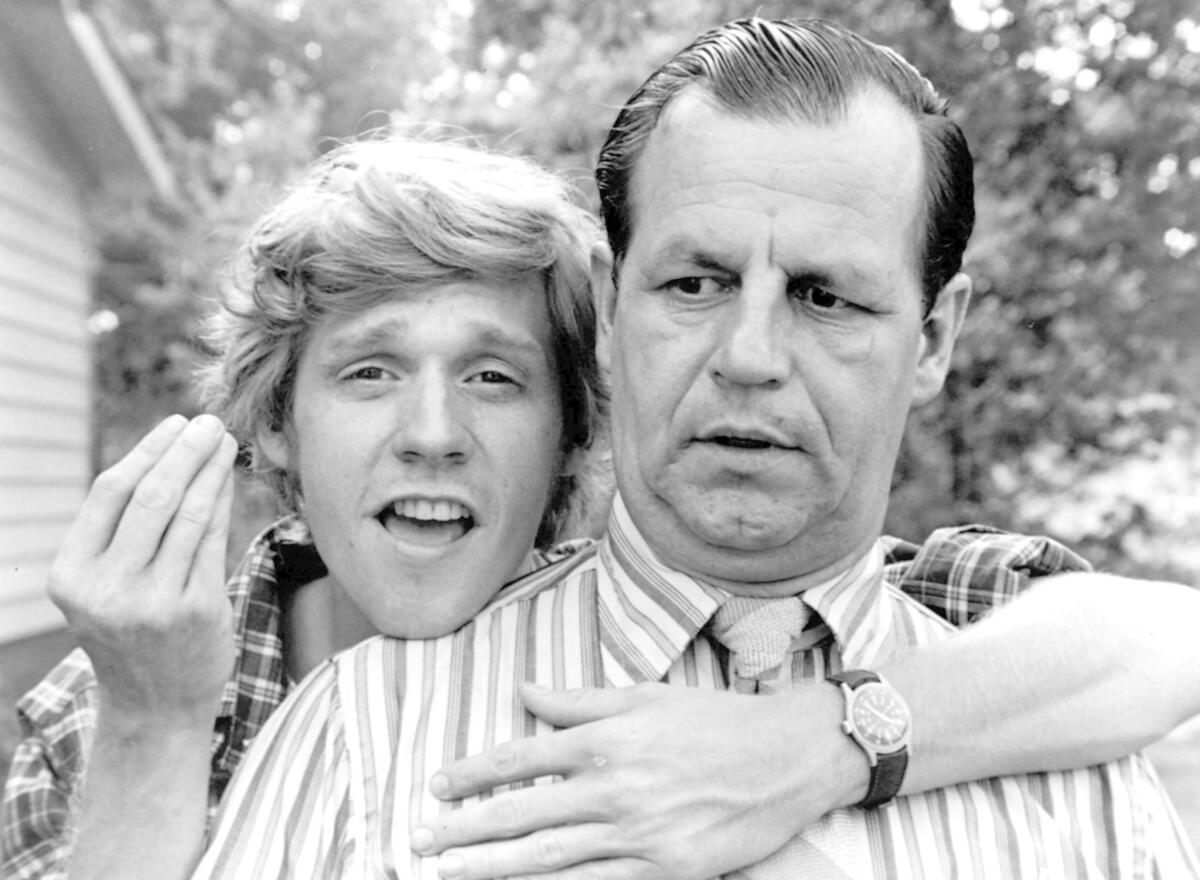 Christopher remembers the key scene in "Breaking Away," when his character, disillusioned by life's nastier realities, breaks down and embraces his constantly irritated, used-car-dealer dad, beginning a reconciliation that adds unexpected emotional depth to the story.
"It was a real quiet, special moment that we didn't talk about," Christopher says. "And when something like that happens, it's kind of perfect.
"The thing that I most admire about him, aside from the friendship he has given me, is this creative surge that's always happening in his life. It's a stream that seems to be running under everything that he does. He's really a genius, a one-of-a-kind actor."
Dooley's odyssey began in 1952 when he drove to New York from his native West Virginia with $50 in his pocket. With the help of fellow West Virginia University grad Don Knotts, he got a job on a live children's TV show, lost his accent and never looked back.
He was in the 1954 off-Broadway staging of "The Threepenny Opera" along with Lotte Lenya, Bea Arthur and Charlotte Rae; did commercials for Fab detergent, American Airlines, M&M's ("melts in your mouth, not in your hand") and other products in the '60s; performed in the New York company of Second City; and wrote for comedians Jerry Stiller and Anne Meara in the '70s.
He even co-created and, for a year, wrote the landmark PBS series "The Electric Company," the Children's Television Workshop follow-up to "Sesame Street" that used animation and sketches to teach reading skills to children.
But it was director Altman who propelled Dooley to prominence by casting him as the father of the bride in 1978's "A Wedding," then starred him in 1979's "A Perfect Couple" and cast him, brilliantly, as hamburger-eating Wimpy opposite Robin Williams in 1980's "Popeye."
"Until Bob Altman gave me a job where I had some dramatic scenes, I always avoided doing anything but comedy," Dooley says in the living room of his Toluca Lake home. "Altman always let you come to the dailies. So I'm seeing myself doing dramatic lines, and thought to myself, 'It seems to be OK. I can actually do this.'
"I had this epiphany. All my life I thought I had good timing, which is the mark of a comedian. I didn't know it worked for drama. A great dramatic artist knows when to pause. Comic timing is everything timing. And then it just sort of evolved."
"Breaking Away" brought him the best notices of his career. All those dad roles followed, including the 1984 John Hughes cult favorite "Sixteen Candles." Hughes wrote the film's most touching scene — as an empathetic father comforts his inconsolable teenage daughter late at night — specifically to entice Dooley to join the cast.
Since then, he's been Helen Hunt's dad in "Mad About You," Cheryl Hines' father in "Curb Your Enthusiasm," Claire Danes' grandfather in "My So-Called Life." His non-dad roles have included a cantankerous judge on "The Practice" and the UFO abductee in Christopher Guest's "Waiting for Guffman." A younger generation has even discovered Dooley as the voice of Sarge, the Army Jeep in Pixar's "Cars" movies. He will soon do "Cars 3."
Does it bother him, playing all these dads?
"Well, I like to work, of course," Dooley says. "My fathers are often humorous; at the same time, they'll be a little withholding. I'm almost always playing my father."
Says his wife, Winnie Holzman, the creator of "My So-Called Life" and writer of Broadway's "Wicked": "He doesn't approach acting with any kind of preciousness. He takes his craft seriously. It means a lot to him to get laughs, or to deliver a dramatic line in a way that he believes is eloquent. But he doesn't take himself seriously."
After 64 years in show business, Dooley is modest and philosophical about the past, and the future. "In a way, an actor's lucky just to be doing anything. If I've done 65 films, and another 150 jobs in television, that's a lot," he says.
"Sometimes I'll be given the part of a father, and it's like a damp washcloth. I'll wring everything I can out of it, which is not always in the script. Sometimes you can get humor out of a straight part. Under the drama there is a smile or a sparkle; under the comedy, there's a dramatic element — something more behind the eyes. I think I've brought that to some of my work."
------------
Paul Dooley's "Upright and Personal"
Where: Hollywood Fringe Festival, Sacred Fools Theater, 6320 Santa Monica Blvd., Los Angeles
When: 8:30 p.m. June 9 and 12, 9 p.m. June 16, 8 p.m. June 17, 5:30 p.m. June 19, 10:30 p.m. June 23, 7:30 p.m. June 24, 8 p.m. June 25
Tickets: $15
Info: www.hollywoodfringe.org
Follow The Times' arts team @culturemonster.
Get our L.A. Goes Out newsletter, with the week's best events, to help you explore and experience our city.
You may occasionally receive promotional content from the Los Angeles Times.