Petersen Automotive Museum soups up its exhibits and cherries out its exterior
The boxy former department store on the corner of Wilshire Boulevard and Fairfax Avenue has been wrapped in textured hot-rod-red aluminum and caged by hundreds of shiny stainless-steel ribbons. Like a flashy sports car, it's impossible to miss.
The Petersen Automotive Museum's eye-catching new shell, designed by New York's Kohn Pedersen Fox Associates, is attracting cheers and jeers, with critics complaining that it displays a brazen tackiness more in line with the Las Vegas Strip than Wilshire's buttoned-up Museum Row, but the drivers of the change say the flowing steel ribbons represent motion, elegance, aerodynamics and speed — traits on full display inside the museum during The Times' sneak peek in advance of the Dec. 5 reopening.
SIGN UP for the free Essential Arts & Culture newsletter >>
"L.A. is the car capital of the world, and Wilshire Boulevard is the street," says Peter Mullin, the Petersen's chairman of the board. "We may be a little biased, but we feel it will be one of the iconic buildings in Los Angeles. You're not going to drive by it and forget that you saw it."
Petersen Automotive Museum
You also won't forget what's on display, Executive Director Terry L. Karges says over lunch at Il Pastaio, the Beverly Hills restaurant run by the Drago brothers, who will open a branch of their Drago restaurant inside the new Petersen. The old Petersen had a Johnny Rockets, and the upgrade to Drago represents some of the broader changes afoot here.
Twenty-five new galleries on three floors will be packed with interactive technology telling three overarching stories about the automobile: its history, its industry and its artistry.
An Xbox gallery equipped with 13 gaming simulators enables guests to virtually race on tracks in Daytona, Fla., Le Mans, France, and more. A digital experience and iPad tour created for children by Pixar uses characters and voices from the popular "Cars" movies. A motor sports gallery outfitted with a 180-degree projection wall places visitors inside racing events. A glass-walled classroom has been built for students and professors from Art Center College of Design in Pasadena crafting the transportation of tomorrow. And a floor devoted to the automobile as art will feature BMW's famous art cars adorned with work by talents such as David Hockney, Alexander Calder and Matazo Kayama.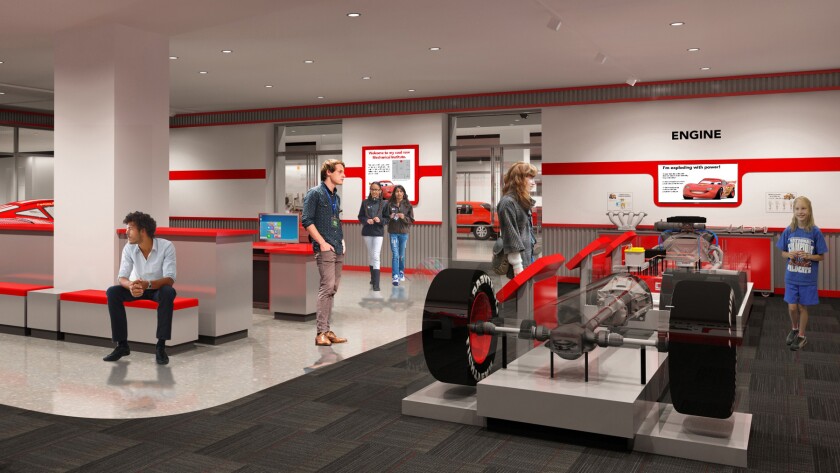 Then there's the collection of Tinseltown cars that has been a main draw of the museum since it opened 20 years ago.
"Mr. Petersen had a passion for Hollywood and automobiles," museum collection manager Dana Williamson says of museum founder Robert E. Petersen, who died in 2007 and whose love of cars can be traced to his founding of Hot Rod magazine in 1948. "He particularly liked the connection between Hollywood cars and the stars that owned them.
Visitors will see the 1982 Ferrari 308 GTSi convertible driven by Tom Selleck in "Magnum P.I.," the 1965 Lincoln Continental from the TV show "Entourage" and a yellow 1971 De Tomaso Pantera with a bullet hole in the steering wheel from when its owner, Elvis Presley, shot it for not starting. Other highlights include the 1979 Volkswagen Transporter van used in "Little Miss Sunshine," the 20-foot-long Batmobile piloted by Michael Keaton in "Batman," the 2016 Aston Martin DB10 featured in the latest James Bond film, "Spectre," and Steve McQueen's 1956 Jaguar XKSS.
This last car is among the museum's most prized acquisitions. Only 16 of the cars were built, and in 1959 McQueen implored his wife (the main breadwinner at the time) to buy it for $5,000. McQueen vehicles are commanding sky-high prices at auction, so the car is worth at least eight figures, the museum says.
Anecdotes like this oil the gears at the Petersen.
"It's the stories that we're selling," Karges says. "And we'll reopen as a 21st century automotive museum taking full advantage of future technology for a more rich storytelling capability."
When the museum closed in late 2014, it had seven flat-screen TVs. It now has more than 160 types of screens, including 35 interactive touchscreens and an 8-by-20-foot LED billboard. Some of the 47 projectors play clips from films behind the cars that were featured in them.
Karges and his interior design team traveled to 32 museums around the world to study automotive-related exhibits and find out which features best resonated with viewers. Destinations included the BMW Museum in Munich, Germany, the Museo Ferrari in Maranello, Italy, and the International Spy Museum in Washington, D.C. Education and outreach became a big part of the museum's mandate. Karges says that the Petersen wants to be the center of automotive thought in California and beyond.
"If you want to talk about alternative fuel, let's do it here," he says. "If you want to talk about teen driving safety, let's do it here."
The new Petersen aims to have a new activity or event, such as movie nights and car shows, every three days. It hopes to draw about 235,000 visitors in the first year after it reopens, up from 138,000 when it closed.
When Mullin joined the museum as chairman in 2013, he was told that 70% of visitors were first-time guests.
"That was one of the worst things I've ever heard," he says, because it meant that only 30% were people saw reason to come back. "So a driving force was to make it a living museum in the sense of change and new offerings and new things to look at and learn from."
Mullin is particularly excited about the new emphasis on the automobile as art. The entire first floor will be devoted to this concept and will include French cars from the 1930s, a historic period when the automobile reached "the apex of the finest sculptural design."
For Mullin, looking at the automobile as rolling sculpture has been a long time coming. Until the last decade, museums thought art was art and cars were cars, he says, but that has changed as more galleries feature car exhibits.
Will sculptural curves, in the form of 135 tons of steel and aluminum on the museum's exterior, intrigue visitors enough to venture inside? The hope is that some visitors walk over from the more solemn architecture of the Los Angeles County Museum of Art and the upcoming Academy Museum of Motion Pictures across the street.
"The buildings across the way are gentlemen in black ties," says Gene Kohn, chief architect of KPF. "Our museum is more like a ballerina, or the dancing lady going to the ball."
ALSO:
Bill Cosby art collection: How the National Museum of African Art shot itself in the foot
Shia LaBeouf's latest art project, '#ALLMYMOVIES,' finds LaBeouf watching LaBeouf
Beyoncé and Kelly Rowland's trip to L.A.'s Hammer Museum -- and the women artists they went to see
---
Inside the business of entertainment
The Wide Shot brings you news, analysis and insights on everything from streaming wars to production — and what it all means for the future.
You may occasionally receive promotional content from the Los Angeles Times.