At USC and Disney Hall, finding the body and soul of the cello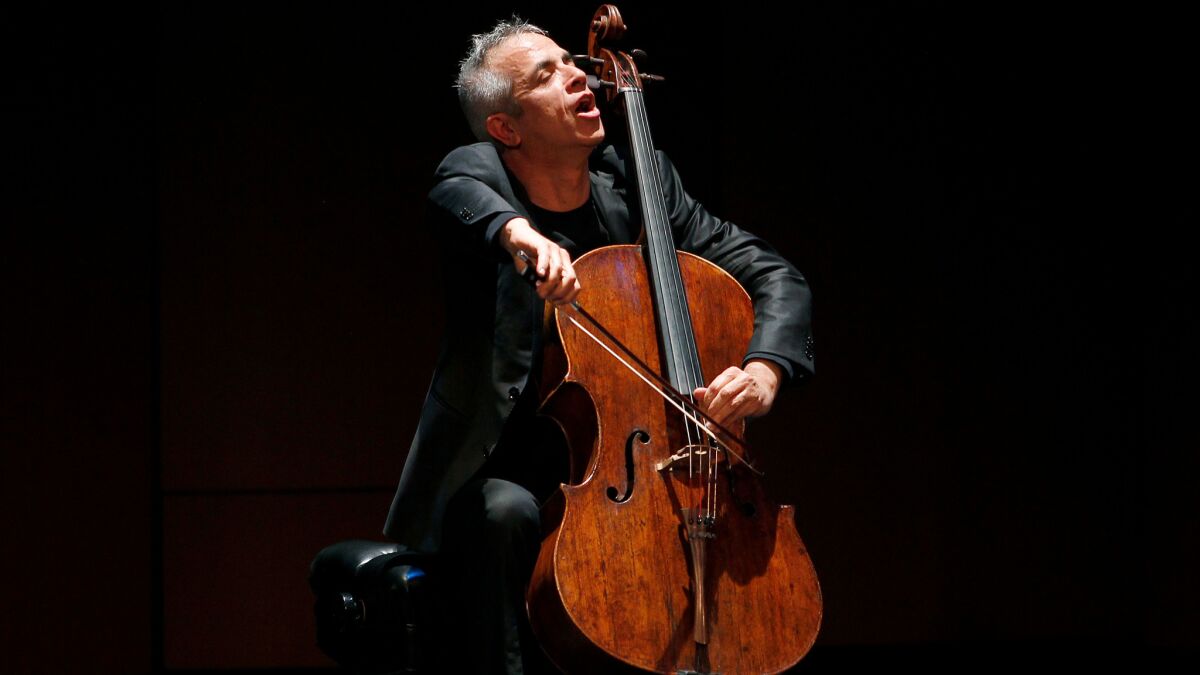 Thanks to the Piatigorsky International Cello Festival this week, cellists have overrun USC. Expect dozens of noted soloists and select students obsessing over rosin for the bow, stage fright, phrasing, tone, projection, playing with pain, flying with the cello (a nightmare), the pros and cons of weightlifting and all the other things that preoccupy cellists.
But what makes the cello particularly fascinating, especially to cello outsiders, is how this instrument resembles the body. To play a cello, you hug it, and if you wish, you can do more. In fact, Sunday, the first full day of the festival, a bevy of spectacular cellists used the instrument as a device for seduction, for self-examination, for escape, for spiritual sustenance, as a stand-in for the soul.
The Los Angeles Philharmonic has partnered with USC Thornton School of Music (as has Los Angeles Chamber Orchestra), and the day began with the L.A. Phil matinee at Walt Disney Concert Hall featuring Sol Gabetta — one of only two women among the festival's 26 soloists! — in Martinu's Cello Concerto No. 1, conducted by Leonard Slatkin (whose mother happened to be the well-known Hollywood cellist Eleanor Aller). Later in the afternoon, an opening gala at USC's Bovard Auditorium included the German Cello Duello; Italian cellist Giovanni Sollima, who is the Roberto Benigni of the cello, in a riotous solo improvisation; and a multimedia love letter to Argentina hosted by Antonio Lysy. That evening, Yo-Yo Ma gave a celebrity recital to an adoring full house back at Disney Hall.
No two cellists were remotely alike, but they did share an unusual, overt physicality in their relationship with their instruments. Gabetta, who is Argentine, comes across with the unbeatable combination of being strikingly focused yet unfettered. In her hands, the melodic lilt and rhythmic vigor of Martinu's concerto (written in 1930 and later revised) took on a usefully racy character. During her encore, a riveting meditative solo by Latvian composer Peteris Vasks, she sang along with the melodic line on the cello in such a way that the cello seemed to be her singing and her singing seemed to be the cello playing. It was magnificent.
For Cello Duello's Jens Peter Maintz and Wolfgang Emanuel Schmidt, who opened the USC gala, the cello became an extension of the pair's dramatic personas. Their performance of a Haydn duo verged on a theatrical skit that was true to Haydn's compositional wit but also something fresh.
In his improvisation, Sollima, who is both a post-Minimalist composer championed by Philip Glass and a specialist in Baroque music, was cellist as inspired clown. There was nothing he didn't do to or with the cello. He bowed everywhere on the instrument that you are not supposed to come near with horsehair (such as the pin). He even bowed his shoe, which produced a quite nice tone. He got the audience to squeal along. All the while, he remained musically cogent, turning memorable melodic motives into one thing then another then another, as if by magic.
Lysy's "Te Amo" Argentine tribute didn't stick to traditional cello, either. He was joined by tango dancers, the Attacca string quartet, pianist Bryan Pezzone and others. There was video with time-lapse photography. Cello theater is possible, but nothing on Sunday served to convince that it was wanted. Lysy's solo performance of Ginastera's "Puneña," for instance, was vastly more dramatic than projections of the Milky Way on a large screen behind him.
On the other hand, Ma, who has been on the contemporary forefront of stretching the cello's theatrical and repertory possibilities, remained conventional in a recital program with pianist Kathryn Stott that took no chances. About the most daring thing he did was come out after intermission wearing a festival T-shirt in place of his coat and tie.
He brought his ever-impressive intensity and urbane lyrical polish to sonatas by Shostakovich and Franck. But he cheapened them by bringing exactly the same showy intensity to what he calls the "Arc of Life" Suite, a tiresome collection of crowd-pleasing bonbons and to more encore bonbons. Which music do you trust?
A friend of Sollima (who isn't?), Ma did program one novelty: a short movement from a film score Sollima wrote for an Italian television remake of the 1960s film "Il bell'Antonio." It is a slight work.
Had someone been paying attention, however, Ma and Sollima might have been invited to play Sollima's double concerto, "Antidotum Tarantulae XXI," which the two cellists premiered with the Chicago Symphony two years ago. In one hysterical movement, Athanasius Kircher — the same subject as in Louis Andriessen's "Theatre of the World" that the L.A. Phil recently staged — becomes infected by daft dance.
Even so, the festival continues with all manner of concerts and public master classes at USC and a program at Disney on Tuesday that includes a new piece for mass cellos by Anna Clyne.
------------
Piatigorsky International Cello Festival. Walt Disney Concert Hall (CelloFest at 8 p.m. Tuesday), USC Alfred Newman Recital Hall (daytime master classes and recitals), USC Bovard Auditorium (evening concerts). All day through Sunday. $10-$116; some events are free. Festival passes available. (213) 740-4672 or piatigorskyfestival.usc.edu; (323) 850-2000 or www.laphil.org
---
Get our daily Entertainment newsletter
Get the day's top stories on Hollywood, film, television, music, arts, culture and more.
You may occasionally receive promotional content from the Los Angeles Times.