Review: Plácido Domingo brings the music of Spain to Hollywood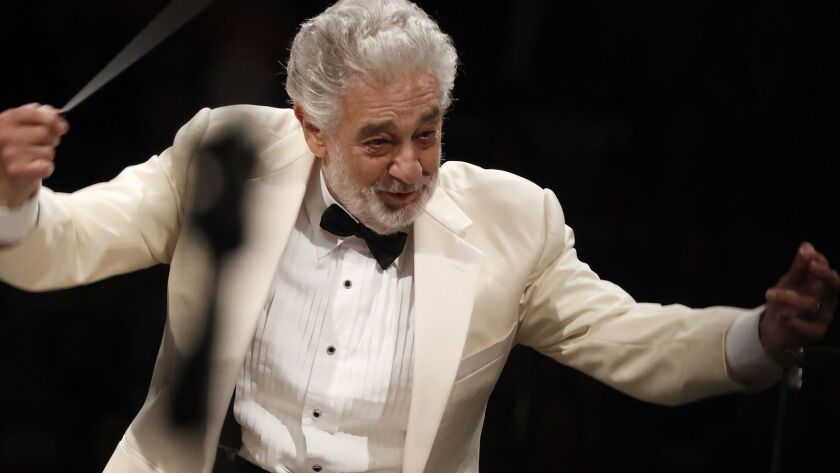 Once there was a rigid demarcation line at Hollywood Bowl between Classical Tuesdays and Thursdays and so-called "pops" concerts on the weekends. Nowadays, though, that line is often gone.
Indeed, Thursday night's affair — the last Classical Thursday of the summer — felt like a "pops" concert as Plácido Domingo, the multitasking musical phenomenon who knows no rest and doesn't want it, led the Los Angeles Philharmonic in an enjoyable, tuneful, informal survey of Spanish music.
It was the sort of program that would have been at home in another age when "classical pops" consisted of an assortment of short, melodious, audience-friendly symphonic pieces. Yet the event didn't feel old-fashioned or staid, for mores are changing in the venerable yet ever-evolving Bowl.
Some in the close-to-capacity crowd whooped it up for the performers, breaking out in spontaneous applause in the middle of solos. The sound system ballooned the volume on the soloists, augmented by glamorous close-ups on the giant video screens.
Along the way, Domingo generously devoted much time to accompanying three soloists whose specialties could not have been more diverse. The most unusual performer of the three — Lucero Tena, 80, a Mexican/Spanish dancer who became a virtuoso of the castanets — was also the most wildly acclaimed by the crowd. She was front and center for Gerónimo Giménez's Intermedio from "La Boda de Luis Alonso" — a fun piece that imagines what Johann Strauss Jr. and Rossini would have sounded like had they been Spanish — and Rafael Frühbeck de Burgos' highly colorful orchestration of Albéniz's "Castilla," clicking away with exuberant intricacy.
Violinist Joshua Bell, a frequent Bowl performer and a draw on his own, was in showman mode with the slurping portamentos and cut-and-thrust attacks, but in this populist program, the context was right. He dashed through Saint-Saens' Introduction and Rondo Capriccioso — whose only connection to Spain is the dedication to Pablo de Sarasate — with undeniable brilliance, especially in the coda. Sarasate's own "'Carmen' Fantasy" was less neatly played, yet still effective.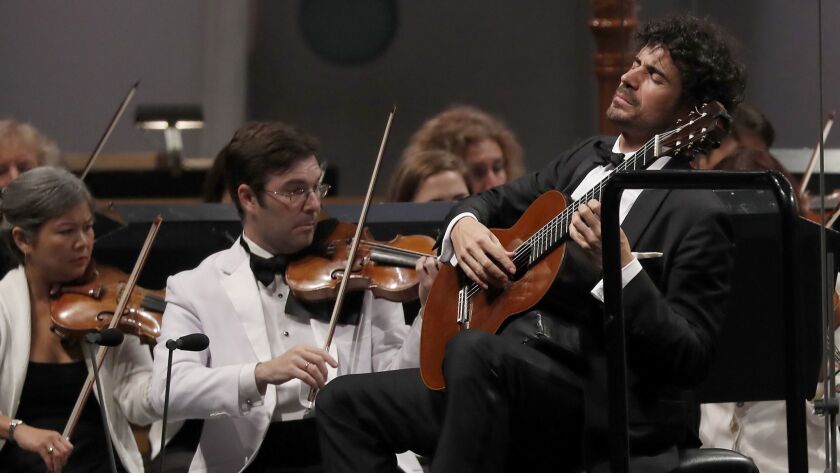 The Spanish guitarist Pablo Sáinz Villegas has been a collaborator with Domingo as of late; their duo CD of Iberian and Latin American songs, "Volver" (Sony), is due out in October. He made a virile impression in Rodrigo's "Concierto de Aranjuez" — the perennial No. 1 on the guitar concerto hit parade — strumming with authority, sporting a big, outgoing tone quality with much vibrato in the famous Adagio, conveying confidence and swagger to go with his sex-symbol looks on the screens.
Working hard, eyes usually glued to the scores, Domingo powered the LA Phil through Chabrier's "España" with a jaunty quality despite the somewhat slow tempo, surveyed Ruperto Chapi's Prelude to the zarzuela "La Revoltosa," and passionately led Falla's Three Dances from "The Three-Cornered-Hat" as the last word. Or so we thought, for Tena came back with a brief solo encore on the castanets dedicated to the tireless Spanish maestro.
See all of our latest arts news and reviews at latimes.com/arts.
---
Your essential guide to the arts in L.A.
Get Carolina A. Miranda's weekly newsletter for what's happening, plus openings, critics' picks and more.
You may occasionally receive promotional content from the Los Angeles Times.