Review: Kanye meets Beethoven: How young musicians are mixing classical with pop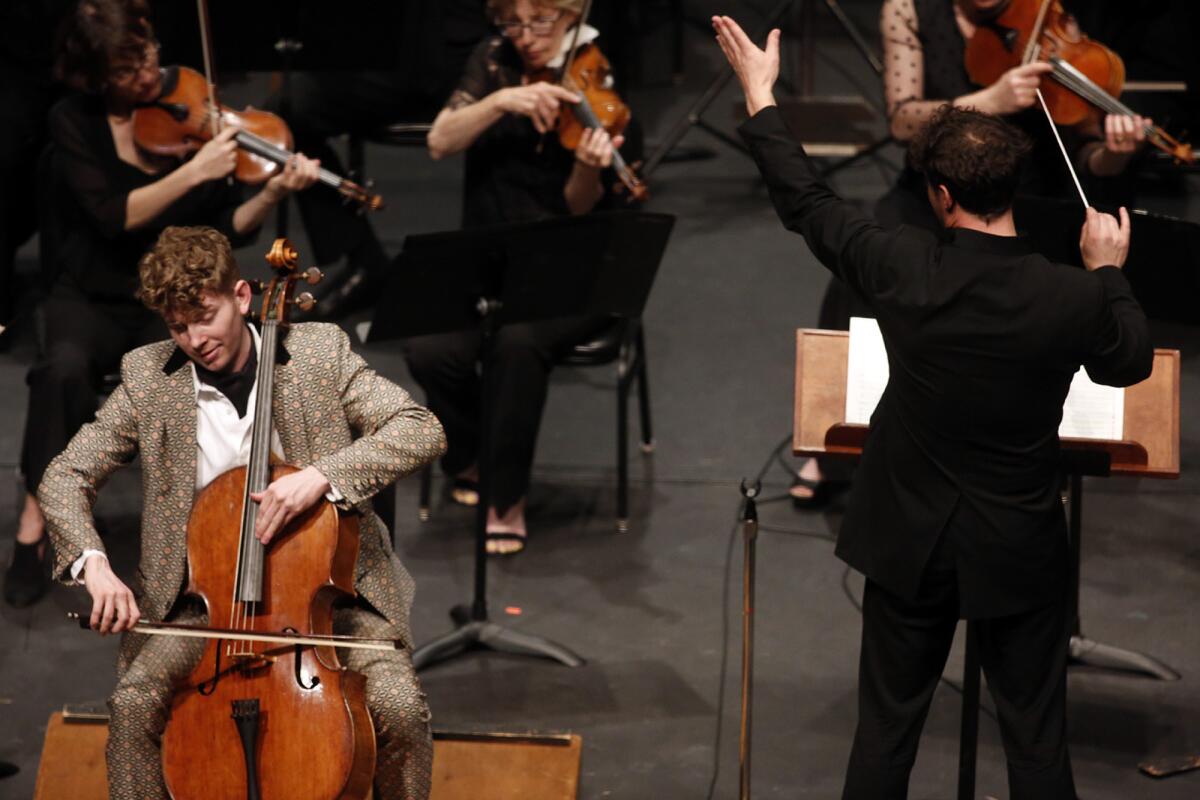 Los Angeles Times Music Critic
It wasn't quite Little Coachella in Little Tokyo. But as if out of nowhere, more than 1,000 hip-hop fans, some wearing Kanye West T-shirts, descended on the Aratani Theatre. A few had arrived as early as noon on Saturday and waited in the hot sun for a 7:30 p.m. concert.
Once the crowd had taken over San Pedro Street, the police came by to see what was going on. It was no big deal, they were assured, simply a queue for free tickets to the Young Musicians Foundation Debut Orchestra's Beethoven concert.
Make that Yeethoven, short for "Yeezus" (West's 2013 album) and Beethoven.
Meanwhile, not far away in Glendale, the Los Angeles Chamber Orchestra sandwiched between the tame "Classical Symphony" of Prokofiev and "Clock" Symphony of Haydn a new cello concerto by Mason Bates, who has one foot in electronica and moonlights as a DJ.
Is something going on? Yes and no.
Every generation genre-bends, each in its own way. They always have and, no doubt, always will. Eyebrows go up and they go back down. But by now it has gotten pretty hard to shock.
What does seem new is the lack of controversy. One almost longs for the days when Parisians rioted the premiere of Stravinsky's "Rite of Spring," the Viennese practically threw Mahler out of town for smudging the sacred symphonic art form with street music, and the 1950s avant-garde horrified the establishment with pursuits that redefined the definition of music.
I heard the Sunday night repeat of LACO's program at UCLA, and for both this and the YMF event Saturday, the musical and social welcoming mat easily co-opted rebellion. Still, it is hard to complain about attaining, through music, a unifying feel-good mood in our otherwise divisive feel-bad times. "Yeezy season approachin'," West tells us. Could that be the revolution we need?
What made "Yeethoven" especially engaging was its unmistakably sincere musical roots. The Debut Orchestra, a training ensemble for instrumentalists and conductors founded in 1955, happens to boast among its alumni André Previn and Michael Tilson Thomas, famed for their groundbreaking mixing of symphonic and pop worlds. The 26-year-old Juilliard-trained YMF music director Yuga Cohler is in their mold, a self-proclaimed hip-hop fan since childhood who does not see that and Beethoven as worlds in opposition.
A young composer of like mind, Stephen Feigenbaum, served as "Yeethoven" arranger and co-curator. Six Beethoven scores were paired with songs from "Yeezus," each grouping given a theme — Form, Contrast, Harmony, Rhythm, Gesture and Will — representing qualities Cohler and Feigenbaum find shared across centuries and cultures by Beethoven and West.
Introducing the pairings, Feigenbaum noted the chaotic, over-the-top nature of Beethoven's "Egmont" Overture and West's "New Slaves" or the heroic yet ambiguous character of the snappy second movement of Beethoven's Seventh Symphony and "Hold My Liquor." These are, of course, all general enough qualities that you could make the same case for any number of composers.
In fact, dissimilarities could be more striking than similarities, beginning with an informal pop crowd that little resembled the formal musicians on stage. Neither do Beethoven and West sound alike. And while West does profess some of Beethoven's democratic ideals and confidence, there are also major differences, such as the pop star's attitude toward women so radically opposed to Beethoven's idealized "Immortal Beloved." And, of course, orchestra and pop concert settings have little in common.
Yet "Egmont" and "New Slaves" are, each in its own way, transgressive arguments for freedom. Putting West in orchestral dress and removing the vocals meant avoiding anything offensive. Were his language to be used in a traditional classical concert (or this newspaper, for that matter), there really would be trouble.
All but two of the pairs were mash-ups. Beethoven seldom upgraded West, rather West infected Beethoven with contemporary funk and spunk. The final mash-up mattered most. An orchestral arrangement of the last movement of the Opus 131 string quartet undercut Beethoven at his most spiritually transformative with the raunchy side of West in "On Sight." Cohler and Feigenbaum's theme was Will, but it could just as easily have been Impurity. Beethoven kept earthy, and West's music rose spiritually higher than you might have otherwise expected.
For the enthusiastic crowd (200 or more were turned away), every recognizable West hook got a shout out and Beethoven got respect. Cohler conducted with surety and security. The orchestra, though looking a little dazed in these surroundings, played with a joyful sense of making a history.
The crowd at Royce Hall on Sunday night was more standard issue for LACO, with but a few more young people than normal in attendance. (I wonder what would happen with audiences at UCLA if the school eliminated its $12 parking fee for concerts.) Much of the interest here focused on Matthew Halls, the British conductor who became music director of the Oregon Bach Festival two years ago and whose strong showing makes him a credible candidate in LACO's music director search.
An all-around early music guy whose recording of Bach harpsichord suites is a knockout, Halls also happens to be big on 19th century opera, symphonic blockbusters and contemporary music. He went for boldness in both Prokofiev and Haydn, getting some of the loudest playing I've heard from the orchestra.
But he put most of his attention on Bates' new Cello Concerto, which had its premiere earlier this year with the Seattle Symphony (conducted by Mirga Grazinyte-Tyla). It was written for Joshua Roman, who has his own street cred. The popular young cellist will, for instance, be playing at Amoeba Music on Wednesday, and he showed up at Royce in a showy print suit reminiscent of '60s Carnaby Street.
Bates is everywhere. The new composer-in-residence of the Kennedy Center (a first), he will have his next premiere streamed next week on the San Francisco Symphony Facebook page (believed to be a first for a major orchestra). He has lively orchestral imagination excellent for evoking specific sonic environments (such as primordial life or a future colony in Iceland) by adding beats and electronica effects to snappy melodies.
See more of our top stories on Facebook >>
The Cello Concerto is more traditional. It includes instances of lightweight jazziness and commercial pop. It exploits Roman's flowery virtuosity and offers the cellist diverting light touches — such as bouncing the bow on the strings and plucking them with a guitar pick. But with Roman's propensity for cuteness, this concerto becomes less the transgressive expansion of our musical vocabulary than a contrivance suitable for taming the "monster about to come alive again" that West unleashes in "Yeezus" and Cohler cavorts with in "Yeethoven."
MORE ENTERTAINMENT NEWS
Kanye West, Tidal sued over exclusivity claim for 'Life of Pablo'
Musco Center's sound decisions might make it the best opera house in the West
After 'Game of Thrones' ends its epic run, how will HBO fill the void?
How did old punk upstart Goldenvoice snare the rock icons it once rebelled against? Coachella
Hollywood's glaring problem: White actors playing Asian characters
Get our L.A. Goes Out newsletter, with the week's best events, to help you explore and experience our city.
You may occasionally receive promotional content from the Los Angeles Times.