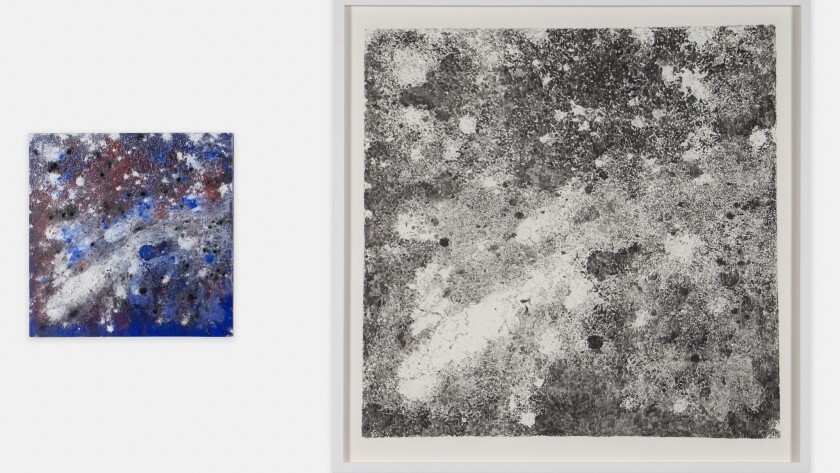 Ideas around chance -- which Merriam-Webster defines as "something that happens unpredictably without discernible human intention or observable cause" -- have driven a lot of art in the past century. Denver-based Conceptual artist Chris Oatey joins the crowd in nine recent pairs of paintings and drawings at CB1 Gallery.
However, Oatey complicates matters by inserting bits of human intention and observable cause back into the otherwise accidental mix. It might not be discernible, but is human involvement with chance ever fully disengaged?
SIGN UP for the free Classic Hollywood newsletter >>
Oatey begins by applying pigment, oil paint and lacquer to wood panels in layers thick and thin. Presumably the image is abstract. Still wet, the panel is left outdoors during a snowfall. Its date will become the work's title.
Colors bleed, mottle or are washed away, the surface bubbling and crackling. Like Marcel Duchamp allowing city grime and dust to build up on a sheet of glass in the 1920s, a chance composition is created.
Next the artist photographs the panel. He lays the photograph on top of a sheet of carbon paper itself placed on top of drawing paper. The photograph's dark patterns are traced with some sort of stylus, the pressure transferring the visual information to the drawing.
Oatey's images recall precedents as disparate as Robert Rauschenberg's transfer drawings, Vija Celmins' pencil renderings of the desert floor and Ed Moses' graphite drawings of roses. Techniques of printing, both natural and artificial, get woven together.
A repetitive sameness can mark the work, which cannot incorporate much variation, but Oatey's process-heavy art does hum with a surprising meditative quality. Nature and culture are engaged as ineffable partners.
CB1 Gallery, 1923 Santa Fe Ave., Los Angeles, (213) 806-7889, through Feb. 20. Closed Sundays and Mondays. www.cb1gallery.com
christopher.knight@latimes.com
---