Q&A: Ringling Bros. animal trainer and family exec on staging the show's first circus without elephants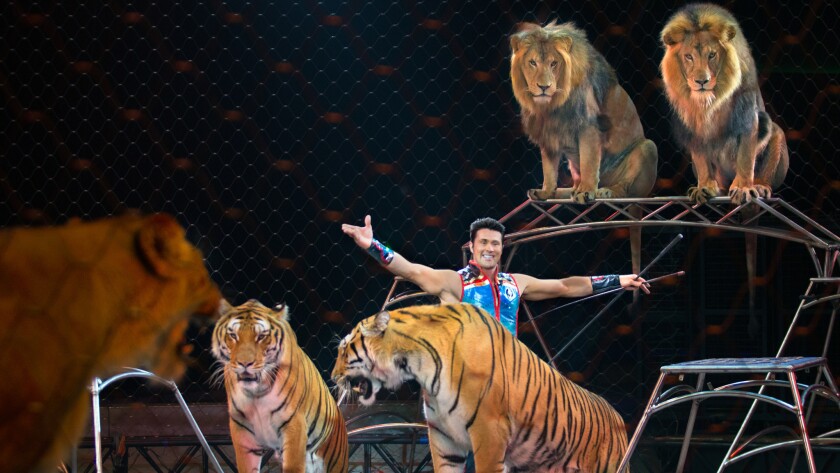 The Ringling Bros. and Barnum & Bailey circus pulls into Los Angeles this week with a new show, but the big top will be missing some of its best-known stars: the elephants.
The company, owned by Feld Entertainment since 1967, retired its last 11 performing Asian elephants in May to a conservation center in Central Florida. We spoke with the new show's producer (and third-generation executive in her family's business), Alana Feld, in anticipation of the Staples Center premiere. For some additional perspective, we also spoke with Alexander Lacey, the big cat trainer who has been with Ringling Bros. for five years.
What was the concept behind the new show, "Out of This World"?
Feld: We made the decision to retire our Asian elephants, and in doing that, we wanted to really use that as an opportunity to reimagine Ringling and create a whole new experience for families. I think the biggest change we made is we now have an ice surface as part of our performance space, which changes the show and the performances.
How central to your shows were the elephants?
Feld: The elephants were a part of Ringling Bros. for 145 years. And they're so big, too — so certainly, physically, they take up a lot of space. So it was important that we thought of creating an experience that was very different, that didn't feel like we were replacing the elephants in any way — because you can't replace them.
But you still have animals in the show, right?
Feld: We do. We have [77] incredible animals in the show. Alexander Lacey, our big cat trainer, works with lions and tigers. We have an incredible assortment of fuzzy animals, from donkeys to alpacas and llamas to pigs and dogs. We even have kangaroos in this show. And we also have unbelievable horses.
Has criticism of the way Ringling uses or treats animals affected the way they take part in this show?
Feld: We certainly have a lot of critics out there, and there's definitely a lot of misinformation. What I will say is that we are looking to give our audiences more information and more access than we ever have before.
For an example, in [Lacey's] act, you're not just seeing him work with his lions and tigers, you're actually hearing him too. He's on a microphone. If you close your eyes and listen to it, you would think he was talking to a group of children in a classroom. I think that audiences are definitely getting to see a greater connection in the relationship between the trainers and the animals.
What would you say in response to criticism that you still use performing animals?
Feld: There's so many families that come to Ringling Bros. because they want to see animals up close. Ringling is one of the only places that people can come and see incredible animals and really witness that relationship that our trainers have with them.
Alexander, did Ringling's decision to retire its elephants affect the way you work with your animals, or the kind of acts you do?
Lacey: No, because I have always presented my animals rather than myself. It's not important for people to think that I'm brave. What's important to me is that the audience sees what a great relationship I have with my animals, how they respect me, love me and respond with me, and how we work together. We don't try to degrade the animals. We try to show them off and make the public really realize just how intelligent these animals are.
Is the way you've always worked with animals in contrast to the traditional circus treatment of animals?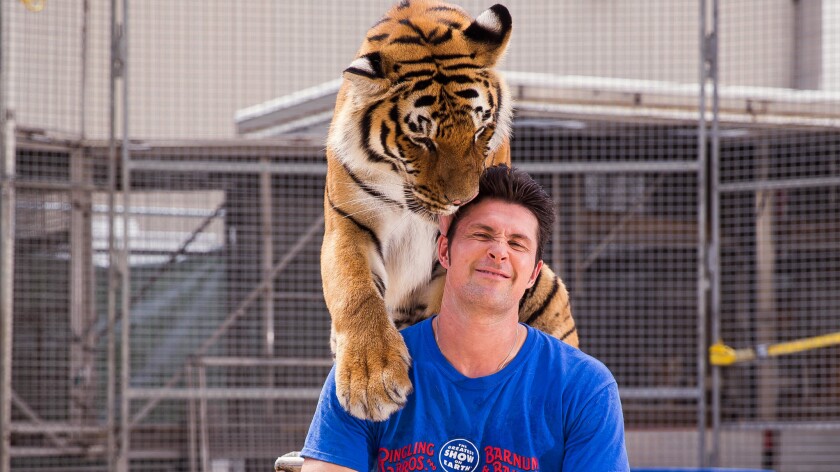 Lacey: I was never given the opportunity to even go into a cage and actually have any close contact with any animal until I'd learned how to care for them properly. You can learn an amazing amount of information from being around those animals, just feeding them, looking after them, watering them. I actually had to do that for five years.
That's a little bit of a problem with any line of work nowadays, not just animal training. Everybody wants to jump to the top of their ladder right away. But it's the people that do the hard work before that are often the best. I'm very glad my parents had that very strong work ethic, and it's made me respect and understand animals better than probably anybody else.
What would you say to criticism that Ringling Bros. even still uses animals?
Lacey: All of our animals are born and bred here. None of my cats have ever been taken out of the wild. We have very, very strong scientific evidence, for example, that lions and tigers are not stressed doing travel, they're not stressed doing training, they're not stressed at any other part of their environment from day to day.
I know full well from my experience around the animals that they are very, very content. They breathe very well. All of the animals live to be far older than any other of their counterparts in the wild. They're always a lot healthier and better looking and in much better shape than any other animal in a captive environment because they're always working, they're always kept busy.
Unfortunately, the public has become so detached from the reality of what animals really are, and being around them, and what it takes to care for them and actually understand them, that a lot of their opinion is merely based on their own feelings and not any firsthand knowledge.
------------
Ringling Bros. and Barnum & Bailey's "Out of This World"
Where: Staples Center in L.A. July 14-19, Citizens Business Bank Arena in Ontario July 22-26, Honda Center in Anaheim July 29-Aug. 7
Tickets: $20-$130
Info: (888) 9AXS-TIX, axs.com, www.ringling.com
Follow The Times' arts team @culturemonster.
ALSO
Ringling Bros. circus to end its elephant acts this spring after more than a century in the show
PETA urges L.A. to ban all wild animals from circus performances
City Council bans use of bullhooks on circus elephants in L.A.
---
Your essential guide to the arts in L.A.
Get Carolina A. Miranda's weekly newsletter for what's happening, plus openings, critics' picks and more.
You may occasionally receive promotional content from the Los Angeles Times.