Eggs are being fried as art at the Hammer Museum. Let's see what's cooking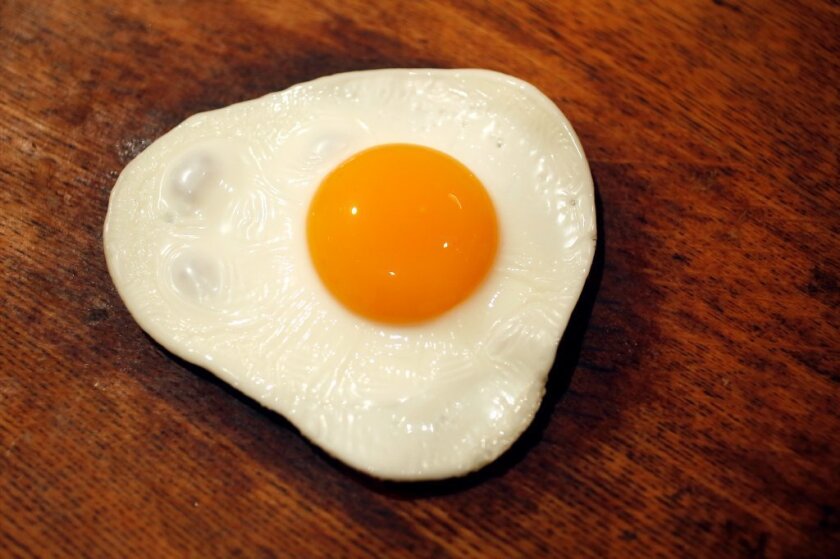 It's 10:30 a.m. at the Hammer Museum, which is relatively still and quiet a half-hour before the doors open to the public. But chief art preparator Jason Pugh is scrambling.
Or, more accurately, frying.
Hovered over a hot pancake griddle in the third-floor staff kitchen — which also houses mail slots and a rumbling copy machine — Pugh is frying two sunny-side-up eggs that will go into a work of art in the exhibition "Sarah Lucas: Au Naturel."
The survey of the British artist's work includes collage, photography, sculpture, video and installations, many of which humorously juxtapose everyday objects in a way that challenges assumptions about gender, sexuality, religion and power. One standout piece is "Two Fried Eggs and a Kebab" (1992), which features, well, two real fried eggs and a pita pocket below it stuffed with shredded kebab meat arranged on a worn wooden table.
Another is "Au Naturel" (1994), featuring two robust melons above an empty bucket, the loose female form lying beside an erect cucumber flanked by two oranges on an old, sagging mattress.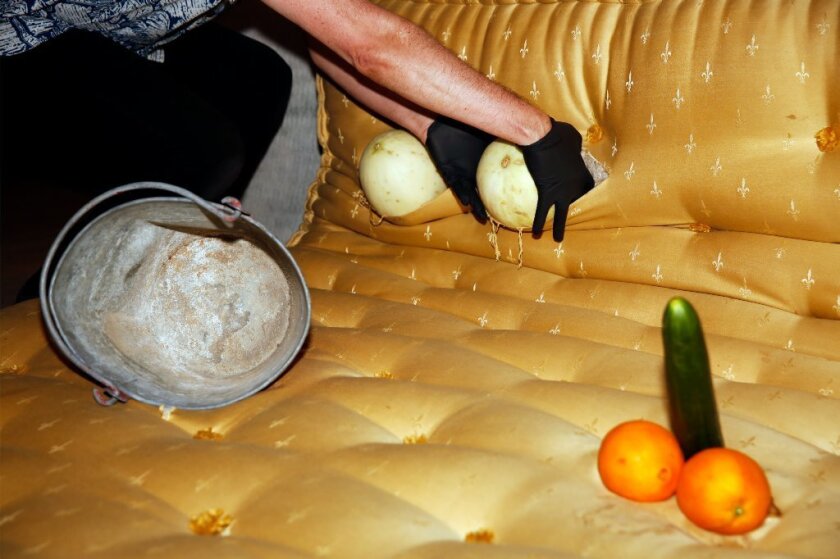 It's whimsical, provocative work. But still, the eggs must dutifully be replaced daily; the meat, every other day; and the fresh produce fairly regularly to ensure its perkiness. Which is where Pugh comes in.
Typically, Pugh would be wielding a tape measure or drill when installing art. Today, it's a plastic kitchen spatula. He gingerly cracks one brown egg on the side of a plate, then gently slips its gooey insides onto the grill, careful to contain its shape. "Runaway eggs," as he calls them, are a problem.
"These are well-behaved eggs," he says, eyes peeled on the art materials as they sizzle. "Their shape is fairly egg-like, the yolks are intact. The bottoms are pretty rubbery. I would not eat these eggs." With his loose, Hawaiian shirt and laid-back demeanor, Pugh appears more "backyard barbecuing dad" than contemporary art professional.
Lucas has a wry sense of humor, but she takes her food prep seriously. The artist gave Pugh very specific instructions: sturdy-bottomed eggs with browned edges; no seasoning or oil, lest the table they sit on become soiled.
"And they are to be sunny side up," Pugh adds. "A little more like a cartoon, more of a hyper-real kind of an egg."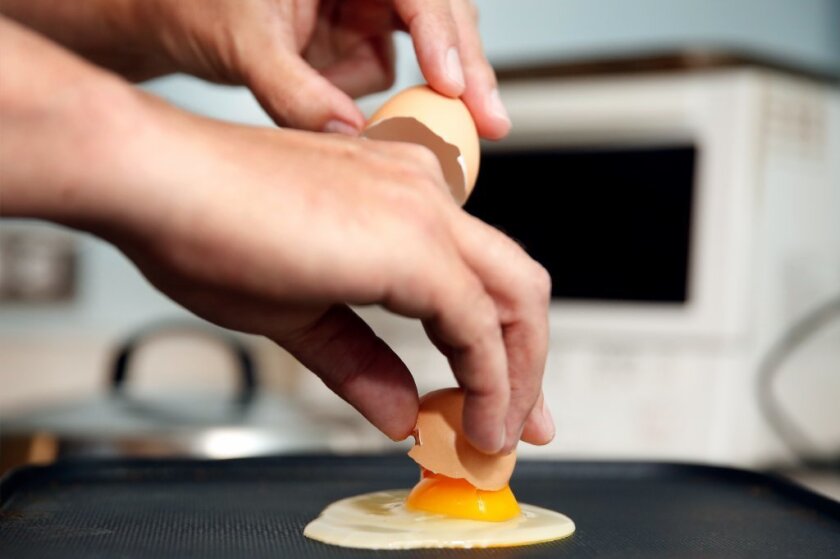 The New Museum in New York organized the Lucas exhibition and opened it in 2018. Reinstalling the show at the Hammer required sourcing all new and local food fodder. Pugh, who attended culinary school after studying art at UCLA, scoured dozens of stores, restaurants and farmers markets to find egg, bread, meat and produce varieties for Lucas to choose from. They considered multiple types of melons before settling on honeydew. The meat comes from a Middle Eastern restaurant near the Hammer and the bread from a Mediterranean shop in Culver City. The eggs? Organic. And from free-range chickens raised on feed seasoned with paprika, which brightens the yolks, Pugh says.
"We had a long discussion about the yolks," Pugh says. "Like most artists, Sarah has a very specific vision. Sure, the materials, the titles, the set-ups are hilarious, but she is very particular about the choices that are made with the materials. We procured a lot of different types of kebabs."
Egg-frying isn't the most outlandish assignment Pugh has taken on at the Hammer. He once installed a work with live aquatic snails by Max Hooper Schneider. Another time he spent the night at the museum to melt 500 pounds of wax for the exhibition "Marisa Merz: The Sky Is a Great Space." But Lucas' show is one of the most humorous, he says, placing the finished, now latex-like eggs on a platter. Then he races over to the gallery to crown Lucas' art installation with the fruits of his labor just minutes before the exhibit opens for the day.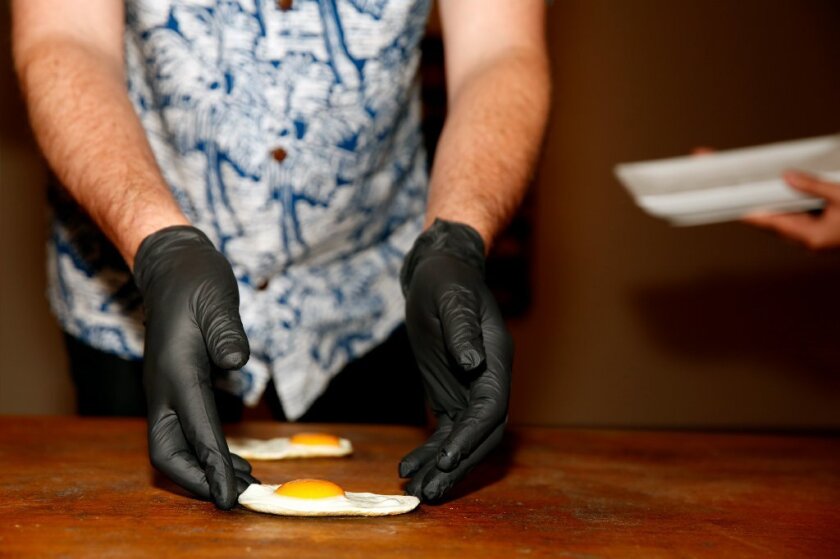 Wearing latex gloves, Pugh carefully slides the eggs onto Mylar cutouts on the table. "I've made a bunch of aesthetic decisions in cooking the eggs, so I do consider these things to be components of the artwork," he says.
He checks the melons in "Au Naturel," and they appear to be holding up. But the cucumber — it's always problematic. He props it up in the mattress cutout so that it stands tall. Even choosing the right cucumber for the piece turned into a playful man-against-man competition, he says, chuckling.
"I bought a cucumber, and the studio assistant bought a cucumber. So we're comparing cucumbers, and it was like, 'OK, yeah, the bigger one.' It was his."
When everything is in place, Pugh disappears back to his office, the now-empty platter under his arm.
The gallery begins to fill with visitors, and Pugh's eggs take on a regal air in their new art setting. Under the gallery lights they glisten, studded with air bubbles, their yolks deep gold and glossy, as if powder-coated or set with varnish.
One visitor, Carolyn Campbell, a PR consultant from West Hollywood, stops by and considers the work, deeply engrossed.
"It's powerful imagery and symbolism," she says after a long silence. "But," she says shaking her head, "God help the poor [guy] who has to fry the eggs daily!"
=====
'Sarah Lucas: Au Naturel'
Where: Hammer Museum, 10899 Wilshire Blvd., Westwood
When: 11 a.m.-8 p.m., Tuesday-Friday, 11 a.m.-5 p.m. Saturday-Sunday, through Sept. 1
Admission: Free
Info: (310) 443-7000, hammer.ucla.edu
---
From the Oscars to the Emmys.
Get the Envelope newsletter for exclusive awards season coverage, behind-the-scenes stories from the Envelope podcast and columnist Glenn Whipp's must-read analysis.
You may occasionally receive promotional content from the Los Angeles Times.