Review: Mark Swed hits the road for a weekend of SoCal orchestra listening
Los Angeles Times Music Critic
Southern California is a land of symphony orchestras. We support dozens upon dozens of them — kiddie, youth, university, community and the world's greatest and most important. They turn up not just in the big cities but seemingly everywhere — Rio Hondo, Topanga, Redlands, Bellflower, Downey, Redlands, La Jolla, the Imperial and Coachella valleys. With Walt Disney Concert Hall, a symphony auditorium has even become an enduring symbol of Los Angeles.
So the first weekend of the new year seemed a good time to check on a few. The Los Angeles Philharmonic, Pacific Symphony, Pasadena Symphony and San Diego Symphony opened for business with their first concerts of 2016. (The music directors may not have yet been back, but it matters how the musicians play when the cat is away.) In addition, two noted training orchestras — the Orange County Youth Symphony and the Young Musicians Foundation Debut Orchestra — joined forces for a special concert.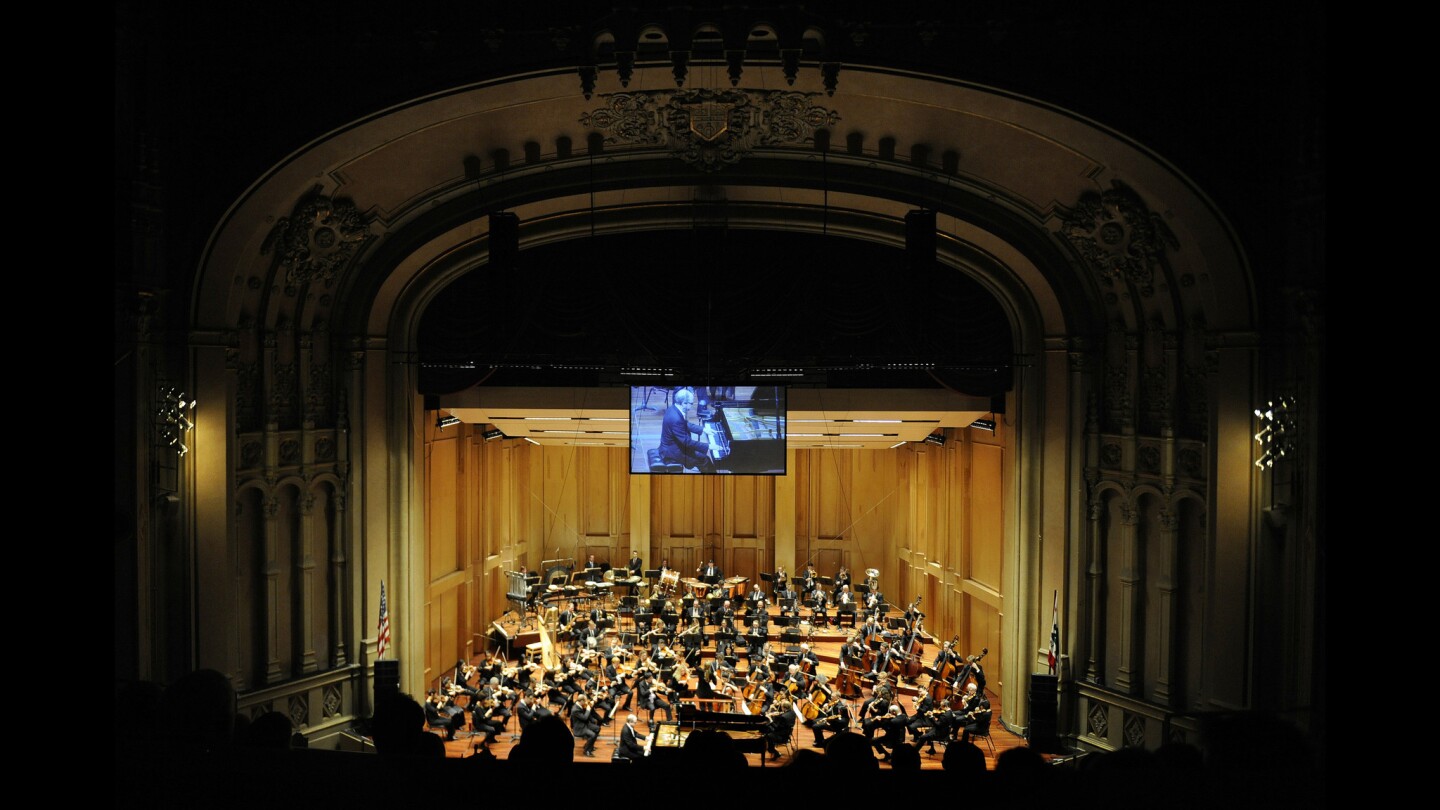 Conductor Karina Canellakis and pianist Marc-André Hamelin perform with the San Diego Symphony at Copley Symphony Hall in San Diego on Sunday, Jan. 10, 2016.
(Christina House / For The Times)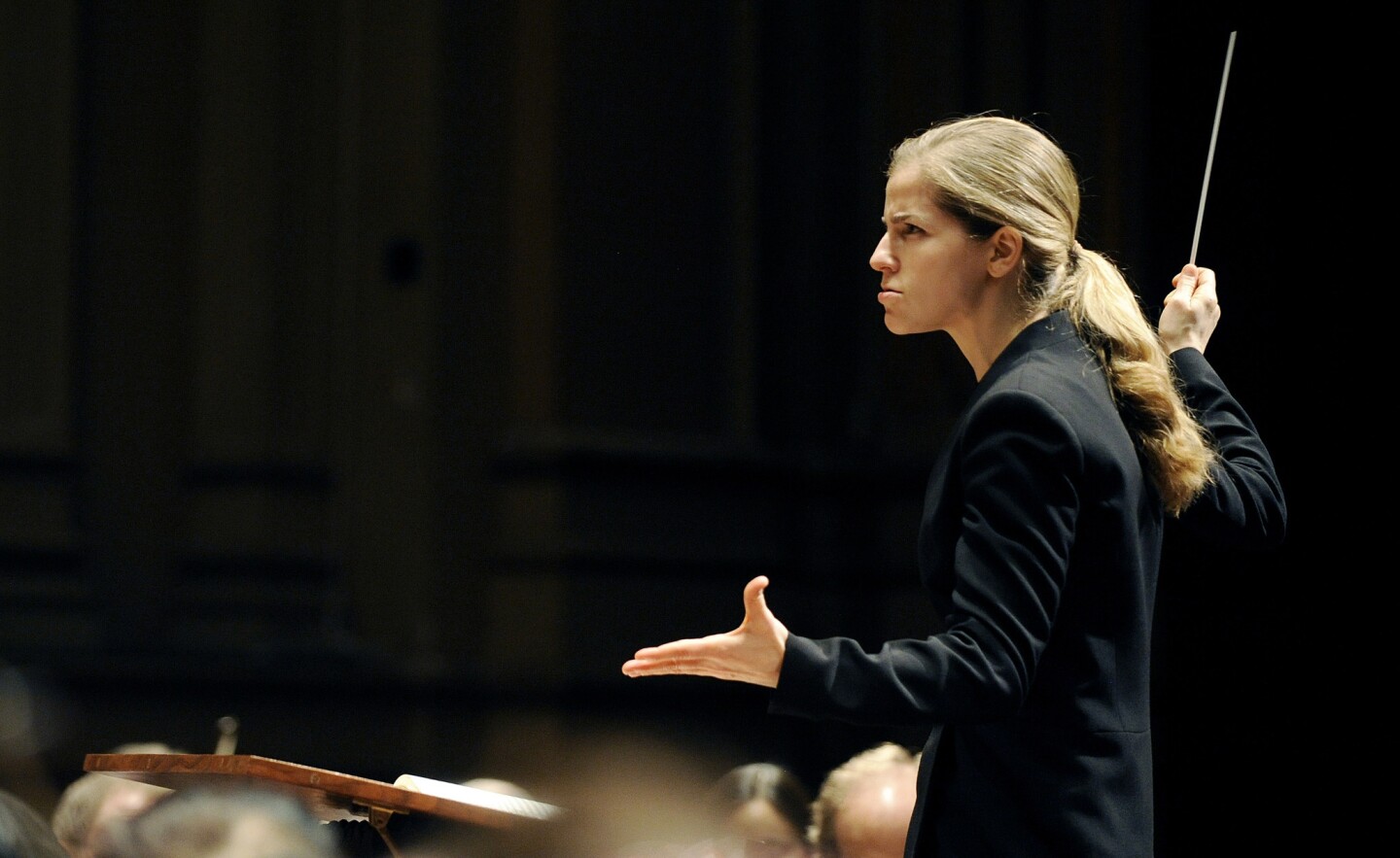 Conductor Karina Canellakis performs with the San Diego Symphony at Copley Symphony Hall in San Diego.
(Christina House / For The Times)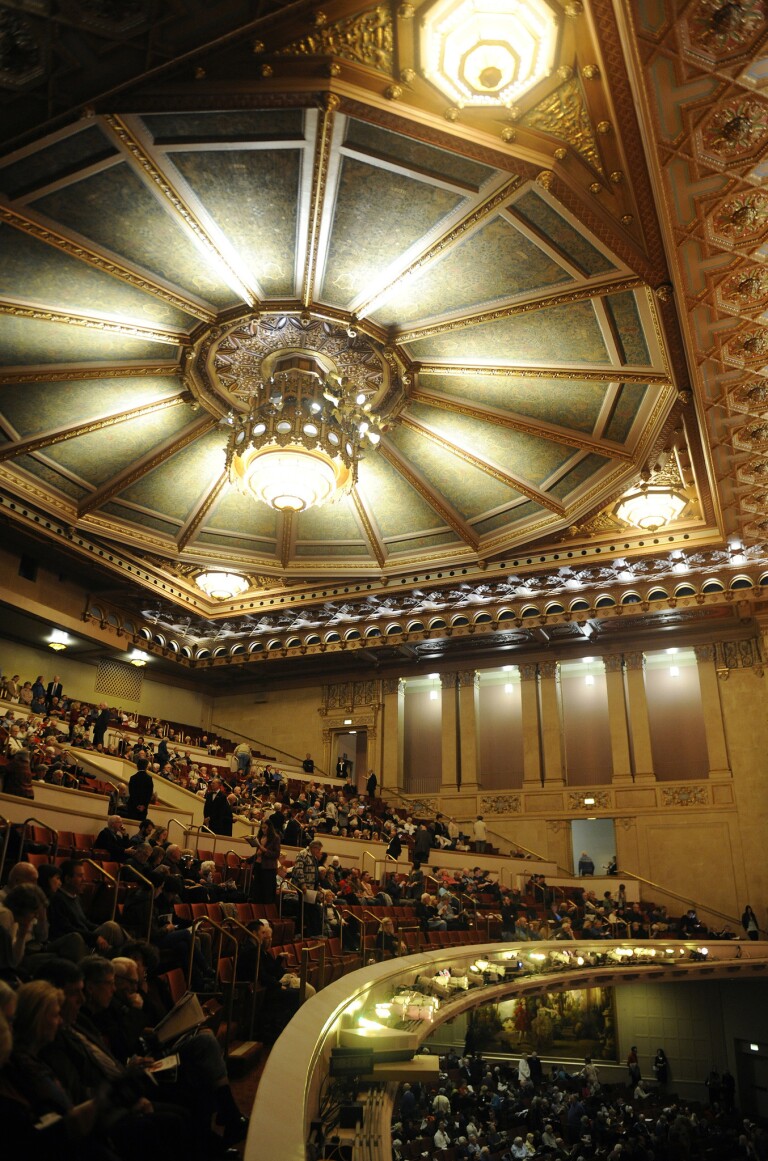 Copley Symphony Hall in San Diego.
(Christina House / For The Times)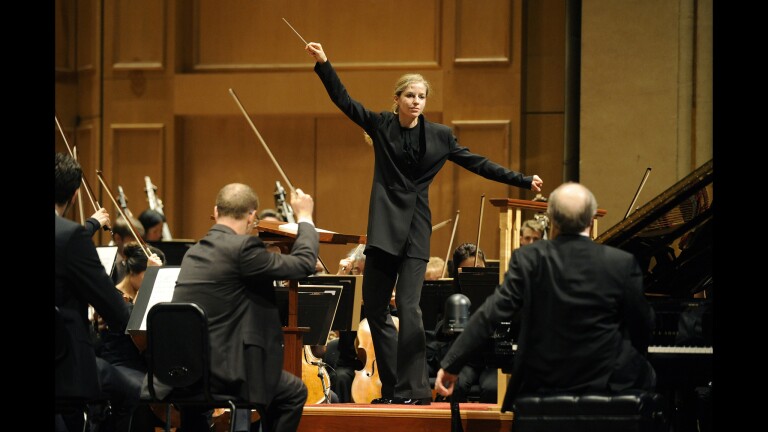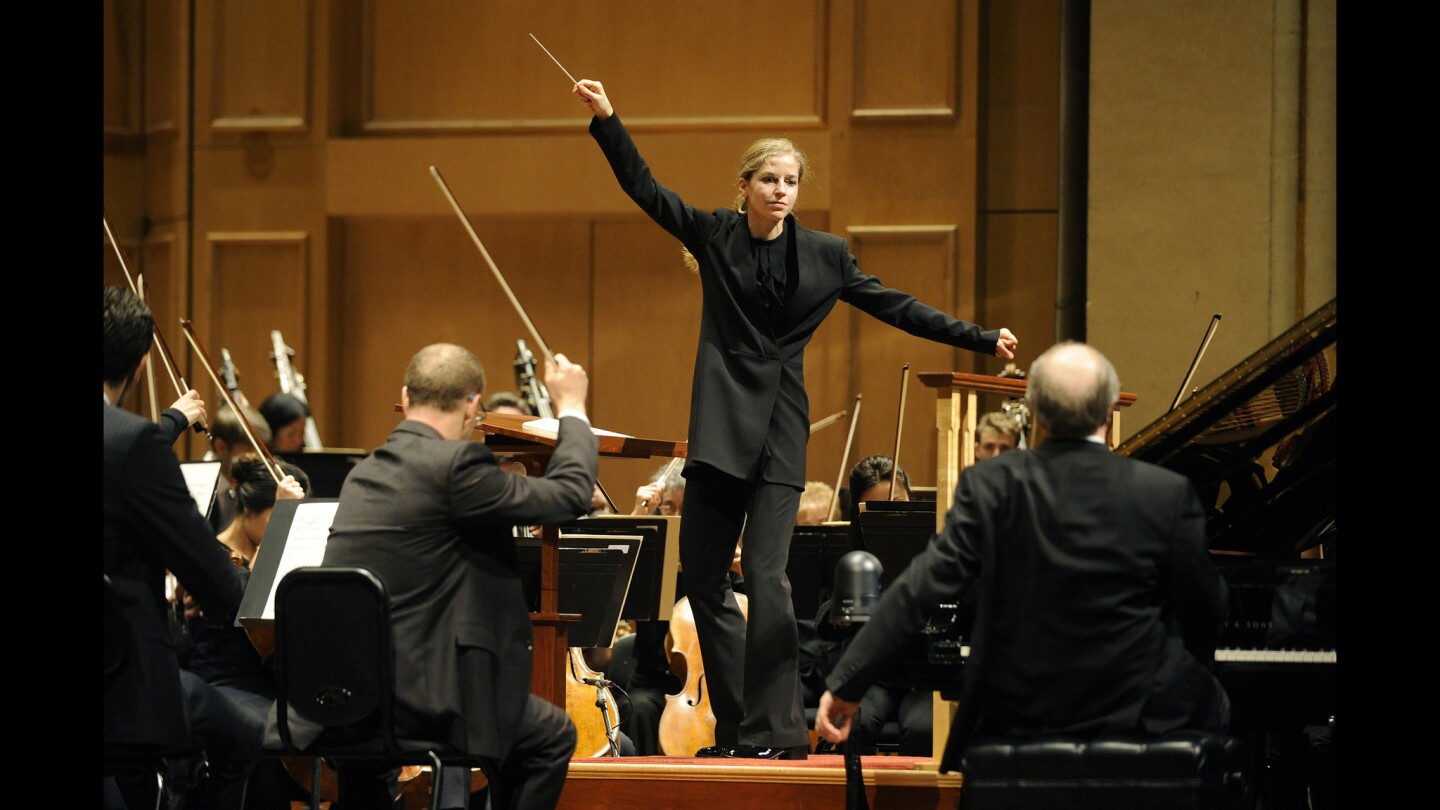 Conductor Karina Canellakis and pianist Marc-André Hamelin perform with the San Diego Symphony at Copley Symphony Hall in San Diego.
(Christina House / For The Times)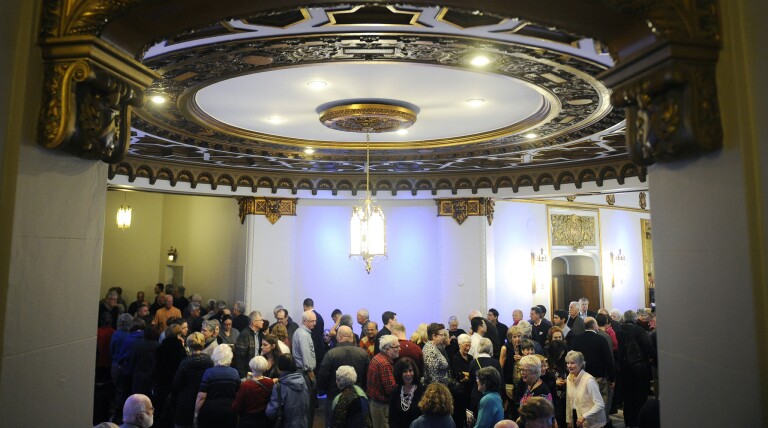 Crowds fill the hallways during intermission of conductor Karina Canellakis and pianist Marc-André Hamelin's performance with the San Diego Symphony.
(Christina House / For The Times)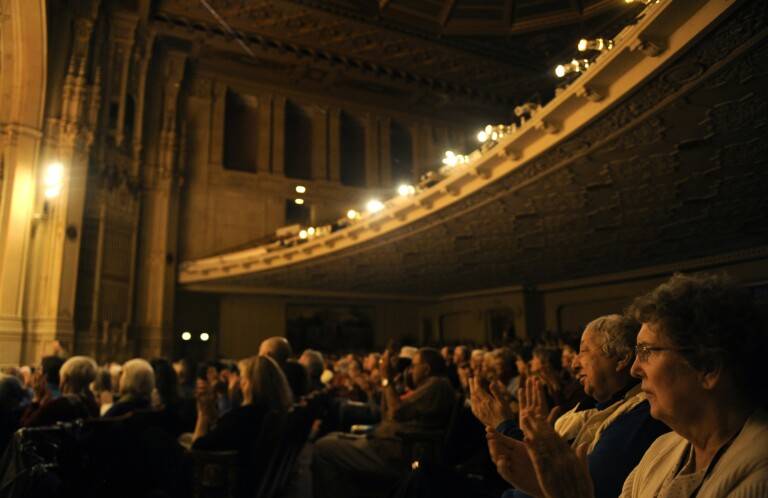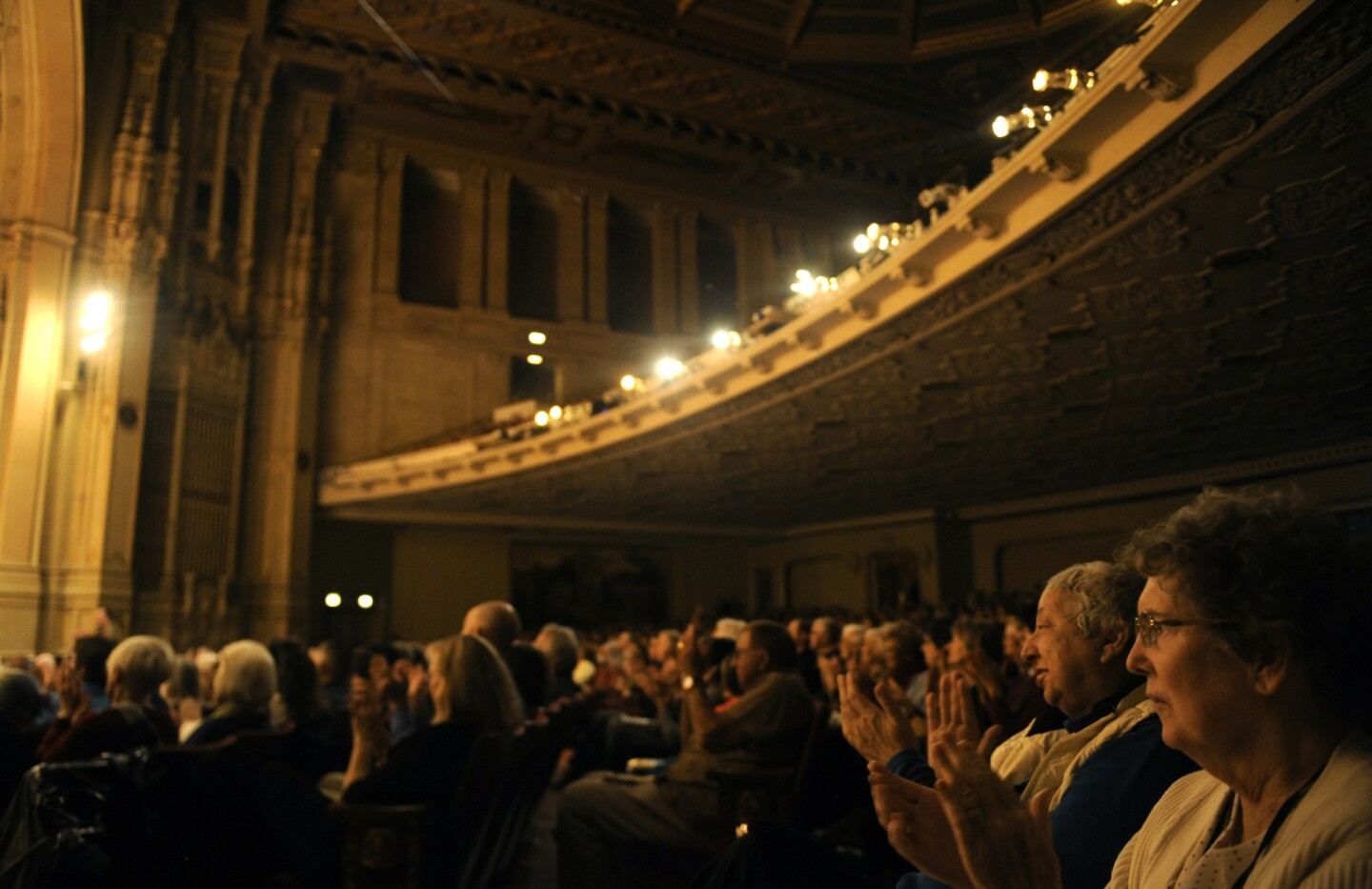 Crowd applauds conductor Karina Canellakis and pianist Marc-André Hamelin.
(Christina House / For The Times)
It was a good weekend for an orchestra-faring expedition: Traffic cooperated, and El Niño did not interfere. These things matter when attempting to get to five concerts between Los Angeles and San Diego in four days. Poor access has become one of the most lamentable aspects of the SoCal orchestra culture. For various reasons — lack of public transportation and territoriality among them — audiences and orchestras do less traveling than they once did.
I began in Orange County on Thursday. The violinist Cho-Liang Lin was soloist and conductor for the Pacific Symphony at the Renée and Henry Segerstrom Concert Hall. Once a regular with the L.A. Phil, Lin is now seldom found north of San Diego, where he is music director of La Jolla's summer chamber music festival. Conducting is a recent occupation and not a compulsory one. At 55, Lin remains a supremely confident violinist, unerring in intonation and revealing an increasing depth of interpretation.
See more of Entertainment's top stories on Facebook >>
Lin opened and closed with Mozart — the Fourth Violin Concerto and the "Haffner Symphony." In between were Wagner's "Siegfried Idyll" and Dvorák's early Romance, Opus 11. The Mozart concerto was chamber music on a high level. The symphony wanted to be, but instrumental balances were vague. Wagner and Dvorák were lovely. Still, Lin is more persuasive with a bow than baton.
The British conductor Daniel Harding was the L.A. Phil's guest in Disney Hall on Friday for a strange program. He began with an exciting, tart account of Berlioz's "Le Corsaire" Overture. Pianist Emanuel Ax, celebrating his 40th anniversary with the orchestra, gave César Franck's Symphonic Variations warm familiarity, even though this French concerto-like doily long ago lost its familiarity.
After intermission, Harding offered Pierre Boulez's five-minute "Memoriale," written in memory of a young flutist. Although the program was designed some time ago, this became an apt memorial to the composer himself, who had died three days earlier and who had conducted the score with the orchestra in 1989 when it was relatively new.
Denis Bouriakov, the orchestra's new principal flute, was the expressively eloquent soloist with a chamber ensemble. Harding conducted exactly as Boulez had — no baton and exquisite hand gestures. Perhaps Boulez would have laughed at his memorial coming on the heels of Franck, a gushing Romantic he despised. But the performance was so touchingly exacting — Boulez, Harding told the audience, conducted the L.A. Phil 85 times — that "Memoriale" became the weekend's most memorable music. A pert performance of Schumann's Second Symphony followed, another non sequitur.
Overall, there was little new music for a new year. Standard repertory was mainly the standard. At the Pasadena Symphony, where principal guest conductor Nicholas McGegan was on the Ambassador Auditorium podium Saturday afternoon, the program couldn't have been safer: Prokofiev's "Classical" Symphony, Schubert's "Unfinished" Symphony and Beethoven's "Emperor" Concerto. Though a lively musician and a specialist in Baroque music, McGegan here went for big orchestral effects. The soloist in Beethoven's concerto was a young pianist, Sean Chen, who played everything with a crisp staccato attack that soon became predictable. A short solo Bach encore, however, was genuinely sensitive.
In San Diego on Sunday afternoon, Karina Canellakis was the guest conductor in Copley Symphony Hall to usher in the San Diego Symphony's "Upright & Grand," a citywide piano festival sponsored by the orchestra. Marc-André Hamelin, the stunning Canadian virtuoso, was the soloist in Ravel's "Piano Concerto for the Left Hand" and Gershwin's "Rhapsody in Blue." It was his debut with the orchestra, and he was as compelling as ever.
But the real attention was on Canellakis. Last year, the young assistant conductor of the Dallas Symphony made a startling debut with the Los Angeles Chamber Orchestra. She mostly confirmed that impression in San Diego. The piano-centric program began with a grossly overstated orchestration of Debussy's piano piece, "L'isle Joyeuse" by Italian conductor Bernardino Molinari, and Canellakis emphasized overstatement.
She also misjudged dynamics of the mysterious, deep opening of Ravel's concerto. Marvelous moments followed, but mystery lost is not regained.
Still, what colors she got from the orchestra. And what rhythmic alertness she had. The orchestra was immense for Gershwin's "Rhapsody," yet she worked it like a combo.
Respighi's orchestration of five Rachmaninoff piano "Études-tableaux" was the weekend's one real rarity. Russian somberness and Italian orchestral fountains find each other here with brilliant results. At least the results were brilliant under Canellakis. I have never heard this orchestra sound more alive. Both LACO and San Diego will soon have openings for a new music director. Canellakis is worth fighting over.
It was only the youth orchestras that evening at Disney that played something new. Mark-Anthony Turnage's "Passchendaele," a co-commission by the OC Youth Symphony, had its U.S. debut. Composed for the 2014 remembrance of the 100th anniversary of the start of World War I, this is a somber score with edgy harmonies and eerie solos for trombone, horn, trumpet and three flutes.
Led by symphony Music Director Daniel Alfred Wachs, the performance was mature and moving, as was Ives' "The Unanswered Question" that began the evening with wondrous grace. The theme was World War I (a symposium was held at the L.A. Public Library earlier in the day), and the program ended with Young Musicians Foundation's new music director, Yuga Cohler, leading an enthusiastic if uncentered performance of Nielsen's 1916 "Inextinguishable" Symphony.
The highlight here was a pair of young timpanists banging away like they were in a rock band. Cohler notes in the program booklet that he wants to find a connection between Beethoven and Kanye West in his next concert. After all, Southern California is supposed to be the place where you can reinvent yourself, and that goes for symphony orchestras as well as everything else.
Nor was Sunday a night for complacency. While the L.A. Phil as well as the Pasadena and San Diego drew full houses, Pacific Symphony attendance was spotty and the youth orchestras couldn't even muster enough family members and friends of the student players to half-fill Disney. The future of our orchestras depends as much on fresh ideas as freeways. So let Cohler try.
Twitter: @markswed
---
From the Oscars to the Emmys.
Get the Envelope newsletter for exclusive awards season coverage, behind-the-scenes stories from the Envelope podcast and columnist Glenn Whipp's must-read analysis.
You may occasionally receive promotional content from the Los Angeles Times.