Spring architecture picks: LGBT Center, L.A. River, UCLA art studios, Coachella and more
Construction is abundant across Los Angeles right now, and amid the backhoes and the cranes we are seeing signs of fresh takes on expressive architecture: glass domes, geometric facades, soaring arches. Charges of elitism swirl around big-time architecture, but many of the new designs opening this season promise to advance cultural and social life in L.A., whether with a riverside park that filters rainwater or a campus crafted to uplift the lives of LGBTQ homeless youth.
March
A new home for Materials & Applications
For more than a decade the experimental architecture and design gallery Materials & Applications operated out of a frontyard on Silver Lake Boulevard. Swooping metallic shade structures or free-form bamboo sculptures entranced passersby, and the courtyard was a gathering place for the local design community. But as the neighborhood transformed from bohemian to seriously chic, the nonprofit founded by Jenna Didier and currently helmed by executive director Jia Gu pulled up stakes and was nomadic for a couple of years. Now it has settled into a new storefront on Sunset Boulevard, a brightly hued apartment building by Warren Techentin Architecture. The ground-floor space opens with a timely exhibition exploring past and present development issues in Echo Park. 1313 Sunset Blvd., L.A. materialsandapplications.org
March 30
Los Angeles River happenings
A dozen years in the making, the Albion Riverside Park designed by the Bureau of Engineering opens to the public, bringing new soccer fields, trails, playgrounds and picnic areas to Lincoln Heights. The 6.3-acre park occupies the site of the former Ross Swiss Dairy distribution center and was funded by Proposition O funds. The 2004 initiative provided bonds to clean up the city's watercourse and conserve resources. Redeveloping the parcel from industrial to recreational use required remediation of existing pollution and contaminated soil and the introduction of an extensive infiltration system (by L.A.-based Tetra Tech) to filter and harvest storm water.
SPRING ARTS PREVIEW: Critics' recommendations and profiles of the emerging artists you should know now »
Downstream, the Sixth Street Viaduct Replacement Project is slowing rising out of the L.A. River channel. When completed in 2020, the 3,500-foot-long span designed by Michael Maltzan Architecture and engineered by HNTB will reconnect Boyle Heights and the Arts District. Custom wood forms are in place to pour the large rib beams that will connect the bridge's swooping arches.
April
The glass dome at the Academy Museum
While the Los Angeles County Museum of Art waits for its new building, construction continues nearby on the 300,000-square-foot Academy Museum of Motion Pictures by Renzo Piano. The Italian architect, who designed the Broad and Resnick pavilions at LACMA, has grafted a giant sphere onto the historic May Company Building — the Death Star attached to mid-Wilshire Steamline Moderne. The belly of the 45,000-square-foot sphere will house a 1,000-seat theater, while its domed roof will be event space. Installation is underway on the dome's 1,500 glass panels, the museum's target opening date is in late 2019.
April 5
A cultural epicenter: The Shed opens in New York City
One of the most technically adroit buildings to open along the High Line in New York City, the Shed is a public-facing amenity of the luxury Hudson Yards residential and retail development. Destined to be a hub — of art, culture, music and fashion, the 200,000-square-foot-structure designed by Diller Scofidio + Renfro in collaboration with Rockwell Group features an outer shell made of a steel diagrid and translucent polymer panels (the combination resembles a quilted down jacket) that moves on huge wheels.
The Shed's spaces are named for New York philanthropists: the Bloomberg Building and the Tisch Lab. But it's the outdoor space covered by the shed roof and named for Frank H. McCourt Jr. and his family that's bound to be the most Instagrammable. When the shell is deployed on tracks inspired by gantry crane technology, it forms a 17,000-square-foot plaza equipped with lighting and sound equipment suitable for large-scale performances and installations. Spring performances will include Soundtrack of America, a five-night concert series celebrating African American music, and Björk's Cornucopia.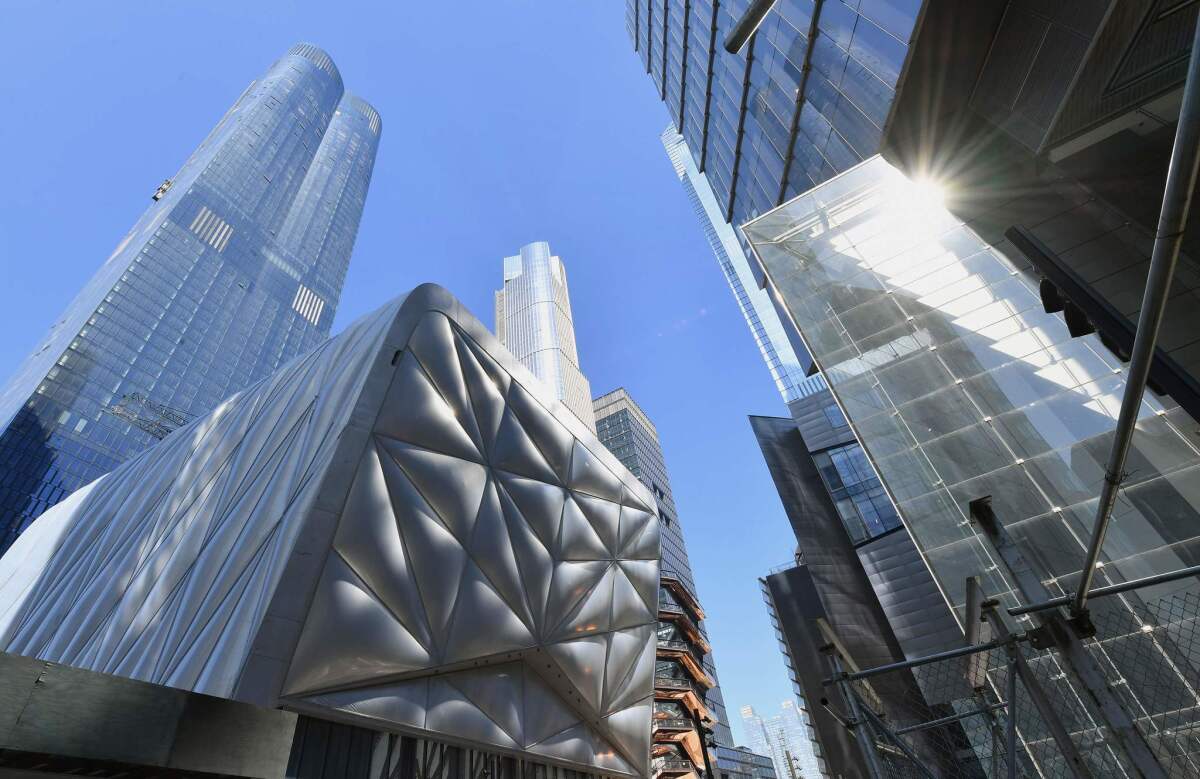 April 7
Los Angeles LGBT Center's Anita May Rosenstein Campus
As the housing crunch continues in Southern California, a new project promises to care for two particularly vulnerable communities: seniors and LGBT youth. The 183,700 square-foot Anita May Rosenstein Campus will provide 99 units for seniors, 25 units of supporting housing for young people, and 100 beds for homeless youth, all across the street from the L.A. LGBT Center's current Hollywood home, the Village at Ed Gould Plaza. The new design — architecture by L.A.-based KFA Architecture, concept design by New York-based Leong Leong — serves a multigenerational community with a tight ensemble of all-white geometric buildings and shaded courtyards. The public is invited to the April 7 grand opening.
April 12-14 and April 19-21
Architecture blooms at Coachella
Sure, a main-stage set by Childish Gambino may be the highlight of the Coachella Valley Music and Arts Festival. But each spring, ever more ambitious art, architecture and design installations pop up on the polo field. Last year, wire mesh ghost cathedrals by Italian artist Edoardo Tresoldi towered over the crowd, but an upcoming piece by Berlin-based architect Diébédo Francis Kéré may be more down to earth. Kéré is best known for schools and civic structures in his home nation of Burkina Faso, buildings often constructed of local clay bricks and other modest materials. A Coachella installation by Los Angeles-based Office Kovacs, however, will likely prove more whimsical. Principal Andrew Kovacs relies on collage and assemblage techniques to create dollhouse-like designs, sampling architectural history and pop culture like a DJ mixing tracks and loops.
April
The Avery: Transbay Block 8 in San Francisco
For decades, the Transamerica Pyramid by Angelino architect William Pereira branded San Francisco's skyline, but recent high rises are battling for prominence: Studio Gang's twisting MIRA, the Salesforce tower by Pelli Clarke Pelli and the infamously sinking Millennium Tower by Handel Architects. This spring architect Rem Koolhaas' firm OMA enters the fray with the Avery, a 56-story residential tower on Fulton Street in downtown San Francisco designed by Koolhaas' partners Shohei Shigematsu and Jason Long. With a height of 618 feet and a stepped silhouette, the glass skyscraper won't dwarf its much taller neighbors, but it does represent the architecture firm's first tower on the West Coast — a milestone for a practice whose constructions define cities around the globe. Local architects Fougeron Architecture contributed to OMA's pedestrian-friendly master plan by designing two smaller podium buildings that flank a walk street that cuts across the site.
July
UCLA Margo Leavin Graduate Art Studios in Culver City
In 2016, Los Angeles gallerist Margo Leavin helped to kick-start construction of the UCLA Margo Leavin Graduate Art Studios with a $20-million donation. Three years later, the design by Los Angeles architecture firm Johnston Marklee remakes the rundown Culver City art studios that had occupied the industrial Hayden Tract since 1986 — expanding and unifying the existing buildings (including a historic wallpaper factory) into a 48,000-square-foot campus wrapped in a facade of tilt-up concrete panels. Cast on site, the panels form an unusual surface: oversize corrugated concrete. New studios, galleries and classrooms are inside, sheltered by a series of wooden vaults — some roofed, some with skylights and some open-air.
Support our coverage of local artists and the local arts scene by becoming a digital subscriber.
See all of our latest arts news and reviews at latimes.com/arts.
Get our L.A. Goes Out newsletter, with the week's best events, to help you explore and experience our city.
You may occasionally receive promotional content from the Los Angeles Times.