Susan Sarandon, after a 10-year absence, returns to the stage with a hand from Marin Ireland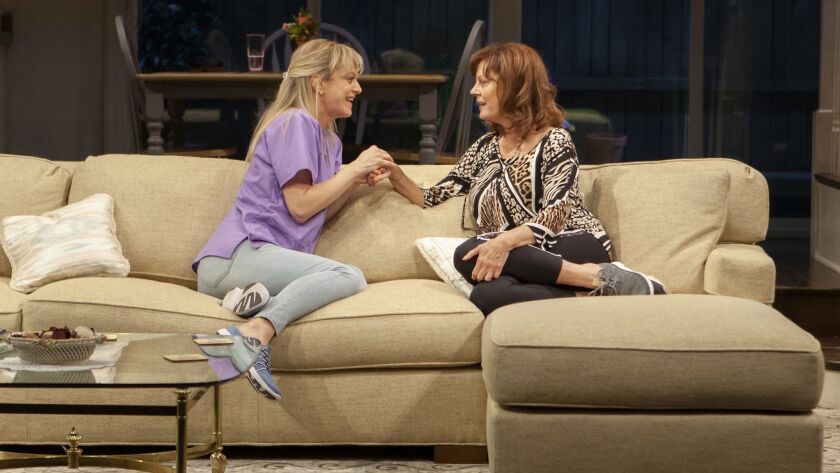 Reporting from New York —
Susan Sarandon is a movie star of the highest tier, with more lead actress Oscar nominations in the last 40 years than anyone except Meryl Streep. But her last play was "Exit the King" on Broadway in 2009, and she has appeared onstage in New York just one other time since the early 1980s.
By contrast, moviegoers might not have heard of Marin Ireland, even though she has established herself as one of her generation's great and adventurous stage actresses, earning nominations for a Tony ("Reasons to Be Pretty"), an Obie ("Cyclone"), the Drama Desk ("On the Exhale" and "Ironbound"), Outer Critics Circle ("A Lie of the Mind") and, this year, the Lucille Lortel ("Blue Ridge").
Fittingly, the two women are teaming up for the first time in an off-Broadway production of a play by a movie star: Jesse Eisenberg, whose "Happy Talk" opened this month at the Pershing Square Signature Center. The New Group production is directed by Scott Elliott.
When Sarandon and Ireland sat for a joint interview during previews, they exhibited the same kind of easy connection that their characters share, without the codependency that drags the women down. Lorraine (Sarandon) is perpetually unhappy but glosses it over with a manic energy. She performs constantly (though not well) in plays at her suburban Jewish community center, while her husband is home with his slowly deteriorating body, his rapidly deteriorating outlook and Lorraine's elderly and incapacitated mother.
The mother's home aide, Ljuba (Ireland), is a Serbian immigrant willing to pay what it takes to get married and become a citizen so she can bring her daughter to America. As Lorraine tries to help Ljuba in her own self-absorbed way, the play's witty dialogue gives way to the pain and desperation simmering underneath.
Susan, what drew you back to theater after a decade away?
Sarandon: I just like to traumatize myself.
Your last play was a Broadway revival. Now you're doing a new play off-Broadway. Was that conscious?
Sarandon: I didn't want to do another Broadway play. You spend so much time on press and there's so much financial pressure that it becomes another whole animal. I wanted to do something in more modest, humble situation.
When I read this, it felt really original, and I didn't know quite what it is, so I thought, "Why not?" I like new plays, not a remake that's a kind of a museum piece — although I'm hating myself for saying that right now with all the new pieces coming in and out of the script every day in previews.
Is it equal parts exhausting and exhilarating?
Ireland: Doing a play is really hard, and you feel so exposed. So I want a play I can stand behind and fight until the death for. Getting to know a writer's brain is what excites me about new works. "What are you trying to do with this play? How can I find a way to make that happen?" It can sound pretentious, but I do keep as my North Star that I'm serving the writer. I'm here to deliver that person's vision, and that helps keeps me on track.
Sarandon: But the birthing pains are so hard. You get onstage and you're thrown out of the nest. Marin is a mentor to me, getting me through everything on this sharp learning curve.
AARON SORKIN: Writer talks 'To Kill a Mockingbird' and disavowing the white savior role »
Ireland: You're really tired after tech and then they say, "We're going to take away all the things you've learned and we're going to make you do what you don't know how to do in front of people tonight." It's super thrilling and crazy. We're just nerve endings right now.
Sarandon: Jesse doesn't get impatient when he adds new lines and you're paraphrasing, which happens to me constantly. He'll say, "Wait, that version was funny." Last night I was so befuddled. There are certain props where I have to make sure I'm hitting the right buttons.
Ireland: And then they say, "Wait, can you do that two lines later," and you go, "Nooooo."
Sarandon: It's an interesting challenge while you're trying to figure out what the play is about. And you have to start fresh every day. But I like that in theater, you actually have more of a relationship with the people you are working with and a relationship with the audience. [She pauses.] I'm glad you asked me, so I can remember why I am doing this.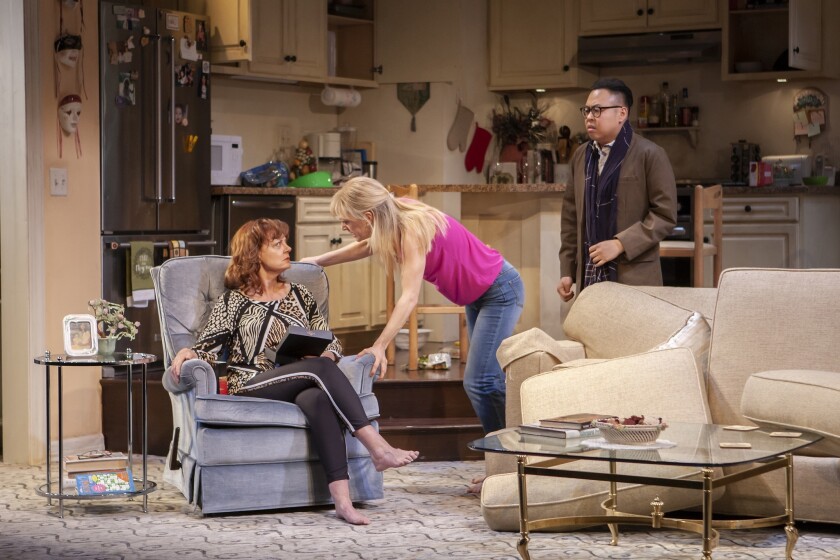 There's great banter between your characters, albeit with dark undertones. You come from different acting backgrounds. Did you two click from the beginning?
Ireland: I was wondering about that beforehand, because you never know. Someone could be a great person and there just might not be a spark there. It's like playing a love relationship. But we had really good chemistry from the start.
Sarandon: You have to really know how to give and take and be conscious of when it's the other person's time. I've worked with people who have been really selfish. Everybody here is really trying to help everybody every minute.
Do you want the audience to see the dysfunction underneath the humor early on?
Ireland: For me it's been tricky to figure out with Jesse and Scott. I never want it to seem like I don't like being around this woman, so it's tricky to navigate how much to show and not show. They love each other very much, but there are things my character sees about her that are not great. I don't want to feel like my character is undermining her or that there's a sinister element. But I know where we're going — we're going to see Lorraine for who she is. It's a little narrow pathway to find. You make clear you see them for who they are but love them anyway
Sarandon: It's like family. You just don't talk politics at Thanksgiving, you just avoid those areas.
Ireland: That's exactly it.
Is it difficult acting as someone like Lorraine who is always acting in her personal life ... and not doing it well?
Sarandon: She is exhausting. I tend to be an introvert, so that has been hard. Plus I have to be that racist and blind. Jesse came to me and asked, "Are you having problems with being that racist," but it's not deliberate. She's just not tuned in to other people. I've known those people. And it has to be there. If you start taking that stuff out then who is she?
How is it singing a song from "South Pacific" onstage?
Sarandon: Awful. I'm a terrible singer. And I have a phobia about it, and it's a big thing to overcome that. My dad was a big band singer and a good singer so I was always told to shut up.
Ireland: She sounds amazing
Sarandon: I have to think of what's going on between Lorraine and her husband with the moment, not whether I can sing.
Maybe people who already see you as a talented actress playing a character who is a bad actress will think that you're really a great singer being a bad singer on purpose.
Sarandon: Absolutely.
Ireland: Yes, every choice is purposeful. [They both laugh.]
Marin, you did a great Polish accent in "Ironbound." Did that make learning a Serbian accent less intimidating?
It took me so long to get comfortable with that Polish accent, so I knew the hardest thing was not going into the Polish accent here. I asked for same dialect person from "Ironbound." We started working together about a month before rehearsals. I couldn't put the accent on later. I had a couple of bumpy weeks wondering if it was right at all. But when we started, Jesse said, "Why don't you say something in Serbian in there." I guess if you get too good at the accent they think you can speak the language.
The show ultimately takes a fairly bleak world view. Do you need to keep your humanizing your characters so the audience stays with you?
Sarandon: I wouldn't do this part if I was worried about being liked. I think Jesse goes to places that are unusual, he shows his bravery. Unsettling is what he wants, I don't think he wants everything tied up neatly.
Ireland: The question at the end is: What amount of the rug being pulled out from under the audience is the right amount? We have to trust Scott and Jesse on that. For us, it's about committing to each moment with all its complexity.
Susan, despite the demands of the process do you think you'll do more theater?
Sarandon: I like off-Broadway I like the whole trip of it, to slide in under the radar a little bit and have a more homey kind of feeling without all that pomp.
Ireland: We're going to go on the road together with a show.
Sarandon: I'd like that.
GLENDA JACKSON: Our critic goes another round with Broadway's King Lear »
---
Inside the business of entertainment
The Wide Shot brings you news, analysis and insights on everything from streaming wars to production — and what it all means for the future.
You may occasionally receive promotional content from the Los Angeles Times.