Review: An ode to an avant-garde Japanese dance legend, performed with body and soul
Preeminent Japanese dancer Kazuo Ohno was in his 70s when he created two of his landmark works, "Admiring La Argentina" (1977) and "My Mother" (1981).
Now, six years after Ohno's death, his countryman Takao Kawaguchi, a prominent and singular performer in his own right, took up the somewhat blasphemous challenge of becoming Ohno onstage, replicating the master.
Kawaguchi's two-act piece of dance-theater is "About Kazuo Ohno — Reliving the Butoh Diva's Masterpieces," which opened Friday at REDCAT and runs through Sunday. The performer, who's in his 50s, studied recordings and learned eight excerpts from Ohno — the 1977 and 1981 masterpieces as well as one from "Dead Sea, Ghost, Wienerwaltz" (1985).
As precise as Kawaguchi is at duplicating Ohno's twisted body moves and ascetic style, his primary purpose is something other than the creation of an exact copy — because he knows that's impossible.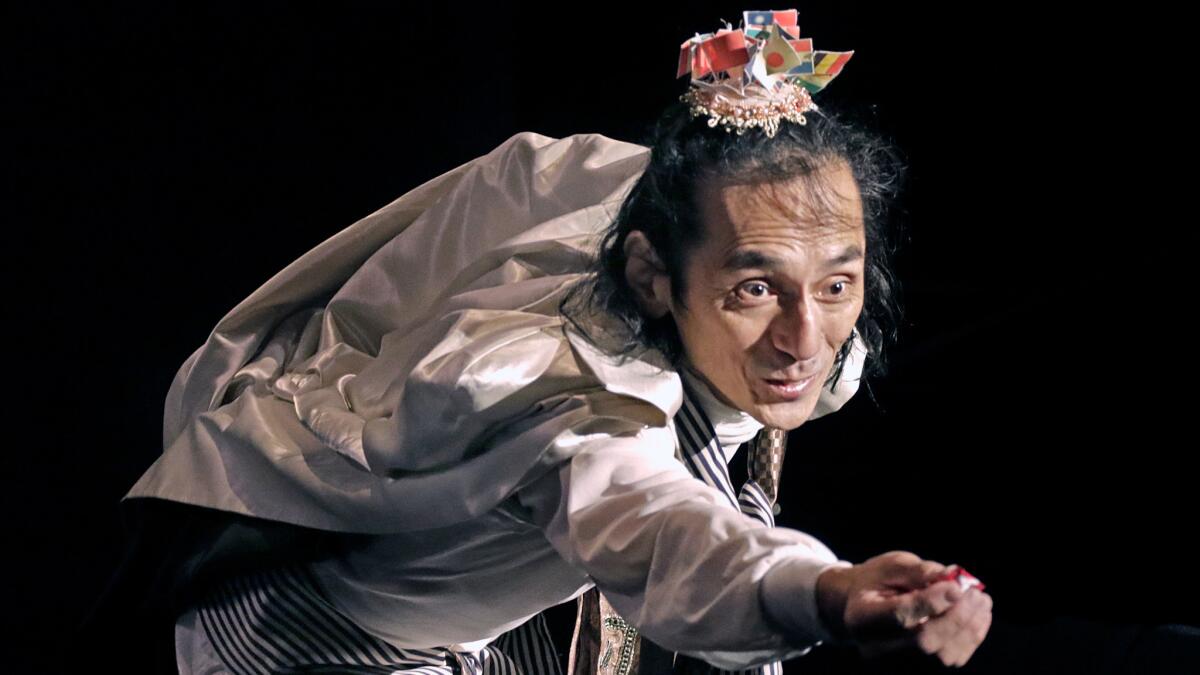 Kawaguchi slyly shares that recognition with the audience. To wonderful affect, he dances each segment to audio from Ohno's actual performances. It dawns on you that the stamping noises you hear, which don't quite sync with what Kawaguchi is doing live, were made by Ohno, and the clapping comes from a crowd watching Ohno. We are asked to experience and consider the entire piece as a kind of visual echo of the past.
Kawaguchi purposely makes "About Kazuo Ohno" something apart from Ohno's art; unlike pieces in a museum display, the object (that is, the dance) is not the point here.
Directly before intermission, Kawaguchi crouches in a spotlight and applies heavy makeup Ohno-style: white all over his face and neck, blue eye shadow drawn up onto his forehead, red lips and black outlines. After smiling triumphantly, he disappears, and a video plays of Ohno's son, Yoshito Ohno, manipulating a stick figure of his father. The world is left with memories and imperfect likenesses of Ohno. Kawaguchi suggests that he is not so different from that puppet.
SIGN UP for the free Essential Arts & Culture newsletter »
All these layers make for interesting intellectual reverie. The format of excerpts, however, was not entirely satisfying. I never saw Ohno perform live (and neither did Kawaguchi), but it's clear even from still photographs that he was a mesmerizing artist. (Don't miss the gorgeous posters of him in the REDCAT lobby.)
This is not to diminish what Kawaguchi accomplishes. He is lean and muscular, and every nerve ending and fiber works independently as he transforms him before our eyes into the unnatural poses, awkward gaits and slow, controlled movements that Ohno originally created. It is the art of self-sculpting.
In "The Daily Bread" section from "Admiring La Argentina," he makes those movements with a soft orange mask covering his head, its childlike facial features hiding Kawaguchi's own expressions. And yet, in one long scene, Kawaguchi stays almost motionless while he clenches his chest, arms and leg muscles and his deep gulping breathes are audible. It took on the urgency of a life-and-death struggle, expressed by a man who was simply standing still.
------------
"Takao Kawaguchi: About Kazuo Ohno — Reliving the Butoh Diva's Masterpieces"
When: 5 p.m. Sunday
Where: REDCAT, 631 W. 2nd St., Los Angeles
Tickets: $10-$25
Information: (213) 237-2800, redcat.org
Follow The Times' arts team @culturemonster.
ALSO
USC celebrates the opening of a $46-million building for dance
Class, power and a plot to kill: It's Jean Genet's 'The Maids'
Tacita Dean's remarkable hand-drawn cloud prints at Gemini G.E.L.
Get our L.A. Goes Out newsletter, with the week's best events, to help you explore and experience our city.
You may occasionally receive promotional content from the Los Angeles Times.