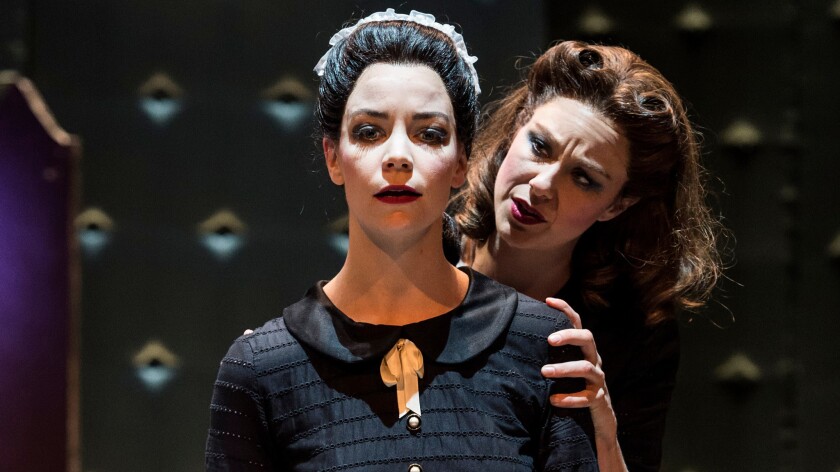 Jean Genet's "The Maids," an expressionistic and thematically repetitive play that's loosely based on a sensational 1930s French murder case, can be more penitential than gripping. But if deftly handled, the 1947 allegory about resentful have-nots trapped on the lower rung of a classist society has extraordinary timeliness today.
In her production of Genet's classic at A Noise Within in Pasadena, director Stephanie Shroyer grasps her potentially elusive material with a firm hand. And although her staging sometimes seems more showy than substantive, as when she suddenly pitches the action in an offstage playing area (an odd anomaly that interrupts the flow), the production still soars.
SIGN UP for the free Essential Arts & Culture newsletter »
Frederica Nascimento's striking set, virtuosically lighted by Ken Booth, is the ideally claustrophobic hothouse for the steamy events that transpire. Martin Carrillo's sound and music effectively underscore the mounting tension.
Shroyer uses Bernard Frechtman's translation, the go-to version for some 50 years and counting. (A controversial 2014 production starring Cate Blanchett and Isabelle Huppert drew fire for its revisionist new translation, which some critics felt undermined the delicacy of Genet's original.)
The action transpires almost entirely in the boudoir of wealthy, entitled Madame (Emily Kosloski), whose maids Solange (Donnla Hughes) and Claire (Jaimi Paige) both detest and admire her. The sisters engage in elaborate role-playing games in which they assume the persona of Madame while simultaneously plotting to kill her. Sadomasochistic rituals ultimately result in tragedy.
Kosloski is a picturesque yet repellent Madame whose bursts of egalitarianism are comically short-lived. Hughes' commanding Solange initially is the stronger of the two siblings but must ultimately defer to the gradually more dominant Claire. Among Angela Balogh Calin's excellent costumes is a subtly symbolic gown that puddles around Claire in her final moments — a fluffy white cloud of a dress bearing Claire to her final doom, or final apotheosis.
------------
"The Maids"
Where: A Noise Within, 3352 E. Foothill Blvd., Pasadena
When: Plays in repertory; ends Nov. 12
Tickets: $44-$64
Information: (626) 356-3100 Ext. 1, www.ANoiseWithin.org
Running time: 1 hour, 35 minutes
Follow The Times' arts team @culturemonster.
ALSO
Gordon Davidson didn't just change L.A. theater, he changed L.A.'s image of itself
Two brothers, one Christian, one Muslim, try to bridge their worlds in 'Bars and Measures'
'Blueberry Toast' from Echo Theater Company is a darkly whimsical dish
---