Review: Family resentments roar to the surface in 'The Lyons'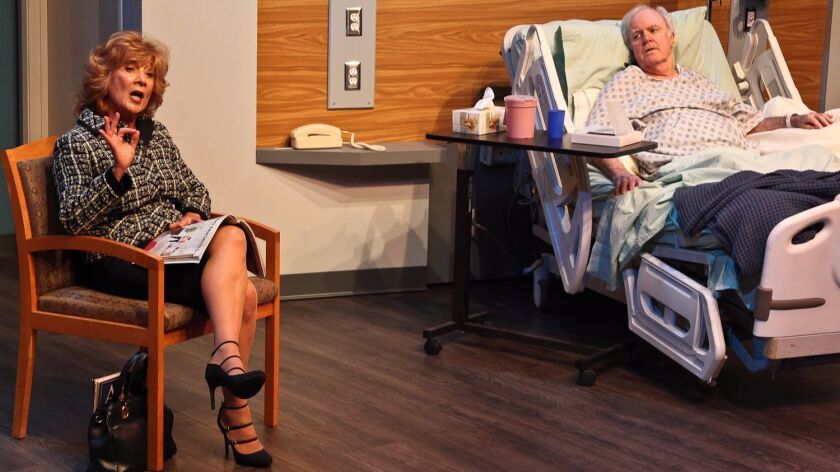 The characters in Nicky Silver's plays tend to be laugh-out-loud funny but also — how shall we put this? — icky.
Utterly devoid of impulse control, they unload their resentments in fusillades of shockingly cruel one-liners, leaving destruction, usually to their loved ones, in their wake.
Yet, truth be told, these flawed creatures are just exaggerated versions of ourselves. If we can laugh at them, perhaps we can learn to laugh at ourselves.
The Pennsylvania-raised New Yorker was prominently produced at South Coast Repertory in Costa Mesa and the Old Globe in San Diego in the mid-'90s and early '00s when he wrote "Pterodactyls," "Raised in Captivity" and "The Food Chain," but since then sightings on Southern California stages have been infrequent. So it's a treat to see the Road Theatre Company presenting the Los Angeles premiere of his 2011 comedy, "The Lyons," which was on Broadway with Linda Lavin in an uproarious performance.
The story has a structural problem, and the play is certainly not everyone's taste, but the Road populates it with crackling actors and stages it with panache.
Ever fond of dysfunctional families, Silver dreams up a doozy here. The story begins in a Manhattan hospital room where Rita Lyon (Judith Scarpone) — impeccably coiffed and wearing a smart Chanel knockoff — talks a mile a minute while husband Ben (James Handy), bed-tethered with end-stage cancer, fumes through these last hours of marital agony.
Rita is so eager to move on with her life that she doesn't bother to mask her giddiness. Ben, facing a liberation of his own, snarls four-letter words as though purging a lifetime's bitter disappointments.
"You didn't used to swear," Rita chides him, "you just shot icy glares."
The products of their unhappiness — their adult children — arrive in due course: single-mom Lisa (Verity Branco), struggling mightily to control her jangled nerves and raw need, and gay son Curtis (Chad Coe), too tranquil and refined to be quite real.
Beneath the glib brutality, the characters harbor genuine affection, and Silver uses his sharp humor to pierce through to deeper truths, such as the double-edged qualities of want (selfish yet restorative) and isolation (protective yet lonely).
Similarly, Sarah B Brown's set belies its appearance by opening like a pop-up card to reveal the gleaming hospital room.
Telling details abound as director Scott Alan Smith organically shapes the story's surges and eddies. Mary Jane Miller's costumes speak volumes.
Frustratingly, though, a terrifically cohesive Act 1 is followed by an Act 2 that, as it begins, feels like a different play. The tone wholly changes as the son meets with a real estate agent (Kris Frost) in a studio apartment for sale, and by the time the audience figures out what Silver is up to, the story's momentum is lost.
Still, this is a bracing piece of theater. Just think carefully about whether you want to see it with a loved one. Your laughs might give you away.
♦ ♦ ♦ ♦ ♦ ♦ ♦ ♦ ♦ ♦
'The Lyons'
Where: The Road Theatre Company, 5108 Lankershim Blvd., North Hollywood
When: 8 p.m. Fridays and Saturdays, 2 p.m. Sundays; ends July 1
Tickets: $34
Information: (818) 761-8838 or www.roadtheatre.org
Running time: 1 hour, 55 minutes
SIGN UP for the free Essential Arts & Culture newsletter »
Twitter: @darylhmiller
ALSO
And you thought your contractor was bad. Meet 'The Monster Builder'
Wallace Shawn's 'The Designated Mourner' gets new relevance in the Trump era
Rajiv Joseph's 'Archduke' at the Taper: a mix of history, comedy and tragedy
A critic's take on Tony nominations: Kudos for rewarding risks
2017 Tony Awards: The complete list of nominations
These teachers waited in line nearly 24 hours to be first for 'Hamilton' L.A. tickets
---
Inside the business of entertainment
The Wide Shot brings you news, analysis and insights on everything from streaming wars to production — and what it all means for the future.
You may occasionally receive promotional content from the Los Angeles Times.