Review: Posner-Teller 'Tempest' stuns but lacks faith in Shakespeare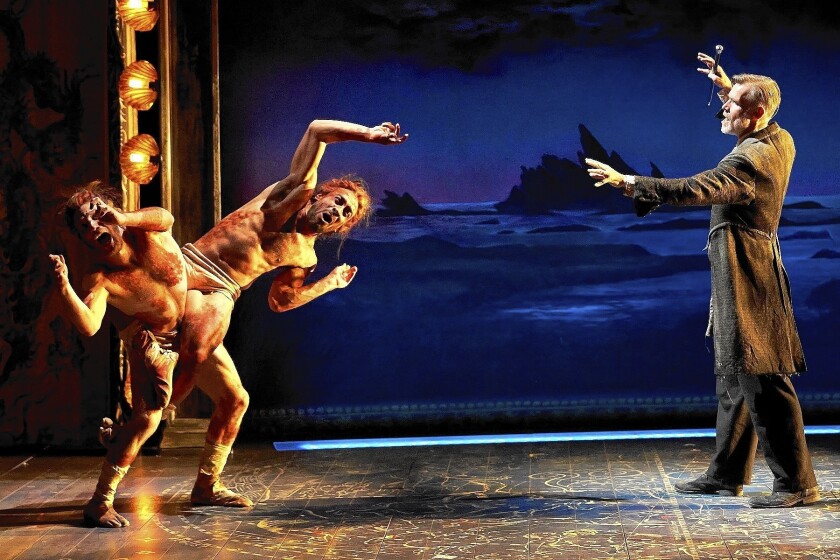 Extravaganza isn't the word that first springs to mind when thinking of Shakespeare, but in the newfangled version of "The Tempest" at South Coast Repertory the goal is clearly to dazzle.
The production, adapted and directed by Aaron Posner (author of the recent Theatre @ Boston Court hit "Stupid … Bird") and Teller (of the famed duo Penn & Teller), was first seen at Las Vegas' Smith Center, where it was performed in a specially built tent. The show, a collaboration with American Repertory Theater at Harvard University, has since moved indoors, where the spectacle has been reined in a bit.
The focus is more on the play, with the creators seemingly less anxious about pleasing those who might prefer to be gambling than deciphering the poetry of a 400-year-old romance about an exiled duke on a desert island employing his magical powers to obtain a reconciliation with his enemies and a happy ending for his daughter.
The musical interludes (songs by Tom Waits and Kathleen Brennan are performed by a soulful "spirit band" called Rough Magic) and magic tricks (designed by Johnny Thompson) are more effectively integrated now. And the contortionist choreography (by Matt Kent and Pilobolus) continues to turn Caliban (Zachary Eisenstat and Manelich Minniefee) into a double-headed, double-jointed monster.
The biggest achievement of this production might be the scenic design by Daniel Conway, who has created a magnificent multitiered diorama for this tale to unfold. The set, part antique stage, part surreal ship, embraces the fable's forthright theatricality.
Visually, this "Tempest" is a stunner. The production is also marvelous to listen to, with music director Miche Braden and Liz Filios providing gritty vocals to Waits and Brennan's darkly meditative songs about death and dirt. I was more impressed this time around by the way the music was incorporated into the play as part of the island's lyrically wild ozone.
I wish I could report that the acting was equal to the scenic imagination. This still strikes me as a production that doesn't have all that much faith in Shakespeare's ability to captivate a modern audience.
There have been some improvements since Vegas. There's less grandstanding from Tom Nelis' Prospero. His scenes with Nate Dendy's Ariel, Prospero's spirit aide resembling a bleached-out castaway from a Robert Wilson production, have a more searching quality.
Charlotte Graham's Miranda, hitting an unwavering note of innocence, is competent. Joby Earle, who plays her washed-ashore royal love interest, Ferdinand, is tryingly clownish.
In the supporting cast, Louis Butelli, who plays Prospero's sinister brother Antonio, is the standout, followed by Eric Hissom's Stephano, who adds some comic verve to the otherwise laboring mutinous subplot involving Caliban and Jonathan M. Kim's Trinculo.
For those who need their Shakespeare administered with spoonfuls of sugar (or in this case, card tricks and levitating sorcery), this production will delight. But for those who believe that the greater magic lies in the play's dramatic poetry, the enchantment of this "Tempest" will seem noticeably less than full strength.
Twitter: @CharlesMcNulty
------------
'The Tempest'
Where: South Coast Repertory, 655 Town Center Drive, Costa Mesa
When: 7:30 Tuesdays and Wednesdays, 8 p.m. Thursdays and Fridays, 2:30 and 8 p.m. Saturdays, 2:30 and 7:30 p.m. Sundays (call for exceptions). Ends Sept. 28.
Tickets: Start at $25
Contact: (714) 708-5555 or https://www.scr.org
Running time: 2 hours, 20 minutes
---
The complete guide to home viewing
Get Screen Gab for weekly recommendations, analysis, interviews and irreverent discussion of the TV and streaming movies everyone's talking about.
You may occasionally receive promotional content from the Los Angeles Times.