Bette Midler wins her first acting Tony Award for 'Hello, Dolly!'
"Well, hello, Tony!"
That could have been Bette Midler's mantra Sunday evening as she took the stage to accept her award for lead actress in a musical for "Hello, Dolly!"
Throughout her more than 50 years in entertainment, Midler has racked up multiple Emmy, Golden Globe and Grammy awards — and was twice-nominated for an Oscar — but she's never been nominated for an official Tony in a competitive category. (Given her always-present panache, she did earn a special Tony in 1974 for "adding lustre to the Broadway season" that year for "Clams on the Half Shell Revue.")
Midler, 71, was considered a shoo-in to win in her category for playing the brassy, flamboyant Dolly Gallagher Levi, a socialite-turned-matchmaker set on snagging a rich husband in 1890s New York.
"I am so privileged, so honored to receive this from you. I hope I don't cry," she said, dressed in a sparkly silver number with flow-y mermaid sleeves. Then, kicking off a long list of thank you's: "I'd like to thank the Tony voters, many of whom I've actually dated."
Midler was one of several longtime Broadway veterans to win awards on Sunday night, including Laurie Metcalf and Kevin Kline.
Earlier in the evening, Midler presented the TonyAward for lead actress in a play but, surprisingly, she didn't perform a number from "Hello, Dolly!" Tony producers had wanted her to perform the title song live during the broadcast at Radio City Music Hall. But producers of the hit musical revival had concerns about the configuration of the stage and wanted Midler to perform remotely from the Shubert Theatre. Since they couldn't come to an agreement, David Hyde Pierce, Midler's "Hello, Dolly!" costar and fellow nominee, performed a solo number from the musical instead.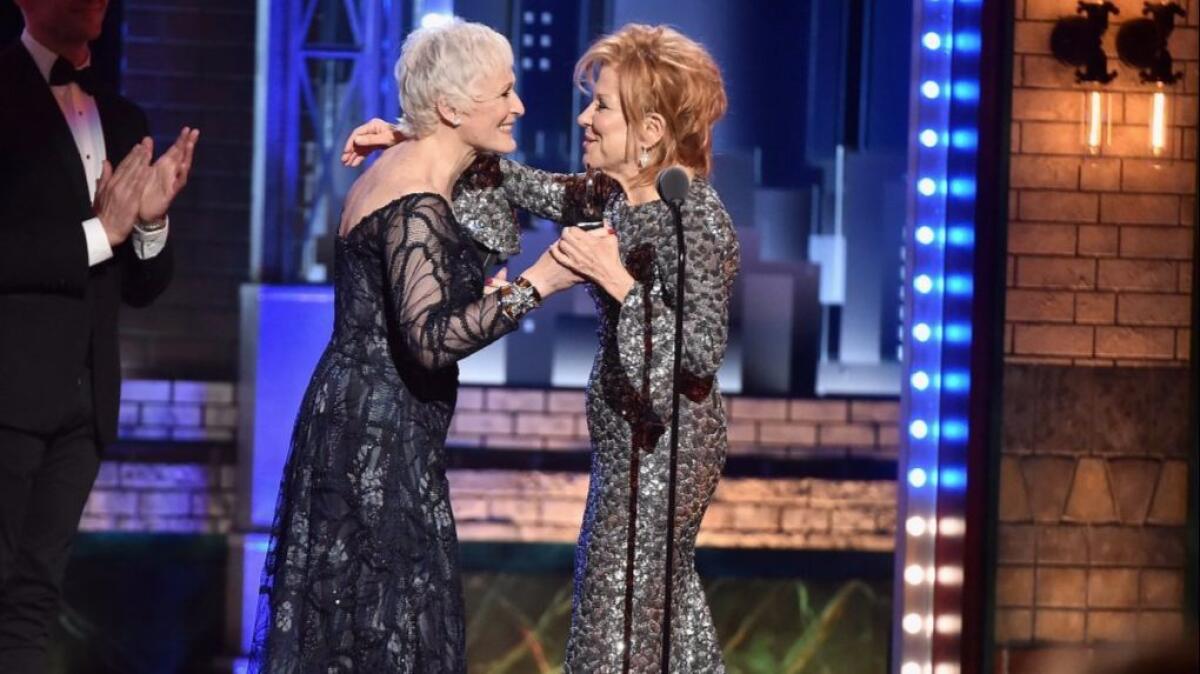 Still, Midler's acceptance speech was entertaining enough in its own right.
Her thank you's went on and on: "Every night I get to play in the sandbox of the Shubert with the greatest cast of clowns I've ever encountered," she said.
The award show's music kicked up, urging Midler to wrap up her speech; but her gratitude kept flowing, slowly and thoughtful at first, then more loudly and urgently as the music swelled.
"I just wanna say," she said over the music, "oh, shut that crap off! I just wanna say, I just wanna say…"
Finally she got to the heart of it.
"Revival is an interesting word," she said. "It means something is near death and was brought back to life. But 'Hello, Dolly!' never went away. It's in our national DNA … this is a classic, come and see it. This thing has the ability to lift your spirits in these terrible, terrible times."
Midler's start on Broadway dates to the 1960s in the Tony-winning "Fiddler on the Roof," in which she played another marriage-focused character, Tzeitel, Tevye the milkman's eldest daughter.
Jerry Zaks' revival of "Hello, Dolly!" was itself a big player at Sunday's award show — it won best musical revival and racked up 10 nominations. It's been both a commercial and critical success, breaking the box-office record for first-day ticket sales.
Midler is the sparkly rhinestone centerpiece in the feathery headdress that is this show — the glue that holds it all together. And her much-deserved Tony clearly brings her nachas, as the Yiddish word for pride goes.
"I can't remember the last time I had so much smoke blown up my [bottom]," she said, "but there is no more room. This is the cap."
Then she held up her award, victorious at last.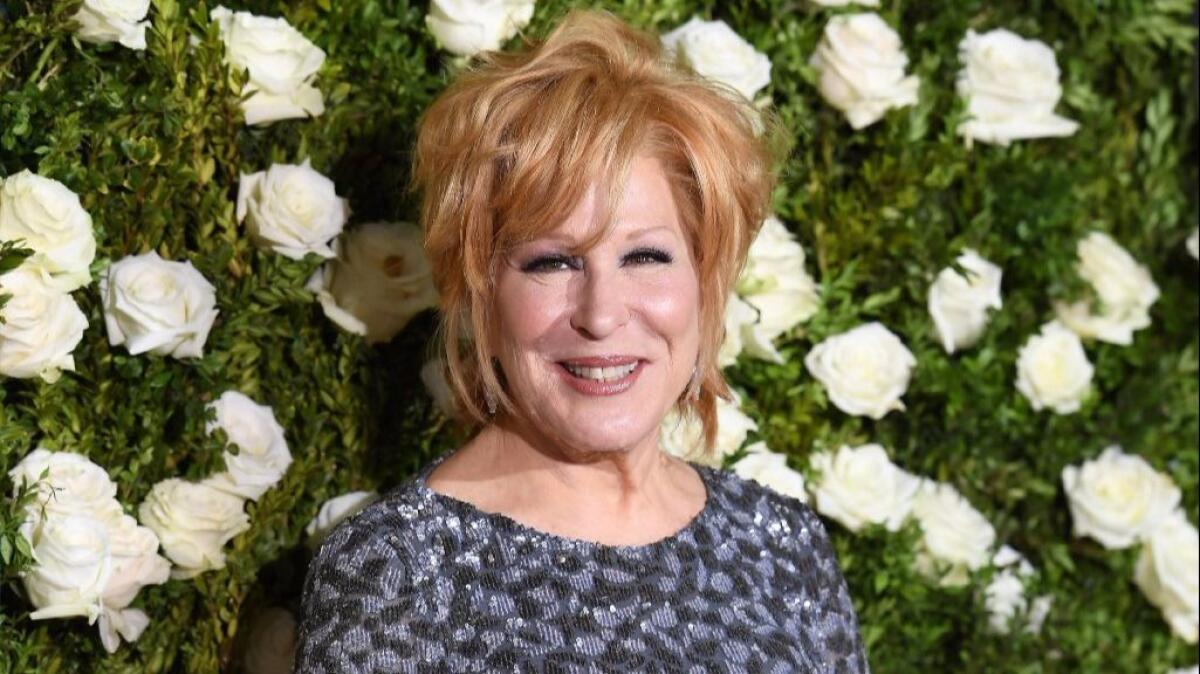 Follow me on Twitter: @debvankin
Get our L.A. Goes Out newsletter, with the week's best events, to help you explore and experience our city.
You may occasionally receive promotional content from the Los Angeles Times.