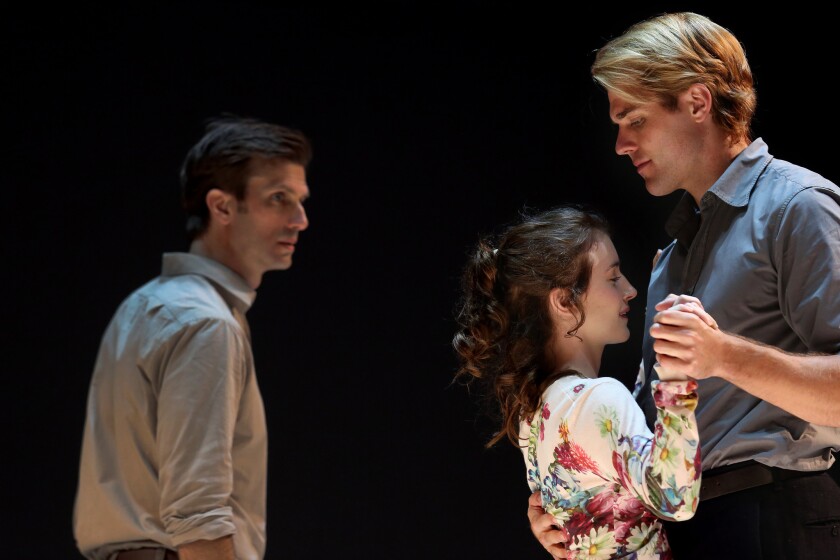 Arthur Miller begins his drama "A View From the Bridge" with stage directions on how a modest apartment in Red Hook, Brooklyn, circa 1956 should look: a "clean" and "homely" living room and dining room; a rocking chair down front; a round dining table with chairs; a portable phonograph.
None of these elements was visible on the stage of the Ahmanson Theatre on a recent morning when Ivo van Hove was fine-tuning his production of the classic play, which he first directed at the Young Vic in London and later brought to Broadway, where it won Tony Awards for revival and director in June.
"Stay as close to the edge as possible," he told the actors, steering them to the periphery of the production's minimalist set — a long, rectangular platform that suggests a fashion catwalk lighted to a celestial glow.
That push to the edge symbolizes the artistic spirit of the entire production. In many respects, this re-imagining of "A View From the Bridge," set to open at the Ahmanson on Wednesday, is unlike any revival of the play that has come before — an avant-garde interpretation that is both faithful and defamiliarizing.
"Wait for the beat, then turn your head," Van Hove later instructed an actor, coordinating movement with the production's percussive music track. The tiniest gesture turns out to be crucial when there's little else on stage but actors circling one another with dance-like physicality. Visually, Van Hove's conception has the spare, antiseptic look of a trendy art gallery that one might find in Red Hook, Brooklyn, circa 2016.
"The fact that it's so empty — there are no props — it becomes very sculptural," said the Belgian-born, Amsterdam-based director during a break in dress rehearsals. "It's like Noh theater, without being too formal."
The overarching concept, he said, was "to turn what Miller wrote into a modern Greek tragedy and not into a naturalistic family drama about immigrants. That's not what it's about."
The production opens with the set enclosed in a giant box-like structure, with rows of audience benches on both sides, like a modern take on an ancient amphitheater. When the set reveals itself, it's like Pandora's box opening up, according to Jan Versweyveld, who designed the sets and lighting.
The often intense lighting feels "like these people are the subject of a laboratory investigation," he said. "It's also a kind of voyeurism. The actors have no privacy at all, and the audience is watching the audience on the other side."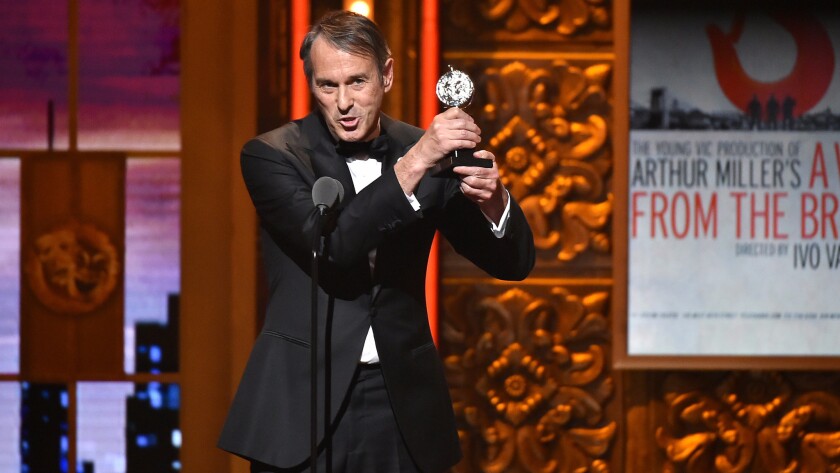 "A View From the Bridge" has almost always been performed as a slice-of-life 1950s-era drama, with realistic sets and costumes. In this production, the cast wears contemporary business-casual clothes — button-down shirts and slacks for the men, blouses and skirts for the women.
The unconventional approach was welcomed by Rebecca Miller, the playwright's daughter and a filmmaker whose latest feature, "Maggie's Plan," opened this year. She oversees the rights to her father's body of work.
"I'm always interested in new perspectives on the plays," she said via email.
"What Ivo has done is to strip away the trappings of the play and leave the language, unveiling its ancient power, which springs from a root of human sexual obsession."
The unabashed sexuality of the play takes center stage in the production's first few minutes, when longshoreman Eddie Carbone (Frederick Weller) takes a shower in full view of the audience. (The actor is shirtless but keeps his pants on.)
A family man teetering toward the abyss, Eddie lives with his wife, Beatrice, and his orphaned 17-year-old niece, Catherine. His domestic life is disrupted by the arrival of two male relatives from Italy, one of whom catches the eye of Catherine, sparking jealousy in Eddie.
Weller said he saw the recent Broadway run featuring a different cast led by Mark Strong, and Weller later auditioned for the L.A. engagement the day before the Tony Awards.
Van Hove is the kind of director "who's not acting out of fear," Weller said. "And that's what you don't want in a director — someone who's timid or worried about critics."
The play is narrated by an omniscient chorus played by actor Thomas Jay Ryan, who has appeared in a few of Van Hove's productions including Molière's "The Misanthrope" at New York Theatre Workshop and last spring's revival of Miller's "The Crucible" on Broadway.
At first, "I kind of anticipated a tyrannical presence, a dictatorial European director, because I knew his work and it's so forceful," Ryan recalled. "But he really is gentle with actors."
Which isn't to say that he's easy: On the first day of rehearsals, which took place in New York before moving to L.A., cast members were expected to be "off book," or to know all their lines, which is a rarity in the theater world.
"Not only that, we were all in costumes, on a mock-up set and there were sound cues. That was intimidating at first," said actress Andrus Nichols, who plays Beatrice. But the crew was "incredibly efficient and grounded. It was a very precise and efficient room from the beginning."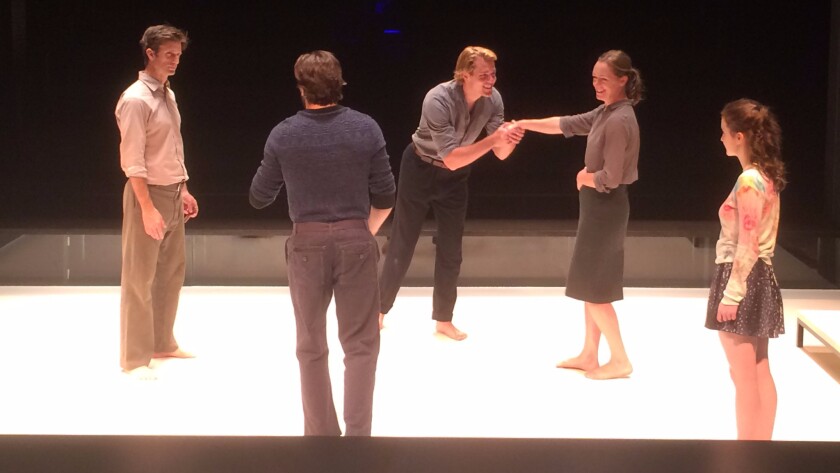 For one of Europe's most in-demand stage directors, Los Angeles might seem like alien territory. But Van Hove said he enjoys coming to Southern California.
"I come here very often ... like two times a year," he said. "I was here four weeks ago. This is my hideaway. I like to relax, read some books and sit at the pool."
Since directing the two Miller plays on Broadway, Van Hove has kept a packed schedule. He directed a stage version of the 1969 Luchino Visconti movie "The Damned" at this summer's Festival d'Avignon in France, with actors from La Comédie-Française.
"It's about fascism and the extreme right wing, which is a huge thing in France right now," he said. "It was one of the greatest experiences of my life."
Van Hove continues to lead the Toneelgroep Amsterdam, the innovative Dutch theater company, where many of his productions originated. Future projects include a stage adaptation of another Visconti movie, "Obsession," starring Jude Law, which will be a coproduction with London's Barbican Centre.
This fall, Van Hove will restage his Shakespeare-themed "Kings of War" at the Brooklyn Academy of Music and his production of Ibsen's "Hedda Gabler" at London's National Theatre, with Ruth Wilson of Showtime's "The Affair" in the title role.
"For me, it's a suicide play," he said of "Hedda." "I think suicide is on her mind from the first scene. It's not a consequence of anything."
But "A View From the Bridge" remains his biggest international success. It has been performed on the West End and in Paris. After L.A., the production will travel to the Kennedy Center in Washington, D.C.
"I think we were spot on with everything," the director said. "Sometimes you make every right decision."
------------
'A View From the Bridge'
Where: Ahmanson Theatre, 135 N. Grand Ave, Los Angeles
When: Opens Wednesday; ends Oct. 16
Tickets: $25-$125
Information: (213) 972-4400 or www.centertheatregroup.org
ALSO
Amélie, Big Daddy, Hedwig: Familiar names hit SoCal stages this fall
The Troubies turn an ancient Roman comedy into a modern 'Haunted House Party'
Better than Bryan Cranston? Star of South Coast Rep's 'All the Way' delivers a most convincing LBJ
---