Amélie, Big Daddy, Hedwig: Familiar names hit SoCal stages this fall
The new theater season is a loaded lineup, with offerings from Ivo van Hove and Anna Deavere Smith. Here are 13 picks:
Sept. 10-May 21
For the record:
1:45 p.m. Sept. 9, 2016An earlier version of this article reported that "Merrily We Roll Along" was a collaboration involving Deaf West Theatre. Deaf West is not involved in the production.
A Noise Within's 25th anniversary
A quarter century of staging the classics is worth celebrating, and A Noise Within has put together an intriguing mix of revivals united by razor-sharp dramatic intelligence: Tom Stoppard's "Arcadia," Jean Genet's "The Maids" and Molière's "The Imaginary Invalid," all leading up to that mightiest of Shakespeare tragedies, "King Lear." A Noise Within, 3352 E. Foothill Blvd., Pasadena. $44 and up; student rush $20. (626) 356-3100. www.anoisewithin.org.
Sept. 14-Oct. 16
"Barbecue"
This outrageous comedy by Robert O'Hara ("Bootycandy"), a playwright with a kind of postmodern "In Living Color" sensibility, tackles the American family, racial stereotypes and pop culture in a work that defiantly plays by its own rules. Geffen Playhouse, Gil Cates Theater, 10866 Le Conte Ave., Westwood. $43-$84. (310) 208-5454. www.geffenplayhouse.org.
"A View From the Bridge"
Ivo van Hove, the celebrated European auteur, deconstructs Arthur Miller's combustible classic in this Tony-winning revival that lifts the lid on the sexual tensions in this Brooklyn waterfront drama. Ahmanson Theatre, 135 N. Grand Ave., Los Angeles. $25-$125. (213) 972-4400. www.CenterTheatreGroup.org.
FULL COVERAGE: Your fall arts and culture guide to L.A.
Sept. 16-Oct. 2
"Throw Me on the Burnpile and Light Me Up"
This world premiere by Lucy Alibar, the Oscar-nominated screenwriter of "Beasts of the Southern Wild," promises a wildly imaginative ride through the author's Southern childhood. Kirk Douglas Theatre, 9820 Washington Blvd., Culver City. $25-$70. (213) 628-2772. www.centertheatregroup.org.
Oct. 7-23
"District Merchants": Aaron Posner, who had great success in boldly modernizing Chekhov in his play with the unprintable title "Stupid … Bird," teams up again with director Michael Michetti for a production that resets Shakespeare's "The Merchant of Venice" to post-Civil War Washington, D.C. It's a comedy grappling with race, religion, money and, no doubt, some mercenary romance. South Coast Repertory, Julianne Argyros Stage, 655 Town Center Drive, Costa Mesa. $22-$79. (714) 708-5555. www.scr.org.
Oct. 30-Nov. 20
"Vicuña": A timely satire for a nutty election season, this new play by Jon Robin Baitz ("Other Desert Cities") is about a real estate tycoon/reality TV star who becomes a major political figure (wonder who that could be?). "Vicuña" examines the ethics of image-making from the vantage of a tailor and his apprentice. Kirk Douglas Theatre, 9820 Washington Blvd., Culver City. $25-$70. (213) 628-2772. www.centertheatregroup.org.
"M Butterfly": The time is ripe for another look at David Henry Hwang's Tony-winning drama, and Bart DeLorenzo, an auteur at home on the permeable border between the real and the surreal, no doubt will offer a fluid interpretation of the play's sexual and political intrigue. Pasadena Playhouse, 39 S. El Molino Ave., Pasadena. $25-$125. (626) 356-7529. www.pasadenaplayhouse.org.
Nov. 2-27
"Hedwig and the Angry Inch"
The Tony-winning revival of the cult musical by John Cameron Mitchell and Stephen Trask reunites Darren Criss (who stepped into Neil Patrick Harris' heels on Broadway) and Tony-winner Lena Hall in this punked-out gender rave. Pantages Theatre, 6233 Hollywood Blvd., Hollywood. $29 and up. (800) 982-2787. www.HollywoodPantages.com.
Nov. 30-Dec. 18
"Merrily We Roll Along": After succeeding on Broadway with a reimagining of "Spring Awakening," director Michael Arden returns to the Wallis Annenberg Center for the Performing Arts to unlock the neurotic delights of this challenging Stephen Sondheim-George Furth show about music collaborators chasing after and subverting their dreams of success. The Wallis, Bram Goldsmith Theater, 9390 N. Santa Monica Blvd., Beverly Hills. $39-$129. (310) 746-4000. www.TheWallis.org.
Dec. 6-11
"Complete Works – Table Top Shakespeare": British company Forced Entertainment has set itself the monumental task of enacting 36 Shakespeare plays, in condensed form over a series of days, with a cast of lovingly designed miniatures and banal household objects. This wacky marathon is the brainchild of Tim Etchells, possessor of one of the more wryly inventive theatrical imaginations. UCLA's Royce Hall (onstage seating), 340 Royce Drive, Westwood. $49-$69. (310) 825-2101. www.cap.ucla.edu.
Dec. 16-Jan. 15
"Amélie, A New Musical"
The creative team of Craig Lucas, Daniel Messé and Nathan Tysen translates the quirky charms of this 2001 film to the stage in deliriously unexpected ways. Phillipa Soo, fresh from her historic run in "Hamilton," stars in the title role that made Audrey Tautou an international star. Ahmanson Theatre, 135 N. Grand Ave., Los Angeles. $25-$130. (213) 972-4400. www.CenterTheatreGroup.org.
Jan. 26-March 12
"Cat on a Hot Tin Roof": The Antaeus Theatre Company will inaugurate its new home in Glendale with Tennessee Williams' smoldering Pulitzer Prize-winning drama — a play with just enough mouthwatering roles to satisfy this troupe's deep bench of acting talent. Antaeus Theatre Company, 110 E. Broadway, Glendale. $30, $34. (818) 506-5436. www.antaeus.org.
Feb. 1-5
Anna Deavere Smith's "Notes From the Field: Doing Time in Education"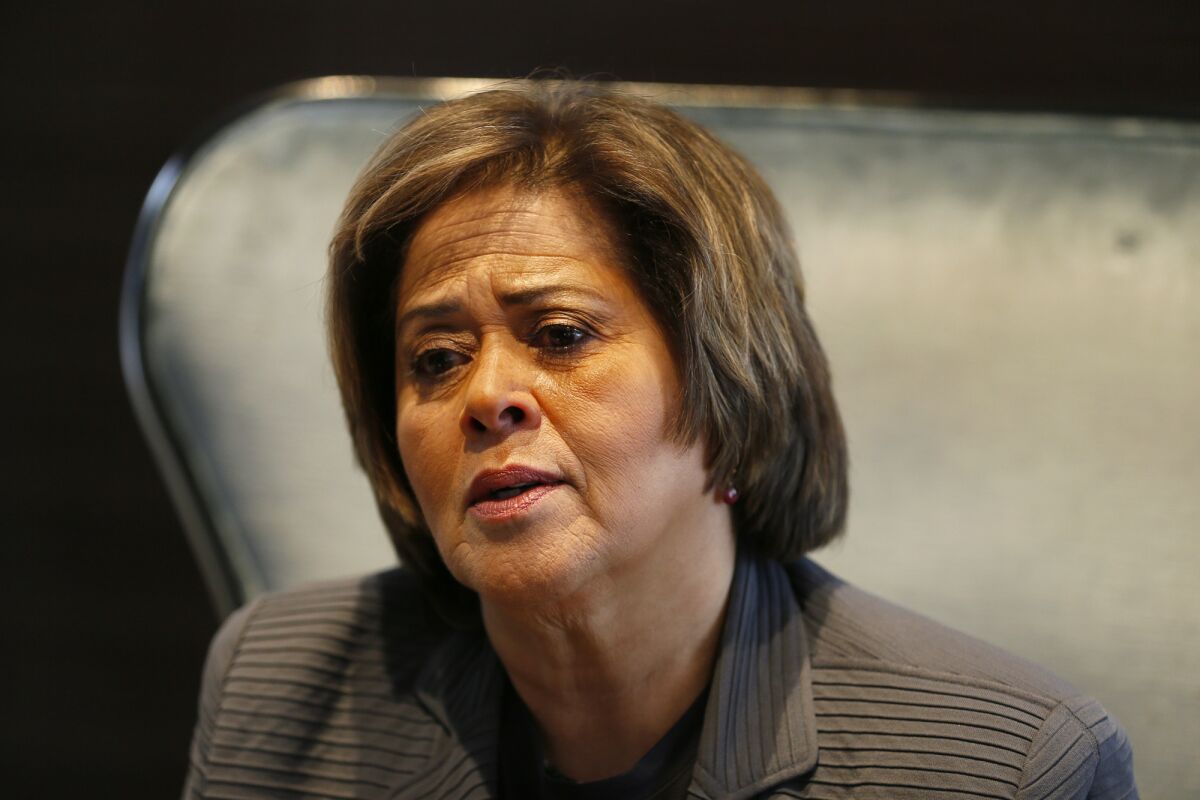 Another in her series of revelatory exposés on the contemporary American conflict zone, playwright and performer Anna Deavere Smith concentrates here on the school-to-prison pipeline in a collage of talking-head impersonations that shed powerful light on the cruel intersection of poverty, education and the criminal justice system. The Broad Stage, 1310 11th St., Santa Monica. $35-$80. (310) 434-3200. www.thebroadstage.com.
Los Angeles Times Ideas Exchange: Christopher Hawthorne in conversation with Frank Gehry
On Now
Frank Gehry's thoughts on the Broad? Watch his hilarious groan
On Now
Watch Frank Gehry in conversation with architecture critic Christopher Hawthorne
On Now
Why Frank Gehry never showed up to work for Richard Neutra
On Now
Frank Gehry recalls Rudolph Schindler style: Rough, raw and unpredictable
On Now
How Frank Gehry defended his Santa Monica home against a critical neighbor
On Now
Frank Gehry wants the L.A. River Revitalization project to help the neighboring communities
On Now
Frank Gehry's approach to the L.A. River – a lot of collaborators
Follow me @charlesmcnulty
ALSO
Broadway in L.A.: Which touring musicals are coming to Southern California?
Plácido Domingo on playing Macbeth in L.A. Opera's season opener
Jeffrey Kahane to end 20-year run as LACO conductor with his most ambitious project
Get our L.A. Goes Out newsletter, with the week's best events, to help you explore and experience our city.
You may occasionally receive promotional content from the Los Angeles Times.