Between states: Ideas in the Civil War-set play 'The Whipping Man'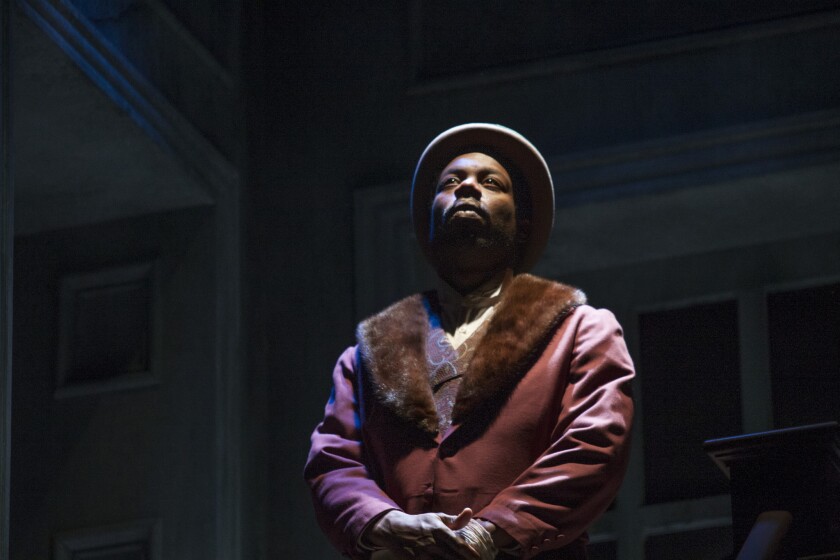 Martin Benson deferred his enlistment in Civil War drama for half a century, but now the stage director is bringing a zeal for realism to "The Whipping Man," his first assignment concerning America's bloody — and far from finished — reckoning with the consequences of slavery.
Matthew Lopez's play is set in a ruined, looted mansion in Richmond in the days immediately following the Confederate surrender at Appomattox. In the opening scene, a downpour engulfs two newly freed slaves who've spent their lives in the house, serving the masters and sharing their Jewish faith.
"You're gonna be soaked," Benson, who co-founded South Coast Repertory in 1964, calls out to actors Charlie Robinson and Jarrod M. Smith at the start of a rehearsal at SCR, whose production will transfer to the Pasadena Playhouse after its Jan. 9-25 run in Costa Mesa. "I can't stand that phony business of people putting a little shine on the clothes and they'll seem wet. You guys are going to be drowned, soaking wet."
By the end of Scene 1, playgoers will be cringing at another kind of gusher, as the two men save the life of one of their erstwhile masters, a Confederate captain (played by Adam Haas Hunter) who's taken a Yankee bullet, by sawing off his leg.
It's a small irony that "The Whipping Man's" playwright grew up in Pensacola, Fla., rolling his eyes at people caught up in reenacting moments from the War Between the States in meticulous detail — namely his parents and younger brother. They were Civil War buffs and battle re-creation enthusiasts who gradually filled the house with muskets, uniforms, tents and everything else needed to impersonate a combatant.
"As a teenager, I was absolutely mortified they were doing this," Lopez, 37, recalled from his home in Brooklyn.
What the 1989 film "Glory" and Ken Burns' 1990 documentary "The Civil War" had done for the rest of the household, early exposure to his family's stage connections had done for him: He caught the theater bug from his aunt, Priscilla Lopez, a Tony Award-winning actress who starred in the original 1975 Broadway production of "A Chorus Line," singing its signature song, "What I Did for Love."
Lopez said his roundabout path to the Civil War and "The Whipping Man" began later in the 1990s, when he was a student at the University of South Florida in Tampa and saw a video of the TV version of Anna Deavere Smith's one-woman documentary play "Fires in the Mirror," about fatal confrontations between blacks and Hasidic Jews in the Crown Heights section of Brooklyn.
"I saw two groups not seeing their shared history" of enslavement and persecution, said Lopez, who was raised a Christian but had gotten a window on Jewish life after an uncle married a Jewish woman. The extended family joined in their ceremonies and celebrations.
The upshot, many years later, was a play that was developed and first staged by a New Jersey theater, Luna Stage, in 2006, then took off after subsequent productions in Minneapolis in 2009 and at the Old Globe in San Diego in 2010, where Lopez made final revisions.
Since then, "The Whipping Man" has been one of America's most frequently staged dramas. Beyond its intrinsic qualities, most critics have praised its dramatic intensity and the way it portrays the shifting tensions among three characters adjusting to the new reality and new power relations that history has thrust upon them.
"The Whipping Man" stands as a sort of grand slam of the diversity movement in the arts. Before Lopez came along, it's doubtful a gay Latino ever had written a play about blacks and Jews.
"The only thing better would be if I were a woman, then it would be the royal flush," he said, jokingly. "But it was certainly never written with that in mind."
Sheldon Epps, the Pasadena Playhouse's artistic director, said that the play's unlikely genesis is part of its appeal and underscores an important point: "It supports all artists' right to explore stories and themes as they wish, whether they are connected to their own ethnic experience or not. The idea that a Latino playwright could explore this material with real humanity and honesty and truth is proof of that possibility."
It is, Epps said, the only play — or film — he knows of that deals with black Jews. "That's one thing that's so fascinating about it. We tend to think of [blacks embracing Judaism] as having started with Sammy Davis Jr."
Looking back, Lopez said, he can see how the themes of identity, inclusion and exclusion at the core of "The Whipping Man," the first of several plays he has written, relate to his own experience.
"There is a displacement that I understand in some ways, being the only Puerto Rican in my hometown for so many years, and one of the only gay kids. With the benefit of time and maturity, I can look back and identify myself in those characters. And perhaps Simon [the older ex-slave, who's every inch a mensch] is the character I aspire to become."
"The Whipping Man" will place Benson in a probably select company of people who've stage-directed a Passover Seder for thousands of playgoers (the ceremony and its makeshift preparations take up nearly the entire second act) without ever having attended one.
He said he wasn't thinking about diversity in the theater when he decided to direct the play or of the fact that 2015 marks the 150th anniversary of its historical backdrop. Nor was he drawn by the relevance of its core question — are blacks really included as fully fledged members of the American family? — to the series of police killings of unarmed black men.
"I was looking for a really good play to do," Benson said, "and part of it was that Charlie Robinson was available" to play Simon — as he had five years ago at the Old Globe. "We've always loved him and his work."
Lopez has moved on to plays in which the connections to his own life are more apparent. "Somewhere" premiered at the Old Globe in 2011, starring his aunt as the mother of a Puerto Rican family facing eviction from their Midtown Manhattan home in the 1950s to make way for Lincoln Center.
"Reverberation," set in the present and dealing with themes of love and sexuality, will have its premiere in February at Hartford Stage, whose artistic director, Darko Tresnjak, is a former leader of the Old Globe. Lopez also is working on a stage adaptation of E.M. Forster's novel "Howards End" for the Connecticut theater, transferring it from early 1900s England to a contemporary gay setting.
Although "The Whipping Man" is compressed into three dramatic days in the lives of three characters, the memories they relate and the challenging future they face could fill out a family saga of epic dimensions.
"You could turn this two-hour play into an eight-hour miniseries very easily. I wouldn't say no," says Lopez, who has been a staff writer for the HBO series "The Newsroom."
As for the relevance of his Civil War drama to post-Ferguson, Mo., America, Lopez says it's another case of the past as prologue.
"My play predates all of those things, but it suggests that these are not settled matters, and they are not ever going to go away unless we face them," he said. "We have to accept our history; we have to own it."
"Americans are good at so many things, but perhaps we're not as reflective as we could be," Lopez continued. "I take it as a point of pride that I have created a play that seems to linger in people's imaginations ... and summons so many questions about history and its aftermath."
-------------------
'The Whipping Man'
Where: South Coast Repertory, 655 Town Center Drive, Costa Mesa
When: 7:45 p.m. Tuesdays-Fridays, 2 and 7:45 p.m. Saturdays and Sundays (matinee only on Jan. 25). Ends Jan. 25.
Tickets: $54-$74
Contact: (714) 708-5555 or https://www.scr.org
(Reopens Feb. 4 at Pasadena Playhouse, 39 S. El Molino Ave., Pasadena. 8 p.m. Tuesdays-Fridays, 4 and 8 p.m., 2 and 7 p.m. Saturdays and Sundays, $30-$125. Ends March 1. (626) 356-7529 or https://www.pasadenaplayhouse.org.)
---
Get our daily Entertainment newsletter
Get the day's top stories on Hollywood, film, television, music, arts, culture and more.
You may occasionally receive promotional content from the Los Angeles Times.