Review: A 'Wonderful Town' in search of wonder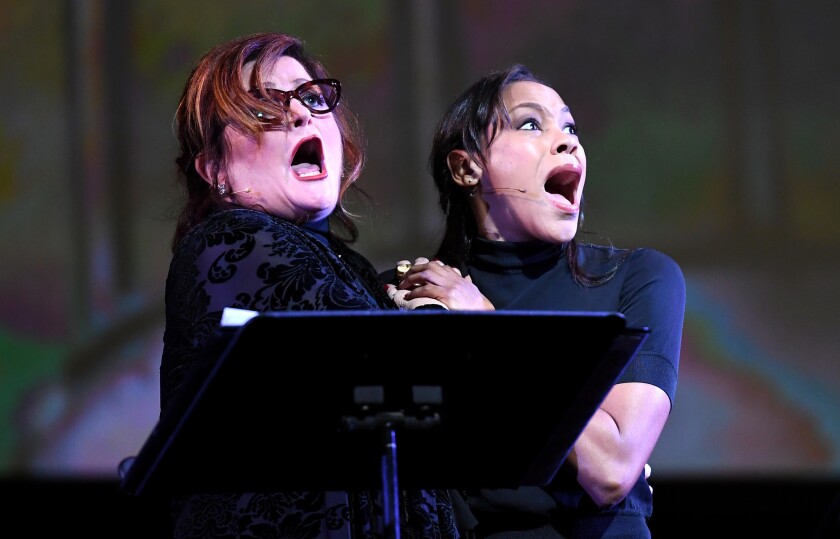 The centennial of Leonard Bernstein's birth is not until the summer after next, but the West Coast has already gotten a jump-start over Broadway with the musicals. Michael Tilson Thomas last summer conducted a semi-staged version of "On the Town" with the San Francisco Symphony, while Gustavo Dudamel led "West Side Story" at the Hollywood Bowl.
At the Dorothy Chandler Pavilion on Friday night, it was Los Angeles Opera's turn, for a semi-staged performance of "Wonderful Town" conducted by the company's resident conductor, Grant Gershon. On Broadway, no one — other than the cast — pays much attention to the conductor. Once again, the revelation with West Coast Bernstein is just how wrong Broadway can be musically.
That is not to say that the L.A. Opera "Wonderful Town," with only three performances over the weekend, didn't go all Broadway on us. The cast, headed by Faith Prince, was primarily showbiz. Peggy Hickey's choreography and the little staging that David Lee could get away with were Broadway-ish. The one novelty was a cinematic backdrop by Hana S. Kim, with cute animated drawings of Greenwich Village in the 1950s setting the scene of the story of two sisters from Ohio trying to make their way in New York.
The debate as to whether sophisticated Broadway shows belong on the lyric stage is an old and tired one. European opera houses do Bernstein and Sondheim, along with other classic shows, all the time, regularly trying to find the kind of daringly relevant dramatic angles too provocative for mainstream commercial theater. That, of course, assumes that opera companies and symphony orchestras, for all their exceptional musical resources, can avoid the deadly dangers of pomp and condescension.
Cast members in the "Wonderful Town" musical at the Dorothy Chandler Pavillion in Los Angeles.
(Wally Skalij / Los Angeles Times)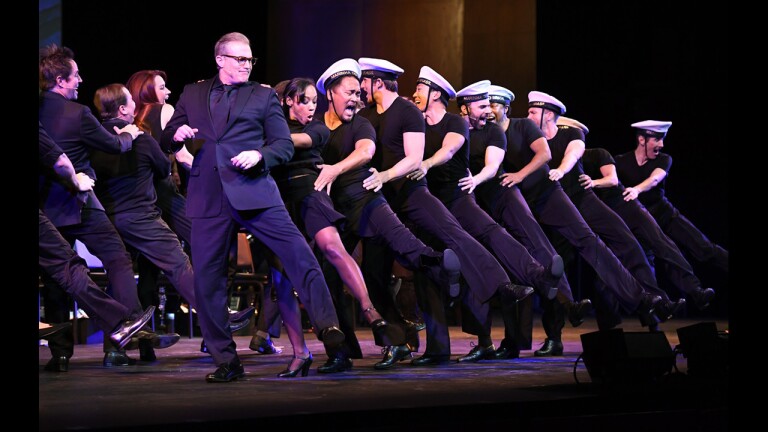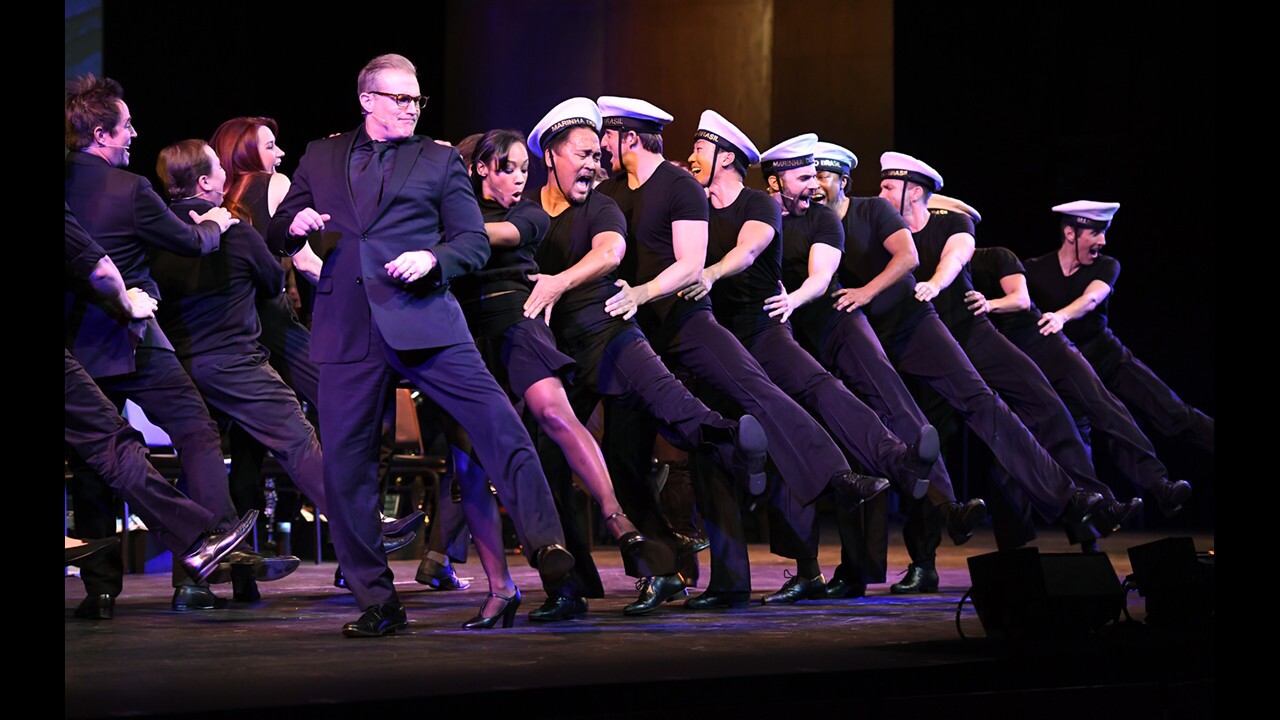 Cast members dance during the "Wonderful Town" musical at the Dorothy Chandler Pavillion.
(Wally Skalij / Los Angeles Times )
Cast members Faith Prince, left, and Nikki James perform during the "Wonderful Town" musical.
(Wally Skalij / Los Angeles Times)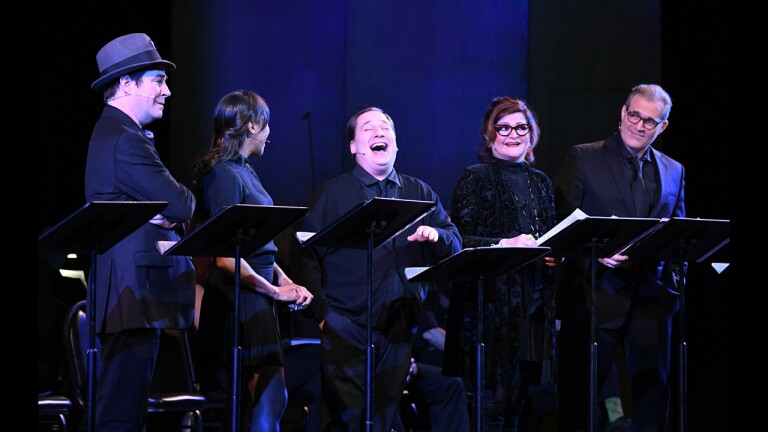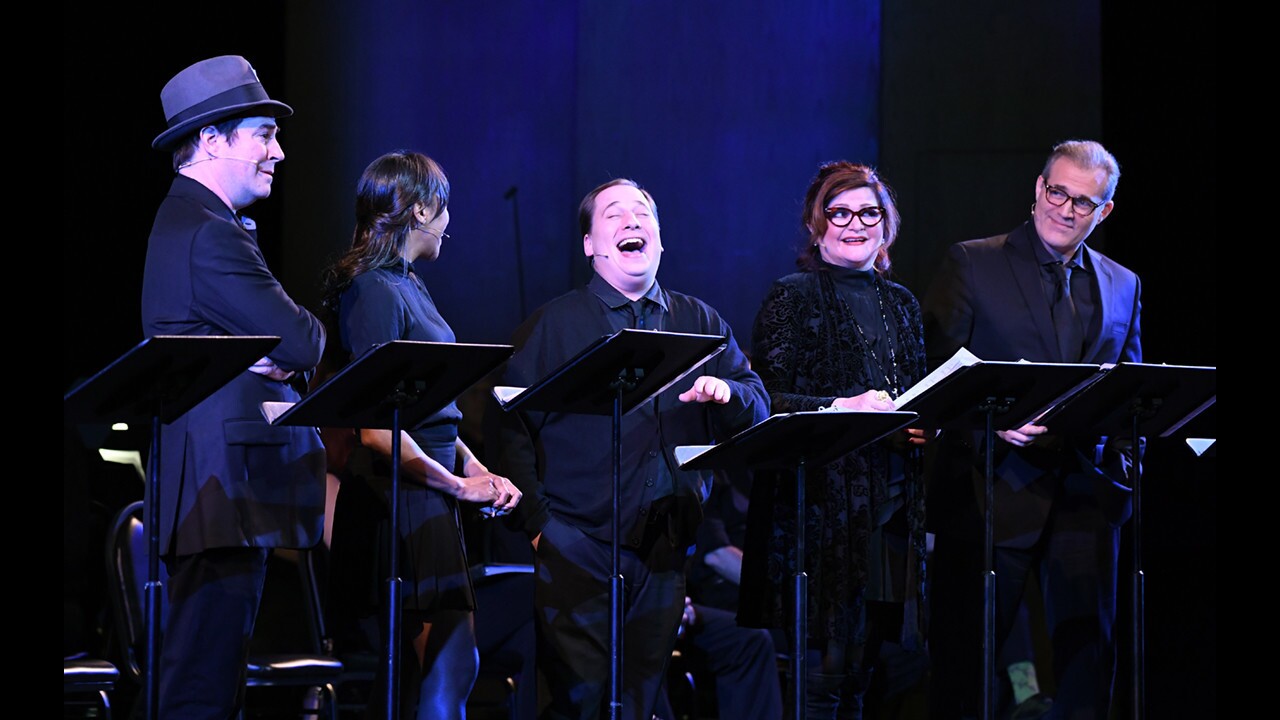 Cast members perform during the "Wonderful Town" musical.
(Wally Skalij / Los Angeles Times)
Conductor Grant Gershon leads the action during the "Wonderful Town" musical.
(Wally Skalij / Los Angeles Times)
In 2002, for instance, Simon Rattle devoted his first New Year's Eve concert as music director of the then still stuffy Berlin Philharmonic to none other than a semi-staged performance of "Wonderful Town," which ended with the cast doing a conga line through, and with, the audience, while the erudite musicians let their long hair down and danced as they played onstage. The cast included music theater singers (including Audra McDonald) who could sing and classical singers (including Thomas Hampson) who could do theater. It was fabulous.
L.A. Opera, on the other hand, attempted to break down different barriers. Rather than simply relying on its own impressive resources and emerging classically-trained singers who can do anything (as so many can these days), the company went for Broadway veterans. Cast members stood at their music stands and read their lines and sang their songs. They compensated for lack of preparation by doing what professionals know how to do — project all-purpose personality and ham with all-purpose charm.
Given that "Wonderful Town" is escapist entertainment best known for its wonderful songs, that doesn't necessarily mean a disaster. This is, after all, Bernstein uncommonly frivolous. Unlike pretty much all of Bernstein's major work (with the possible exception of his one film score, "On the Waterfront" — which the L.A. Phil also recently performed live with the movie), "Wonderful Town" was a jobbed-out score. When the songs originally written for the 1953 show by Leroy Anderson were rejected, Bernstein's old pal lyricists Betty Comden and Adolph Green were hired to come up with new ones in a month. They convinced Bernstein, with whom they had written "On the Town" a decade earlier, to write the music.
The show's milieu they knew, all three having been starving Greenwich Village artists themselves not that long before. Bernstein had just attempted a short opera, "Trouble in Tahiti," and it hadn't gone well. He feared the House Un-American Activities Committee might come after him for his pronounced leftist leanings.
This was a chance to be sassy, not think too hard, and also be a little subversive. "Wonderful Town" is based on the stories of Ruth McKenney about her and her sister Eileen. In the show, Ruth is the quiet, awkward and shy one who gets the guy and Eileen is the pretty, gregarious one who gets nothing but guys. A New Yorker writer, McKenney got her start at communist dailies.
The songs cover the waterfront — an Irish jig, a swing tune, beatnik scat, moving ballads, crazy comic numbers, that irresistible duet "Ohio," a tour of Christopher Street that will make a real New Yorker long for the old days, and, of course, "Conga," the number with which Eileen gets a chorus line of Brazilian sailors heated up.
As Ruth, Prince could be counted on for her appealingly raucous and wry good humor. Nikki M. James, a better dancer than singer, proved a vivacious Eileen who could follow a line of flips with a song refrain without catching her breath. The most polished and amusing performance came from Roger Bart, changing hats and accents with remarkable ease as tour guide, lecherous reporter, hipster club owner and, if I counted correctly, eight other characters.
Ben Crawford, as the addled football player Wreck went all out, as any Wreck must, with his riotous song about passing the football. Marc Kudisch, as the editor who falls for Ruth, was the most reliable singer. Jared Gertner made a fine nebbishy store clerk, one of Eileen's endless admirers.
It came as little surprise that by assigning to emerging opera singers (mostly from L.A. Opera's young artist training program) the many minor roles — such as Wreck's girl friend Helen, sung by Julia Aks, and the various policemen, editors and the like — the musical level was lifted. The company's chorus and chamber orchestra served to further modernize Broadway.
Even so, you might be led to believe that personality ultimately works best. The audience loved the show.
But behind it all was Gershon's illuminating conducting. The evening's one leading opera figure, he knew how to pace every number, how everything song should be sung, how every dance should swing, how to offer guileless compensating support for a needy cast's every need and most of all, how to bring out the best in everyone on the stage.
---
From the Oscars to the Emmys.
Get the Envelope newsletter for exclusive awards season coverage, behind-the-scenes stories from the Envelope podcast and columnist Glenn Whipp's must-read analysis.
You may occasionally receive promotional content from the Los Angeles Times.