L.A. Phil's new YOLA Center: Why a youth concert hall in Inglewood has global implications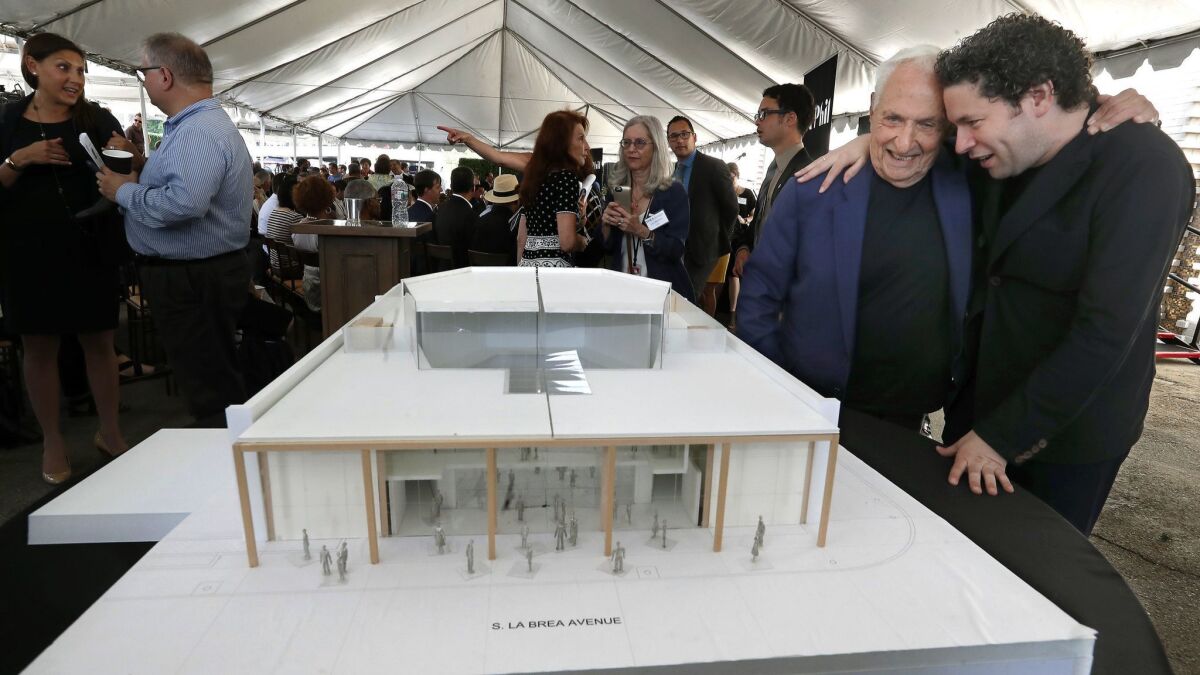 Music Critic
With the Los Angeles Rams and Chargers' forthcoming stadium certain to transform Inglewood, a $14.5-million renovation of an abandoned bank building a mile away may seem a smaller emblem of civic renewal.
But at a ceremony Wednesday unveiling architect Frank Gehry's design for the Judith and Thomas L. Beckmen YOLA Center at Inglewood, Mayor James T. Butts noted that there are lots of stadiums and that every year, there is a Super Bowl somewhere. But this new home for the L.A. Philharmonic's signature music education program, Youth Orchestra Los Angeles, he said, "is what has me most excited and proud."
Gustavo Dudamel proposed training young musicians in underserved communities when he was appointed the L.A. Phil's music director in 2007, and YOLA will continue to operate in various youth centers in Central and South L.A. But the Gehry building will be its first dedicated facility. Fronting Inglewood City Hall, the center will primarily serve local students while also providing a gathering and performance space for other YOLA students and faculty, including L.A. Phil musicians.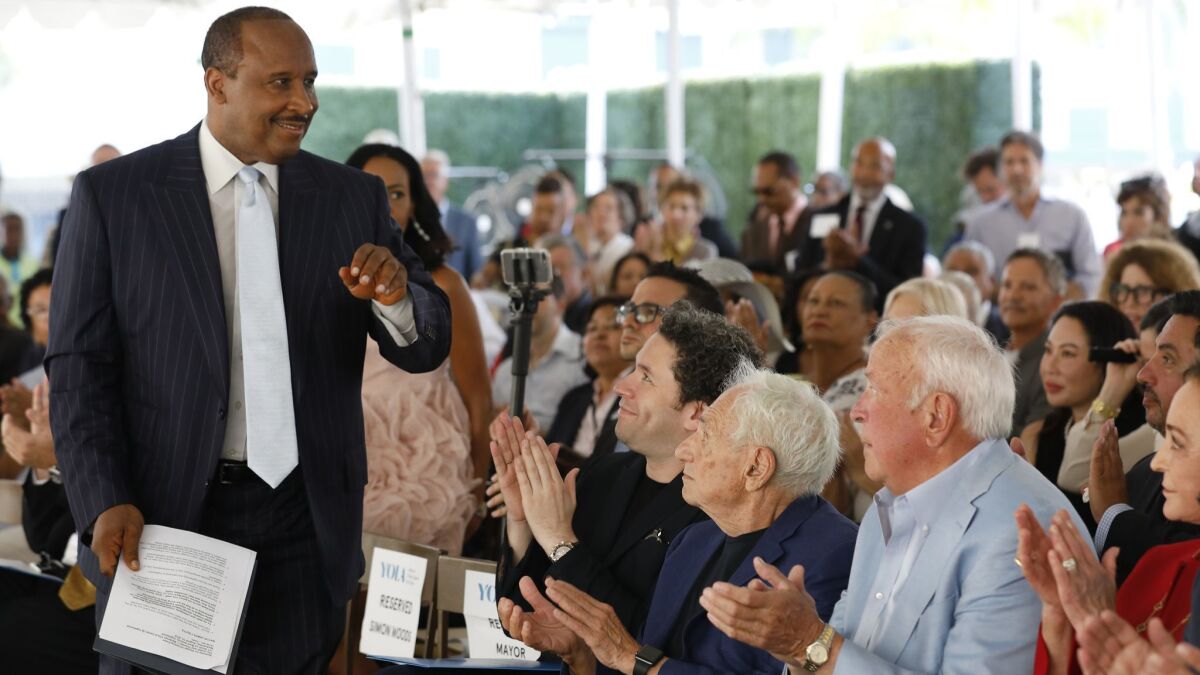 The project is but one part of the orchestra's ambitious centennial season that will include the commissioning of more than 50 new works, a string of special dance, music theater and opera events, as well as a miles-long street party and a free Hollywood Bowl concert with superstars from classical music and pop (Katy Perry has just been announced). Forging compellingly into the life of its city, the L.A. Phil will hang onto its reputation for being the orchestra of the future.
But it is the YOLA Center, which will take about two years to complete, that stands to make the most difference. Not only will it be a way to produce an unprecedented ethnically diverse new generation of musicians but it also promises to be a new model for ways a cultural institution can serve a community, with the added cachet of it being designed by the architect behind Walt Disney Concert Hall.
In a conversation before unveiling his design Wednesday, Gehry said his initial ideas came from the Pierre Boulez Saal he built for the West-Eastern Divan Orchestra, the ensemble Daniel Barenboim created to train young Israeli and Arab musicians together. That small, oval-shaped hall inside an old East Berlin warehouse has proved to be a magical space; overnight, it became one of the German capital's most important and artistically transformative concert halls.
THE DESIGN: More views of Gehry's plan for YOLA Center »
At the urging of Yasuhisa Toyota, the Japanese acoustician of Disney Hall who also will work on the YOLA Center, Gehry will drop the floor and raise the ceiling, so that the orchestra will have the 45 feet of requisite acoustic space above it. Large windows will flood the room with light. Retractable walls, as in the Boulez Saal, will allow the building to be broken up quickly into concert, rehearsal and teaching areas.
Named after donors Judith Beckmen and her husband, Thomas, an L.A. Phil board member and founder of Roland Corp., the 260-seat concert hall will occupy the former Security Pacific Bank building at 101 S. La Brea Ave. It will include a choir room, an ensemble room and a practice studio, with all spaces totaling about 25,000 square feet. Groundbreaking is expected in spring.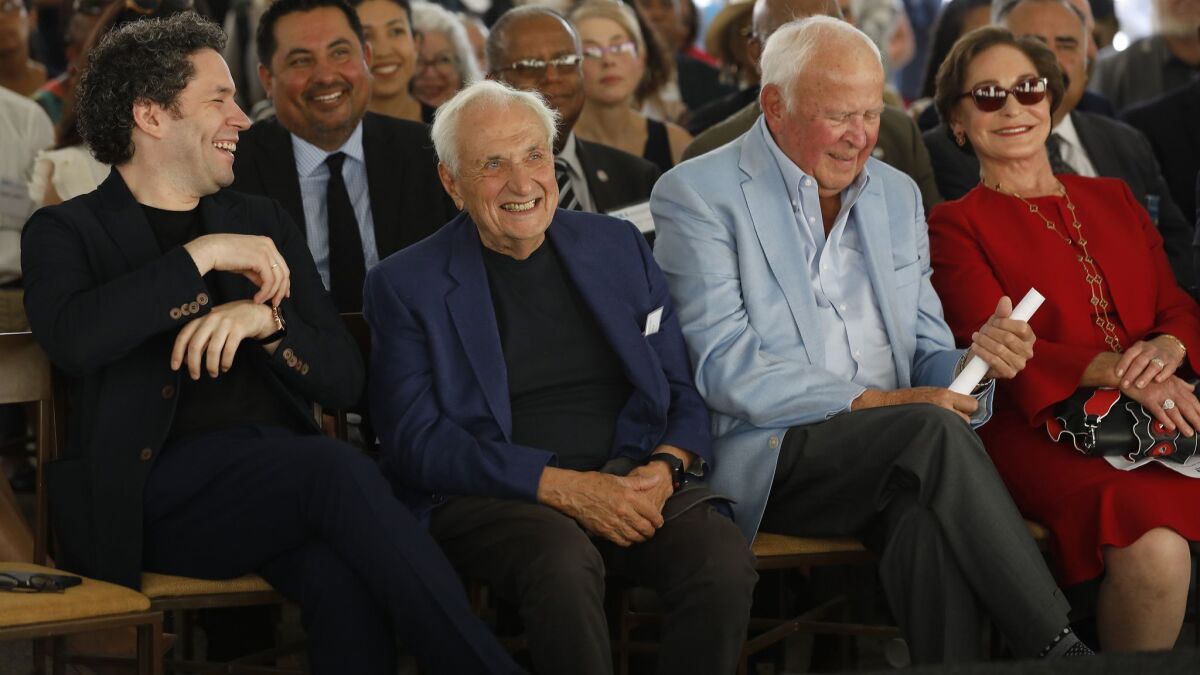 Begun in 2007 with just a handful of students in a facility near the L.A. Coliseum, YOLA provides free instruments, music training and academic support to children in central, southern and eastern portions of Los Angeles. Nearly all the students who have gone through the program from the start have gone on to college, some becoming music majors. Today YOLA serves about 1,200 young musicians, and with the new YOLA Center, the L.A. Phil hopes to double that number.
The center will not be fancy and will retain its essential 1960s modernist roughness. Meant for the community — Gehry calls it anti-gentrification — the the building will be available to Inglewood to use during the day, before the kids arrive for their after-school classes and rehearsals.
Still, it will become an unmistakable Gehry building, with an openness that invites experimentation. For Dudamel, this is key.
"It's incredible how much the physical space raises the level," he said. Having grown up in El Sistema, the music education program in Venezuela, Dudamel noted just how much changed when a modern new center opened in Caracas.
"This changed the whole ambition of El Sistema, allowing it to grow enormously," he said, adding that the program ultimately reached more than 700,000 students a year. Gehry had even been brought in to design a major concert hall and education center in Dudamel's hometown of Barquisimeto, though that is hardly possible any longer given the country's economic, political and humanitarian crises. President Nicolás Maduro has placed Dudamel on his enemies list, but Dudamel and Gehry insist the project is not dead.
"We never stop talking and dreaming," Dudamel said, optimistic that Venezuela will overcome its current problems.
All of that, Dudamel contends, makes the YOLA Center a symbol — a sign that El Sistema's model remains vital and that it can continue the growth of its basic ideals. Indeed, Dudamel and Gehry are cooking up another YOLA Center in South Gate that will be part of a cultural center that the architect intends to include in his massive project transforming the Los Angeles River.
For now, though, the L.A. Phil's new chief executive, Simon Woods, noted at the YOLA Center unveiling that the L.A. Phil will no longer be an orchestra with two iconic homes. Along with Disney Hall and the Hollywood Bowl, there will be a third.
Get our L.A. Goes Out newsletter, with the week's best events, to help you explore and experience our city.
You may occasionally receive promotional content from the Los Angeles Times.