Druid Theatre: A countryman's call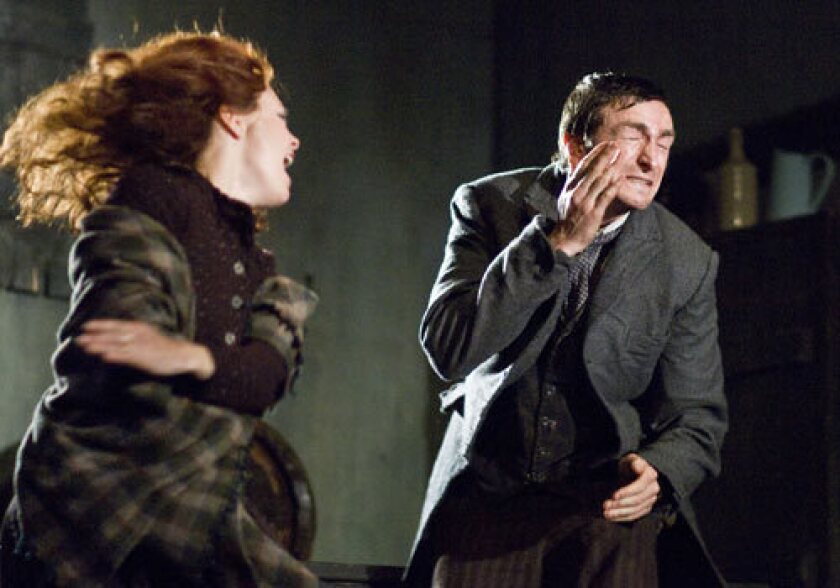 Special to The Times
John Millington Synge? Those Americans who've heard of him (and not that many have) tend to think of the early 20th century writer as a spinner of tales about coarse or quaint Irish folk who speak in a barely decipherable tongue.
Garry Hynes is out to prove there's much more to Synge than that. Hynes, one of Ireland's leading directors, and her Galway-based ensemble, Druid Theatre Company, have spent more than three decades exposing what she calls "the absolute purity and ferocity of vision" of this oft-misunderstood playwright.
The Druids began life by mounting his best known work, "The Playboy of the Western World," in 1975. Seven years later they created a groundbreaking production that illuminates the rawness at the heart of a piece traditionally sentimentalized or played for laughs.
The company's greatest triumph came three years ago with "DruidSynge," in which the author's six plays were presented in one day -- a feat distinguished by the cast's soulful acting, not to mention endurance, and the director's fearlessness in pursuit of the real Synge. "We want people to look at him as a modern writer," Hynes said, "full of irony and parody and complex ideas" -- and intrigued, like many Irish artists, with the precarious balance between humor and tragedy, life and death.
Now the Druids are bringing Synge to Los Angeles. Their double bill -- the full-length "Playboy" preceded by the one-act "The Shadow of the Glen" -- opens tonight as part of UCLA Live's seventh International Theatre Festival. The two morality-mortality plays fit together nicely. In "Playboy," a stranger tries to charm a little town by claiming he killed his father. In "Shadow," a tramp happens onto an isolated farm where a man has just died -- or so his wife thinks. Trouble abounds once the corpse pops back to life.
"Too often, 'Playboy' is done as a period piece with comic caricatures instead of full-blooded people," Hynes said. " 'Shadow' is a really powerful piece in relation to a woman's need to be an individual and to follow her instincts. In that way it's like the plays of Ibsen."
It also is among the works for which Synge borrowed from both folk tales and everyday life. (He said he did research by eavesdropping on servant girls.) "On the stage," he once explained, "one must have reality, and one must have joy."
Realistic yet joyful. Nostalgic yet modern. No wonder the public image of Synge has been confusing. It also didn't help that his writing was overshadowed by the turbulent politics of his time. Even though he belonged to the national theater movement that took hold at the turn of the century, his portrayals of peasants were decried by nationalists as slurs against the Irish people, especially women. "Shadow," his first produced play, drew vitriolic attacks after its 1903 debut. When "Playboy" opened in 1907, riots broke out.
Synge's legacy was colored by the overly romanticized circumstances of his death. Diagnosed with cancer in his 20s, he spent his last decade (during which he wrote all of his plays) awaiting his demise -- which came in 1909 when he was 37.
As a girl, Hynes said, she considered Synge "quaint, based on the school texts." After she and two friends founded the Druids, they decided to stage "Playboy" because it seemed like a good summer offering. Only during rehearsals did Hynes recognize what she calls "the obvious greatness of the work."
Even though their production was well-received, said Hynes, "We thought that if the company continued long enough we would do the play again and really do it justice."
The company not only continued, it thrived, thanks to Hynes' eye for cultivating new writers and for ambitious projects such as the revised "Playboy." The production, which was sensual and violent, drew raves in Edinburgh and New York and made an unprecedented tour of the rugged Aran Islands, which inspired many of Synge's plays.
Hynes emerged as one of her country's most exciting directors, with a reputation for being bold, intense and meticulous. "Garry is so specific," said actress Sarah-Jane Drummey, who appeared in "DruidSynge" and will costar in "Playboy" at UCLA. "She knows exactly what she wants. It's just a joy. There's no messing around. She puts her heart and soul into everything she does."
Hynes, who is in her 50s, also exhibits a flair for defying expectations. She and her colleagues founded Druid in Galway because they wanted to expand the professional Irish theater beyond its traditional power base of Dublin. One of the most dynamic women in the Irish arts world, she champions an author who was vilified for his portrayal of Irish women.
In 1991, Hynes went to Dublin to run the legendary, albeit aging Abbey Theatre, but returned to the Druids in 1995. Soon after she came home, she read a script by a man named Martin McDonagh. "No one knew quite what he was," recalled Hynes. "I read a second play he submitted and then arranged to meet him." In 1998, Hynes became the first woman to win a Tony for play direction for her work on McDonagh's "The Beauty Queen of Leenane."
For years, Hynes had pondered how to present Synge's complete dramatic repertoire -- much of which was rarely seen -- all in one day using an ensemble of actors who would play all the parts. The Irish Times called the resulting marathon one of the greatest achievements of the Irish theater. Actress Marie Mullen, a Druid co-founder, was singled out for dominating the stage, whether as a grieving widow or a bawdy drunk.
" 'DruidSynge' was an amazing experience," said David Sefton, UCLA Live's executive and artistic director. He had hoped to bring the entire cycle to Los Angeles, but the logistics proved unfeasible. "But what we do have," he said, "is the celebrated no-holds-barred production of a piece done in a way it never had been before."
Indeed, Hynes said, if you can't see all of Synge, the slice Druid is presenting this week is a good start.
"Synge is an economic writer," she said. "The same vision that animates 'Playboy' animates all of his work. And the vision that animates this production animates much of our work."
Druid Theatre Company, UCLA's Freud Playhouse, 8 p.m.today-Saturday; tickets $36 and $50. Information: www.uclalive.org.
---
Your essential guide to the arts in L.A.
Get Carolina A. Miranda's weekly newsletter for what's happening, plus openings, critics' picks and more.
You may occasionally receive promotional content from the Los Angeles Times.