Kobal Foundation celebrity photos capture eternal glamour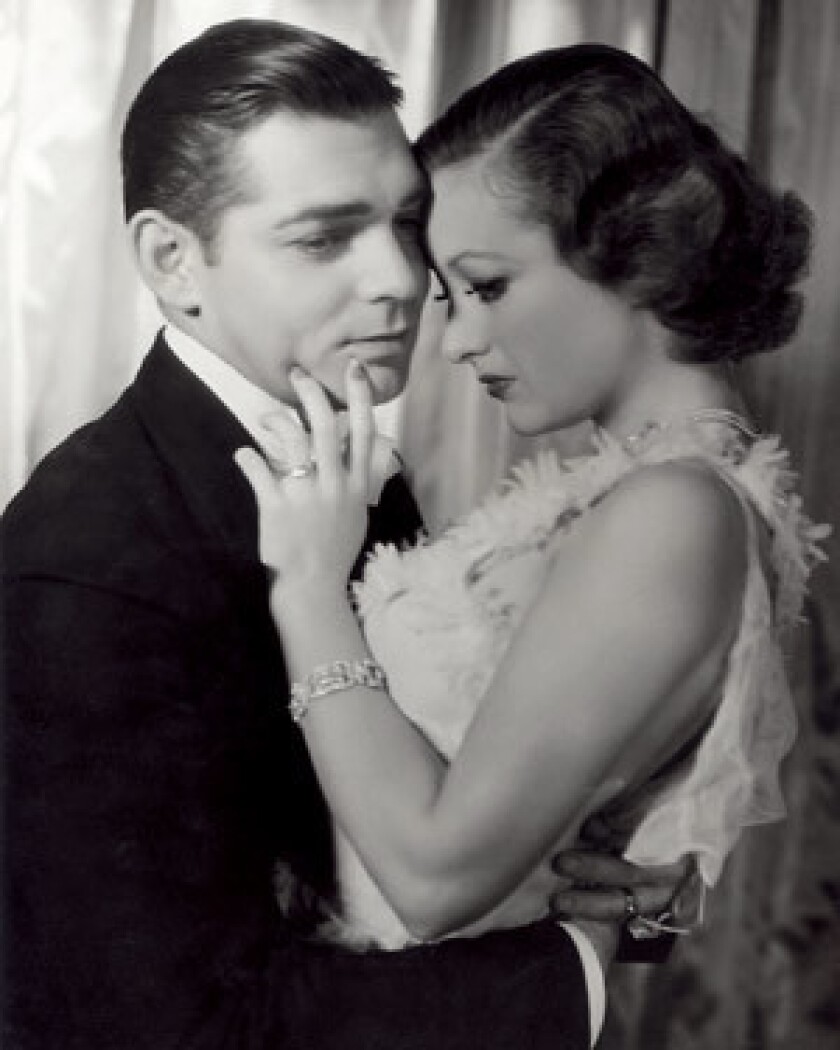 Special to The Times
SANTA BARBARA —
FROM THE time he was a schoolboy, John Kobal was in love with Hollywood. He longed to become a part of it, and eventually he did -- by befriending faded movie stars and forgotten photographers, enchanting them with his sincerity and his hungry memory, and collecting photographs. By the time he died in 1991, at 51, he had amassed thousands of anecdotes and a million photographic images.
Kobal set up a photo agency to profit from all this material, but he kept the best for himself, including original prints and negatives from such famed studio photographers as Clarence Sinclair Bull, George Hurrell, Ruth Harriet Louise, Eugene Robert Richee and Ernest Bachrach. Their subjects included Garbo, Dietrich, Harlow, Crawford, Gable and Grant -- captured in Olympian beauty and crowned by halos of light. As Kobal once wrote, "Each image reveals a coming together of the flesh and the spirit to create an ideal to which others aspired."
That romantic vision pervades the exhibition "Made in Hollywood: Photographs From the John Kobal Foundation," at the Santa Barbara Museum of Art through Oct. 5. Its co-curators -- Karen Sinsheimer, the museum's curator of photography, and film historian Robert Dance -- visited the foundation in London and sifted through thousands of vintage prints and negatives to select just over 90 images by 50 photographers. The result is a virtual tour through four decades of glitz and glamour, starting in the 1920s. "These are the most vivid records we possess of the Golden Age of Hollywood," says Dance.
The photographs come from a special era, agrees Simon Crocker, chairman of the Kobal Foundation.
"What was unique about Hollywood photography is that the stars would work with the same photographers over and over again," Crocker said during a recent visit to Santa Barbara. "There was a trust. They knew that the studio's only job was to make them look fabulous."
That fabulousness mesmerized Kobal. Born in Austria and raised in Canada, he eventually settled in London but made frequent visits to the United States to pursue his Hollywood obsession. In New York, he befriended actress Tallulah Bankhead, who called up her pal director George Cukor when Kobal was headed to Los Angeles for the first time in 1964. Cukor, in turn, introduced him to a panoply of actresses and actors. His entree was further enhanced by his credentials in journalism, a trade he plied for years, contributing stories to BBC Radio and various British magazines. Ultimately, though, he found his real calling.
Catching stars
Among the first to recognize the importance of Hollywood photography, Kobal started collecting when movie memorabilia was cheap -- or free, since he also got material through gifts and through salvage. Eventually, he would write books ("People Will Talk," "The Art of the Great Hollywood Portrait Photographers, 1925-1940") and even organize the first exhibition in England on the subject (at the Victoria and Albert Museum in 1974). Had it not been for Kobal, some of these stunning pictures might have been lost -- dumped or incinerated.
Most of the photographs in "Made in Hollywood" are vintage silver gelatin prints, rich in their tonality and velvety in their blacks. There are also eight 16-by-20-inch new platinum prints and several giant wall murals made for the show from original 8-by-10 negatives.
The survey's chronological range covers Kobal's own interests, beginning with the rise of the studio system. As the studios worked to perfect their star machinery, still photographs were regularly used for advertising and sent out to magazines and newspapers. Individual pictures were also mailed by the thousands to fans.
Each studio maintained a team of staff photographers -- some on sound stages or location to do production shots, some working in photo studios to capture the look MGM or Paramount or RKO wanted for this actor or that actress. That process required a combination of makeup, lighting and mood; sometimes, props were thrown in for good measure. To promote a macho Humphrey Bogart, Scotty Welbourne posed the actor holding pistols in both hands, with the shadows of four rifles projected on a wall behind him. Ernest Bachrach's portrait of Orson Welles, by contrast, has the actor placing a pipe against his forehead -- the thoughtful intellectual look. "As a rule, I have found it highly advantageous to know my sitters," Bachrach once said. "Like a director, I play upon his or her emotions and induce the mood and expressions that I desire."
Varieties of gloss
The better photographers developed their own styles. "There's an assumption that Hollywood photography all looks a bit alike," says Dance, pointing out the evidence in the 1930s section of the exhibition, which has some photographs grouped by photographer. Hurrell, for example, liked dramatic lighting and sexy poses. "When Bull does Johnny Weissmuller, he's like the handsome boy next door," Dance says. "When Hurrell is photographing John Weissmuller, his skin is steaming."
There are familiar shots in the exhibition -- Charlie Chaplin standing on a street corner with Jackie Cooper in "The Kid" (by an unknown photographer), John Gilbert hovering over Greta Garbo in "Flesh and the Devil" (by Bertram "Buddy" Longworth).
There are also some surprises. A close-up of Vivien Leigh, a publicity shot by Fred Parrish for "Gone With the Wind," depicts her disheveled and looking half-mad. Her face is lighted from the left, with the other side in darkness -- a moment excerpted from the famous "As God is my witness" scene when Scarlett O'Hara is reduced to digging in a field for sustenance. Farther along the wall, in stark contrast, is Leigh in a more familiar pose -- as the beautifully coiffed and controlled Southern belle, captured by Laszlo Willinger.
Fall from glamour
The end of the Golden Age was also the end of the studio system. Mighty and magnificent, the system had also been dictatorial and repressive, sometimes perversely so. Its demise in the late '50s and early '60s meant the end of image-building and control: With no actors on contract, what was the point of spending all that time and money creating images for them? In came freelance photographers and paparazzi, more interested in catching naughty candids than in airbrushed beauty.
The public too seemed interested in more humanized or vulnerable portraits, and there are number of those in the final section, the 1950s. A high-angle shot of a waif-like Marilyn Monroe, sitting on a curb, shows her touching up her makeup. There's also the pensive Rock Hudson featured on the cover of the exhibition's companion book, "Glamour of the Gods," written by Dance. Hudson's eyes are downcast, and there's a weary look on his ruggedly handsome face, where wrinkles are starting to creep. Maybe he realized that the Twilight of the Gods was coming next.
"Made in Hollywood: Photographs From the John Kobal Foundation," Santa Barbara Museum of Art, 1130 State St., Santa Barbara, 11 a.m. to 5 p.m. Thursdays through Sundays. Ends Oct. 5. $9; free Sundays. (805) 963-4364 or www.sbma.net.
---
Your essential guide to the arts in L.A.
Get Carolina A. Miranda's weekly newsletter for what's happening, plus openings, critics' picks and more.
You may occasionally receive promotional content from the Los Angeles Times.