Mrs. P has a story for you, kids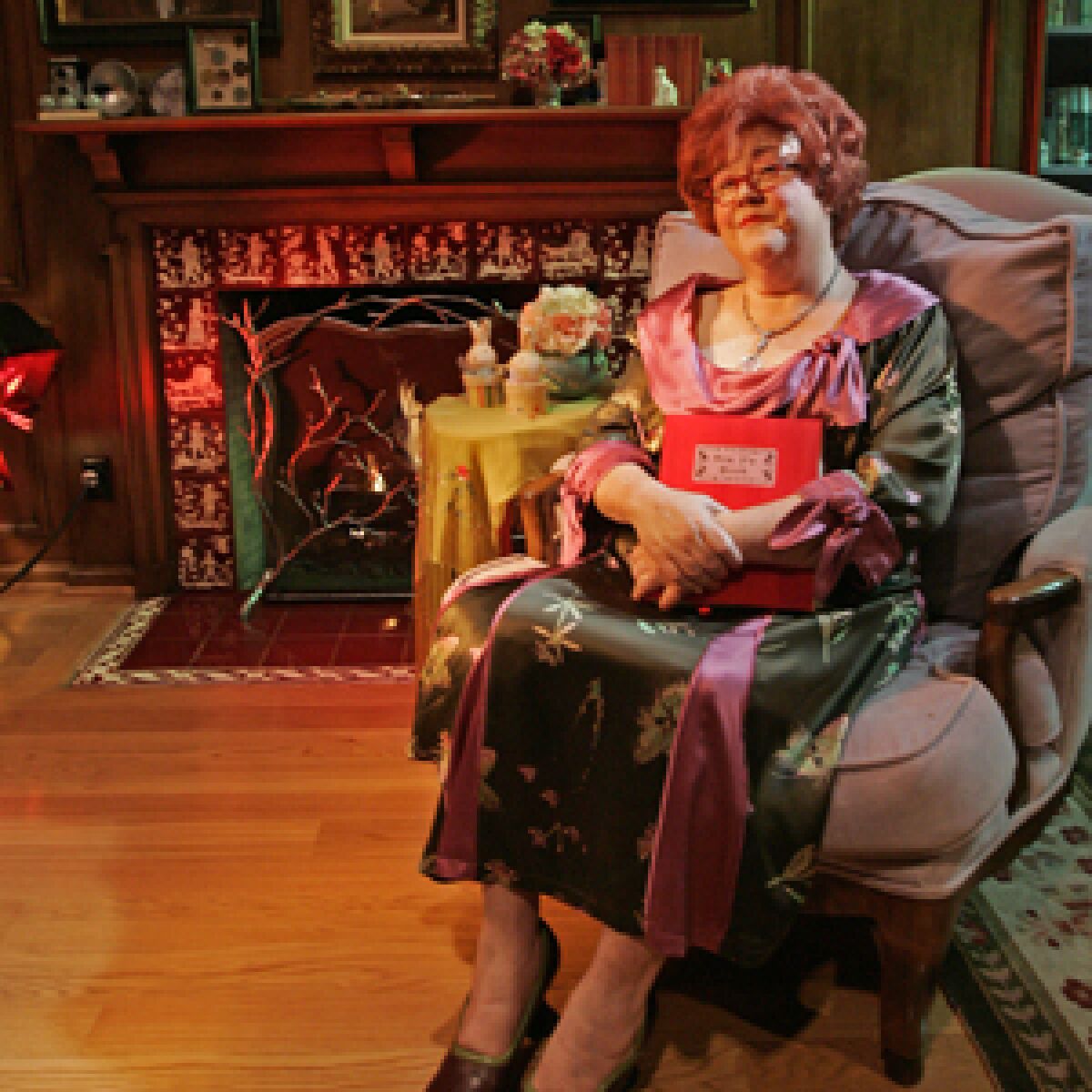 She's like Pippi Longstocking, Mary Poppins and Mrs. Claus all rolled into one -- an amiable woman of mysterious origin who's hoping to do for reading what "Sesame Street" has done for learning.
Her name is Mrs. P.
Sitting in an oversized chair, reading children's classics aloud in an Irish brogue near the ambient light of a gas-log fireplace, Mrs. P is the title character of a new children's storytelling website (at www.mrsp.com) that makes its debut today. The launch coincides with the beginning of National Young Readers Week.
"Cinderella," "The Tell-Tale Heart" and "The Emperor's New Clothes" are just three of the 15 stories that are available on the site. More than 30 others, including "Heidi" and "Alice in Wonderland," have been filmed for future "webisodes."
"There are all these great icons out there for insurance and beer companies that people know, but there's no great icon that says reading is cool," notes Mrs. P creator and founder Clay Graham.
The former head writer and executive producer for the long-running sitcom "The Drew Carey Show," Graham came up with the idea for Mrs. P in early 2007. His first -- and only -- choice to portray her was his former colleague Kathy Kinney.
A wild back story
Kinney is the actress best known for her turn as Mimi, the overly made-up hothead who played Carey's foil on the now-defunct hit show. Her new role as Mrs. P couldn't be more different. With her face framed by a curly red wig, her demeanor is warm and approachable, if a little odd.
According to Kinney, the Mrs. P character has a pretty wild back story -- that is, when she isn't in her lavender chair reading from the cloth-bound "Mrs. P's Book" in her lap.
Not only does she drive a Ferrari, she's met the Queen of England. And as evidenced by her red-rimmed Truman Capote glasses, floral muumuu and sculpted John Fluevog heels, she has an unusual sense of style.
"She's a combination of dusty old roses and lemon juice with a little bit of tequila behind her ears," says Kinney. "She's eccentric. She's stable, but she's leading a really fantastic life. And people who read lead fantastic lives."
Mrs. P is filmed at Kinney's Los Feliz home; the library where she reads was once her office. But it isn't only her house that Kinney is donat- ing to the cause; she's also donating her time. She does her own hair and makeup, and even acts as craft services, cooking the meals for the small crew.
Otherwise, the project has been bankrolled by Graham. He and Kinney refer to themselves as co-presidents, along with Dana Plautz, a longtime friend of Graham's who was a marketing executive for Hanna-Barbera Studios.
"You get to this point in your life where you've been around for a while," says Kinney, "and just want to do something that you really enjoy with people that you really like and have it be a good meaningful product."
Kinney has been an avid reader since her childhood in Wisconsin, when her mother used to "dump" her at the library. Her first addiction was daydreaming. Her second was books.
"Growing up in this tiny town in extremely cold Wisconsin with all the cheese and beer and serial killers, I knew there was something much bigger out there that I was going to see one day," Kinney says.
Mrs. P is a welcome departure from almost any other video entertainment available to kids these days -- be it a show on the Disney Channel or Nickelodeon, or a heavily branded, character-driven site online.
The pace is slow, as is the editing. The main action is inaction. Mrs. P just sits in her chair. Reading. There are occasional cutaways to illustrations, but these are spaced far apart, in the hope that viewers will use their imaginations.
With calm being in such short supply these days, Mrs. P could be just as relaxing for parents as for the 3- to 12-year-olds the site sees as its audience. Partly, this has to do with Kinney's reading style, and partly with the material itself.
'Magic dictionary'
All the stories are acknowledged classics, a choice made both because they've stood the test of time and also because they are in the public domain, which means they're free to use.
Each story comes captioned, so early readers can match the words to Kinney's voice. And if those readers don't know what a specific word means? No problem. There's a "magic dictionary," where kids can click open a page and find its definition.
Perhaps best of all, Mrs. P is free and noncommercial, presented with PBS-style underwriting rather than intrusive banner or pop-up ads.
Powell's Bookstore in Portland, Ore., where Graham and Plautz both live, also supports the site, and plans to launch a Mrs. P aisle on its web- site ( www.powells.com) and tuck Mrs. P bookmarks into every book that's purchased there.
Susan Carpenter is a Times staff writer.
---
Get our L.A. Goes Out newsletter, with the week's best events, to help you explore and experience our city.
You may occasionally receive promotional content from the Los Angeles Times.