Prof ensnared in case of Pissarro looted by Nazis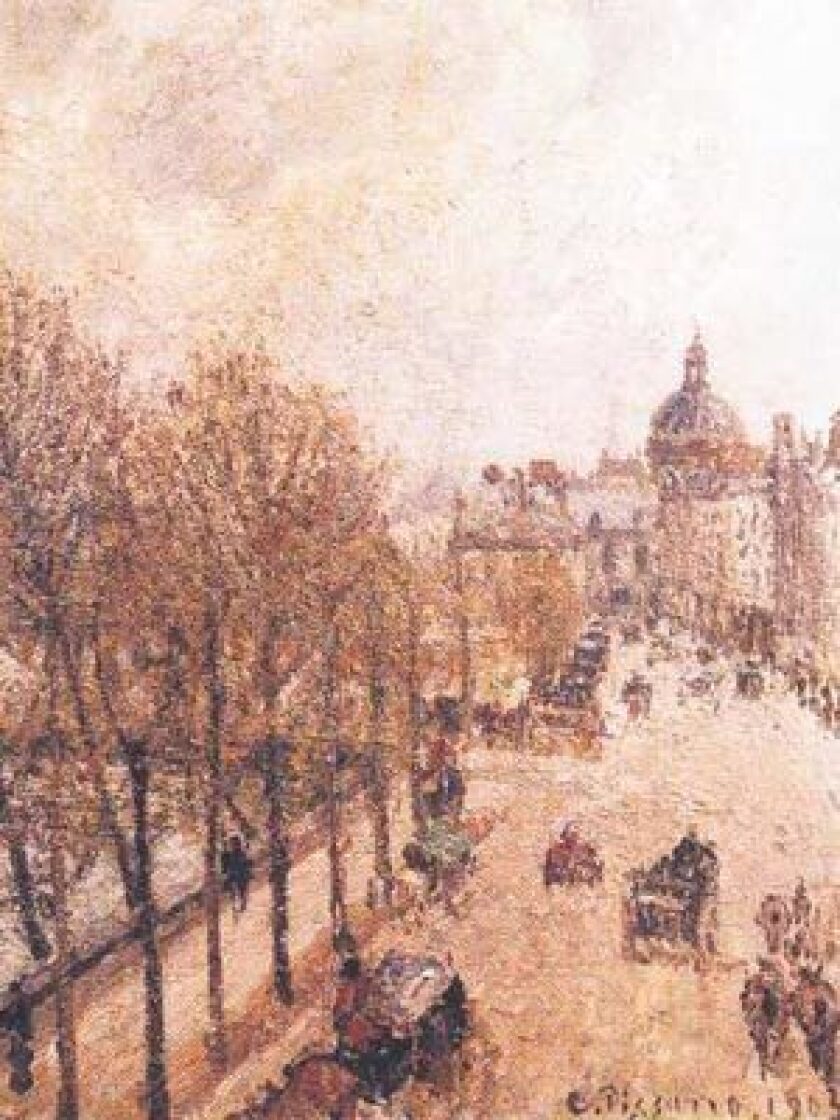 Los Angeles Times Staff Writer
Jonathan Petropoulos, a scholar-sleuth noted for helping to return art looted by the Nazis to its proper owners, has resigned his post as director of Claremont McKenna College's Center for the Study of the Holocaust, Genocide and Human Rights -- the upshot, as he tells it, of tumbling innocently into art-world intrigue during a quest to recover a multimillion-dollar painting by the French Impressionist Camille Pissarro.
The woman Petropoulos says he was trying to help has accused him and a German associate of trying to extort 18% of the painting's market value as payment for shepherding its return. Both men have denied any wrongdoing.
Petropoulos remains on the Claremont McKenna faculty as a tenured history professor. According to a memo sent to the faculty last week by Gregory Hess, vice president for academic affairs, an investigation by college authorities found that he had "adhered to applicable contractual and legal obligations" while trying to arrange the painting's return from a mysterious Lichtenstein foundation.
Petropoulos says he didn't know at the time that the foundation was under the control of art dealer Bruno Lohse, one of the Third Reich's most notorious art plunderers.
Ending 'distraction'
Petropoulos said in an interview that by resigning the Holocaust center directorship he hoped to "end the distraction" and spare the center and the college further controversy. Among his books are "Art as Politics in the Third Reich" (1996) and "The Faustian Bargain: The Art World in Nazi Germany"(2000). He was also research director for a commission President Clinton created in 1998 to report on Holocaust victims' artworks that had wound up in American hands. He has been at Claremont McKenna since 1999 and had served as associate director or director of its Holocaust center since it was established five years ago.
Petropoulos said he was involved as early as 2000 in efforts to recover Pissarro's "Le Quai Malaquais, Printemps" for the heir of a Jewish book publisher who fled Vienna on the eve of the Nazis' 1938 takeover of Austria.
The professor said his efforts turned into a well-intentioned misadventure. But a spokesman for the Criminal Court in Munich, Germany, said Friday that an investigation into possible extortion by Petropoulos and Peter Griebert, a German art dealer, was continuing. Swiss authorities are holding the painting, seized last spring from a bank vault in Zurich, Switzerland, as evidence in the case.
Petropoulos recounted a story that peaked for him in a Zurich restaurant in late January 2007. There, he said, he clinked champagne glasses with Gisela Bermann Fischer, the apparent rightful owner of the 1903 Parisian street scene, toasting a handshake deal that would have earned him 8% of the $2 million or more the painting was expected to fetch at auction. She is the granddaughter of Samuel Fischer, publisher of novels by Thomas Mann and Herman Hesse.
Petropoulos said he got involved at the behest of Fischer and the Art Loss Register, a London-based company that keeps a database of stolen art and in some cases helps to get it back.
In December 2006, he said, he met in Munich with Griebert, whom he knew as an art-business associate of Lohse. Griebert, the professor said, was now apparently angry with the ex-Nazi. Petropoulos said Griebert told him about papers he'd found showing that Lohse had sold the Pissarro in 1957 to a man who bequeathed it to a foundation in Lichtenstein.
Working for what he said was his customary consultant's fee of $350 an hour plus expenses, Petropoulos said he reported the news to his client, the Art Loss Register, which was then negotiating a contract with Fischer to recover the painting. The professor said he did more sleuthing on his own, with a view to recovering the Pissarro and gathering material for a book.
In late January 2007, he said, he viewed, authenticated and photographed the painting in the conference room of a Zurich bank. He also said he dined with Fischer and Griebert later that day and that they reached a deal: Fischer, who'd had a falling out with the Art Loss Register, would sell the Pissarro at Christie's in New York and Griebert would get his customary 10% art dealer's fee.
According to Petropoulos, Fischer then proposed that he too deserved a cut rather than just his hourly fee, and they settled on 8%.
A different story
Articles from mid-2007 by Bloomberg News and ARTNews magazine reported Fischer as saying that the American scholar and the German art dealer "demanded 18% of the [auction] value of the painting" and that far from toasting a deal after meeting with them in a Zurich hotel, she soon resolved to seek charges against them.
Petropoulos said Fischer's lawyer threatened to press extortion charges if he and Griebert didn't turn over all their information, including the foundation's identity -- which the professor said only Griebert knew at that time. Still, Petropoulos said, Fischer again approached him for help, which led to his negotiating terms on her behalf in mid-March 2007 with officials of the Schonart foundation.
But then, Petropoulos said, Fischer and her lawyer found out the foundation's identity on their own and arranged their own meeting. It went badly, he said, causing the deal for the Pissarro's return to fall apart for good.
Authorities raided the Swiss bank where Petropoulos had viewed the Pissarro and, according to Bloomberg, found three paintings in the foundation's safe: the Pissarro, a Renoir and a Monet. Petropoulos said that only when he read the first news accounts of the raid in early May did he learn that the Schonart foundation was a front for Bruno Lohse -- who was 95 when he died on March 19, 2007.
Perhaps the most disturbing information about Petropoulos' involvement came in e-mails quoted last month in the Claremont Independent and obtained, the student publication said, "through a source close to the investigation."
Writing to Griebert in February 2007, the Holocaust studies said: "If Frau Fischer and [her lawyer] choose not to engage us, then we cannot say what will happen to the painting. . . . It would be difficult to give her the names and locations without any compensation. That just won't happen. . . . She simply cannot recover the painting without us. . . . She needs us."
Petropoulos said in the interview that he "was trying to comfort Griebert, who was very upset at being accused of extortion. . . . That is part of the tone of the e-mail."
Petropoulos said he had consulted with at least three experts on art restitution law at each step, making sure his actions met legal and ethical standards.
"I'm a very trusting person," he added. "I trusted all the parties involved and was trying to have everything work out for everyone involved."
An early warning
Julian Radcliffe, chairman of the Art Loss Register -- which also had hoped to earn a fee from the painting's return -- said he warned Petropoulos that he didn't have the expertise to broker the return of a Pissarro.
"I'm sure the chance of making a big fee may have influenced his judgment," Radcliffe said of Petropoulos. "He wants to write a book about Lohse, a perfectly valuable thing to do, but you don't get yourself into negotiations involving a stolen picture and large sums of money. He did not behave dishonestly, but he . . . got himself into something he was not qualified to handle."
Los Angeles attorney E. Randol Schoenberg, an expert in Holocaust art restitution who won the landmark case that returned modernist masterworks by Gustav Klimt to their rightful owners, said that academics such as Petropoulos, who helped with the Klimt case, are invaluable for researching the whereabouts and ownership histories of looted art.
But he said the same people "are out of their league" if they try to negotiate a work's return.
Special correspondent Christian Retzlaff in Berlin contributed to this report.
---
Inside the business of entertainment
The Wide Shot brings you news, analysis and insights on everything from streaming wars to production — and what it all means for the future.
You may occasionally receive promotional content from the Los Angeles Times.