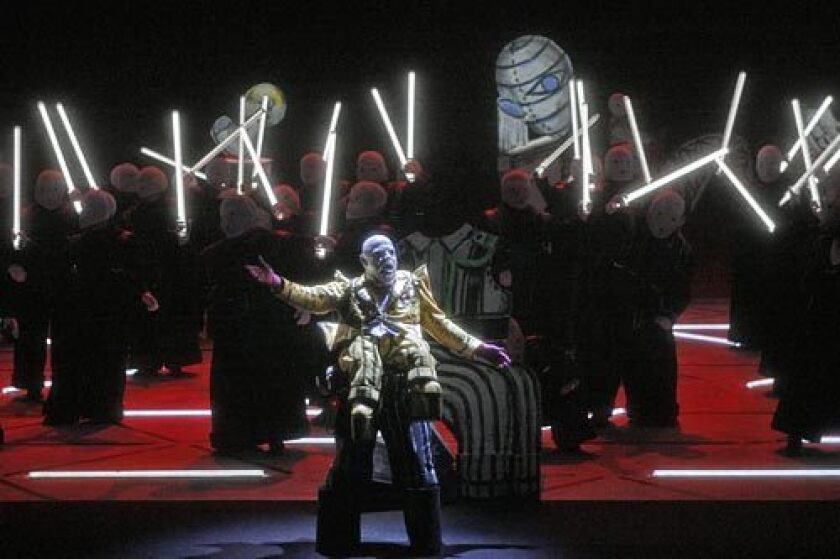 Los Angeles Times Staff Writer
For novice opera fans, settling into Wagner's "Ring" cycle is the equivalent of climbing Mt. Everest after taking up an interest in rock climbing. It's the medium's grandest, longest, most physically taxing production for fan and performer alike. For those Angelenos who plan to make this historic production their introduction to opera, we consulted Cameron Silver -- co-founder of the young opera supporter's group Aria and owner of the vintage couture shop Decades Inc -- and Cooper Ray, who writes the etiquette blog Social Primer and is writing the book "Social Primer for the American Man." They gave advice on how to prepare, endure and be ready to be wowed.
This is not a classic Viking-helmeted opera. "This production may be to opera what 'Avatar' was to film," Silver said. Achim Freyer's production design pairs uncanny German expressionism with a technological savvy worthy of James Cameron himself. So don't be surprised when you see what look light sabers. "Opera feels very anachronistic to people, and anything that brings it into the 21st century is progress."
It's not just for the AARP set. Really. "I've had so many young people ask about this, especially young patrons of the gallery scene," Silver said. "Opera has such a generation gap, but I know twenty- and thirtysomething art scene kids who know more about the 'Ring' cycle than I do. Anything that brings in an audience under 100 is wonderful."
Ladies: Dress up, but don't overdo it with the footwear. "You always want to look elegant when you go out to the opera," Silver said."But you have to be comfortable." After nearly six hours of "Gotterdammerung," your feet will exact vengeance if you get too ambitious with footwear.
Guys: Don't blow this sartorial occasion. "A man should certainly don his dinner suit," Ray said. "That means a full tuxedo, from bow tie to cummerbund all the way down to shiny patent leather opera pumps. If you've already put out the big dollars for the tickets and you don't own a tuxedo, it is perfectly acceptable to wear a dark suit, dark shoes, white shirt and dark four-in-hand tie. And wash and shave your face and comb your hair. Respect the institution as well as your fellow concertgoers. If you plan to attend after opening night, scratch the tux and wear the dark suit. Do not wear jeans."
Pre-game with Wagner before you go. "Opera is about sound, not necessarily the lyrics. Wagner is big and bold, so you won't be falling asleep, but you'll enjoy it so much more if you do your homework beforehand so you know the big moments," Silver noted.
Stay in your seat, and make the most of your breaks. "There are no breaks in an opera, the intermissions notwithstanding," Ray said. "The operas that make up 'The Ring' are tests not only of your cultural but your physical endurance. In a single opera, intermissions last from 20 to 30 minutes to give the audience, and more so the musicians, a much-needed break."
Eat beforehand. Unlike some productions of the "Ring" cycle, this one does not include dinner breaks. And "just as I don't want to see (or hear!) someone smacking chicken chow mein in a movie house, this sentiment unfolds overtime for an opera house," Ray said. "No, no, no, no snacks in the opera house. Not even a candy or mint in a crinkly wrapper. I also advise skipping the wine or champagne that always flows in the lobby, especially on opening night. This will put you to sleep, which is easy to do in a dark theater with somnambulant music flowing all around you. I suggest a big strong cup of coffee before you go in and take your seat."
Opera glasses: stylish and practical. "It is definitely a good idea to bring opera glasses or a pair of small binoculars if you are anywhere other than the orchestra or loge levels," Ray said. "It is interesting to check out the faces of the singers, the costumes, the sets and even other concertgoers if you get a little bored."
Listen closely; the vocalists earned this. "People are often surprised that the singers aren't amplified," Silver said. "These singers have such powerful instruments, and the 'Ring' is really the Olympics of opera."
You don't need to see the whole thing at once. "As a neophyte, you will not be attending all four portions of the 'Ring,' " Ray said. "For. Get. It. These things are over three, four and five hours long each. If your girlfriend or boyfriend is pressuring you to go and you feel compelled to share her/his interests.... For. Get. It. Agree to one and go with pleasure. Four and you'll kill yourself, your significant other, torch the concert hall and go out in a postal blaze of glory."
Be aware of Wagner's politics. The composer's reputation as an anti-Semite makes the "Ring" cycle a fraught piece of art, one in which many fans openly boo to make their opposition known. But, said Silver, "we can appreciate it the same way we appreciate Leni Riefenstahl. You can make beautiful art while holding unacceptable beliefs. The music has [sometimes] been eclipsed by Wagner's beliefs, but it's still really good stuff if you can separate the art from the artist."
---