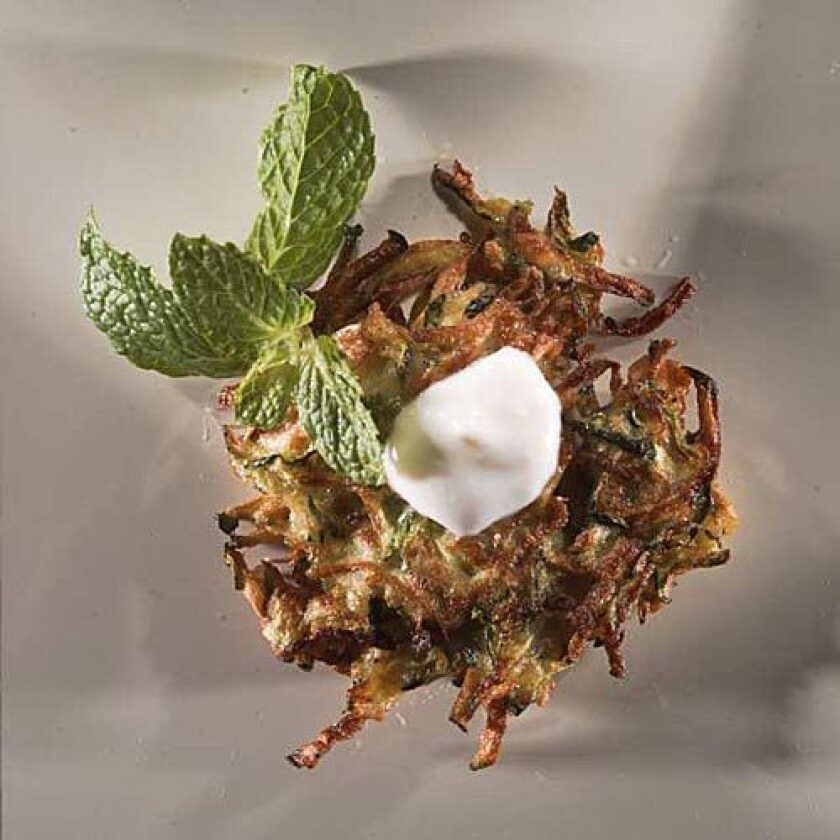 Total time 45 minutes
In these pancakes, from "Faye Levy's International Jewish Cookbook" (Warner Books, 1991), the delicate green color of the zucchini shows through the golden brown crust. As Levy writes, "The Sephardic-style yogurt and mint topping is a refreshing complement to the light pancakes and is also good with plain sauteed zucchini or eggplant or with cooked green beans."
YOGURT-MINT TOPPING
1/2 cup plain yogurt
1 1/2 teaspoons chopped fresh mint
1/2 small clove garlic, finely minced
Salt
Freshly ground black pepper
PANCAKES
3 cups coarsely grated zucchini (about 3/4 pound)
1 tablespoon chopped garlic
Salt
Freshly ground black pepper
1 egg, lightly beaten
3 tablespoons flour
Oil
Mint sprigs
YOGURT-MINT TOPPING
Mix yogurt with mint and garlic. Season to taste with salt and pepper. Set aside at room temperature.
PANCAKES
Combine zucchini, garlic and salt and pepper to taste. Lightly stir in egg. Stir in flour.
Heat 1/2 cup oil over medium heat in deep, heavy, large skillet. Drop zucchini mixture by heaping tablespoons into skillet. Flatten slightly with back of spoon and cook until golden brown, 2 to 3 minutes per side. (Turn very carefully so oil doesn't splatter.) Drain on paper towels. Stir mixture before cooking each batch. Add more oil between batches if needed.
Serve hot with Yogurt-Mint Topping. Garnish with mint springs.
12 pancakes (4 appetizer or side-dish servings). Each pancake: 36 calories; 64 mg sodium; 19 mg cholesterol; 2 grams fat; 3 grams carbohydrates; 2 grams protein; 0.17 gram fiber.
---