Westin Bonaventure architect John Portman, who aimed to soothe the anxiety of the postwar city, dies at 93
Architecture Critic
John C. Portman, the architect and developer who sought to remake the ailing American downtown during the 1960s and '70s in his own larger-than-life image, designing glass-skinned office towers and hotels with soaring atriums like the one in the Westin Bonaventure hotel in Los Angeles, died Friday in Atlanta. He was 93.
His firm, John Portman & Associates, announced the death in a statement on its website. No cause was given.
Beginning with the Hyatt Regency in Atlanta, completed in 1967, Portman brought a new level of drama to hotel architecture. In place of lobbies leading predictably past a check-in desk to a bank of elevators, Portman carved out giant central atriums that included elaborate water features, stacked balconies and restaurants on several levels.
The result was a hotel that aspired to be a city within a city — that provided what the Hyatt billed as "indoor sightseeing." As much as that two-word phrase promised the specific pyrotechnics of Portman's novel style — which New York Times architecture critic Herbert Muschamp summed up as "architecture at happy hour" — it also suggested to hotel guests that they could have a safe and predictable urban experience without having to venture into the city streets.
SIGN UP for the free Essential Arts & Culture newsletter »
In many cases, Portman's buildings were connected to other new developments by elevated pedestrian walkways. In a 2011 interview, the architect compared one of his atriums to "an internal lung," a space "designed as a transition from all the congestion and anxiety" of the postwar city.
As fears of urban crime and unrest rose in the decades when Portman was most prolific — his Atlanta Hyatt opened the same year as a major uprising in Detroit and two years after the Watts riots — his hotels became glittering symbols of urban renewal. Sometimes financed by redevelopment agencies and built on the rubble of neighborhoods that city leaders had denounced as "blighted," Portman's hotels were emblematic of an approach to planning that argued (at least implicitly) that the most crowded sections of American downtowns had to be destroyed before they could be saved.
Portman and his firm went on to design another Hyatt Regency in San Francisco and the Marriott Marquis in New York, along with large projects in Asia. His hotels often served as the anchor attractions of major new urban districts that he and his firm designed in full, such as the Peachtree Center in Atlanta, the Embarcadero Center on the San Francisco bayfront and the Renaissance Center in Detroit.
Portman was unusual in acting as the developer as well as the architect for many of his projects. Like many real-estate giants, his career was a financial roller-coaster, his triumphs tempered by periods of crisis when the market turned south and massive debts suddenly came due.
"He became a developer when he realized during one of his architectural projects that the developer he was working for had total control over everything he did," his son Jack Portman told an interviewer last year. "At that point, he decided what he needed to do was to better understand the mentality of the developer. … It was an educational process, after which he realized he could do it himself."
John Calvin Portman Jr. was born Dec. 4, 1924, during a trip his parents, who lived in Atlanta, had taken to his mother's hometown of Walhalla, S.C. The family returned to Atlanta three weeks later. After a stint at the U.S. Naval Academy, Portman earned a degree in architecture from the Georgia Institute of Technology in 1950. He founded his own firm three years later.
In 1961 — working with H. Griffith Edwards, a former professor of his at Georgia Tech and a partner in his firm from 1956 to 1968 — he completed the first element of what would become the massive Peachtree Center complex: Atlanta Merchandise Mart, a reinvention of a wholesale marketplace.
As his fame grew, Portman became a polarizing figure. Described by the Chicago Tribune's Paul Gapp in 1980 as "the most influential living American architect," he was sometimes written off as more of a businessman than a designer. I.M. Pei complained that Portman "has left architecture for development. You can't be both."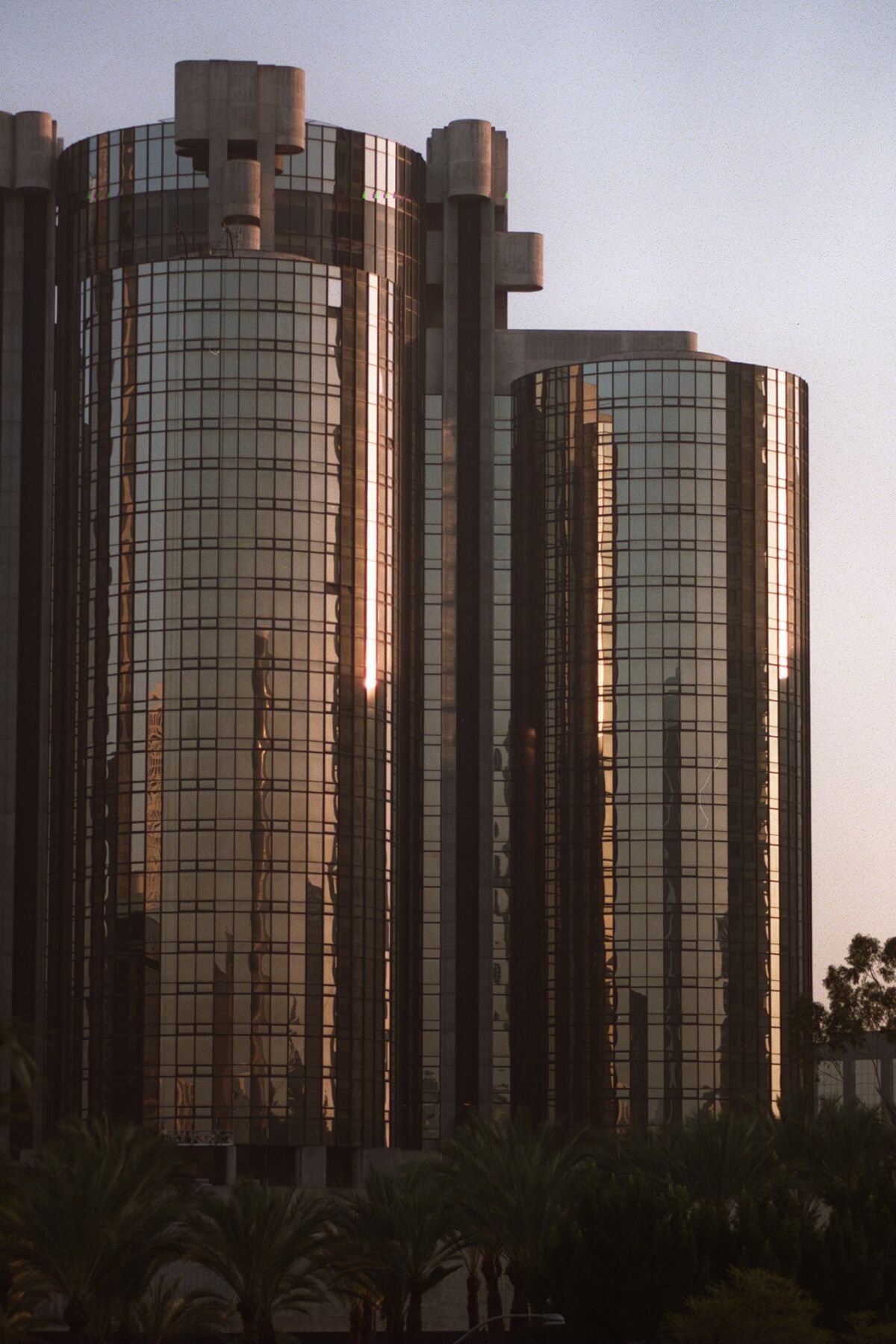 The Bonaventure, completed in 1976, became a familiar backdrop for a range of movies, including "Escape From L.A.," "True Lies" and "Swordfish."
Portman "represents neither the establishment nor the counterculture of architecture," Paul Goldberger wrote in the New York Times in 1973. "While his visionary, almost Buck Rogersian work is a far cry from the designs of such corporate architects as Gordon Bunshaft or Wallace K. Harrison, he is building at least as much, and making more money, than most of the nation's old‐line architectural firms."
In recent years, he was reembraced by the architectural establishment. Atlanta's High Museum mounted a retrospective in 2009 that included Portman's paintings and furniture design along with his architecture. A documentary film, "John Portman: A Life of Building," was released in 2011. In 2015, the Harvard Graduate School of Design offered a course on what it dubbed "Portmanian Architecture." That led to "Portman's America & Other Speculations," a 2017 book edited by Mohsen Mostafavi, the school's dean.
The book made a point of focusing not just on Portman's large-scale projects but also the pair of houses he designed for his own family, one in Atlanta and the other on Sea Island, Ga. (Portman called them Entelechy I and Entelechy II, after a Greek word for potential that has been realized.) If the architect's hotels were often criticized for turning their backs on city life, the houses, Mostafavi argued, suggested a more nuanced relationship between inside and out.
"A kind of threshold condition exists in both of the houses," Mostafavi said last year. "For example, in the Sea Island house the feeling is that of being in the interior of the landscape —it's the interior of the outside. The exterior and the interior in that house are almost the same. They fuse together. … The houses occupy this inside-outside space, and they do it in a really exquisite manner."
He added, "These kinds of qualities in John's work are not often discussed because the emphasis has been so much on the atrium."
If that was true, it wasn't hard to understand why. As Calvin Trillin put it in the New Yorker in 1976, Portman "more or less invented the concept of using boffo lobby design as entertainment."
He is survived by his wife of 73 years, Jan, along with five children, 19 grandchildren and five great-grandchildren.
christopher.hawthorne@latimes.com
Twitter: @HawthorneLAT
Get our L.A. Goes Out newsletter, with the week's best events, to help you explore and experience our city.
You may occasionally receive promotional content from the Los Angeles Times.