Art Review: Reynold Reynolds at Christopher Grimes Gallery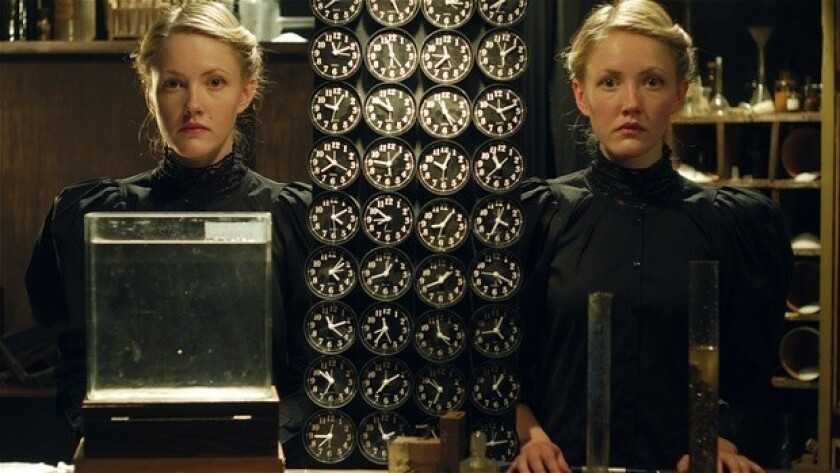 Reynold Reynolds has transformed the main space of Christopher Grimes Gallery into a combination film set, screening room and archive devoted to his yet unfinished film, "The Lost."
A miniature German town stretches across a raised platform, sprinkled with fake show, with a camera crane slung overhead. Vitrines hold storyboard drawings and photographs of actors, while elusive fragments of the film unfold in multiple projections around the room.
It is, narratively speaking, a bewildering affair, filled with sexually ambiguous cabaret dancers, mad scientists, drunken barroom scenes, erotic fever dreams and some business involving the imprisonment of nude individuals in large tanks of water.
FULL COVERAGE: 2013 Spring arts preview
Built on the remnants of another film of the same name that was shot in Berlin in 1933 but never finished -- the footage is periodically intermingled -- the film is an ambitious and clearly impassioned undertaking, filled with captivating imagery, expertly shot. With so much to claim the attention of the eye, the obscure narrative isn't such a problem.
The one nagging annoyance, in this as well as several older films presented in the backroom, involves the inescapable actorliness of the actors, all of whose bodies, mannerisms and screen presence are clearly cut from the same cloth. They look like actors not of Weimar Germany but 21stcentury Los Angeles or Berlin (Reynolds' two cities of residence). One can only wonder how much richer Reynolds' generally absorbing mise-en-scène could be if it encompassed a wider range of human material.
For those craving insight into the fever dreams and water tanks, Reynolds will screen a first cut of the full film at multiple times throughout the day on Saturday.
Christopher Grimes Gallery, 916 Colorado Blvd., Santa Monica, (310) 587-3373, through May 4. Closed Sunday and Monday. www.cgrimes.com
MORE
INTERACTIVE: Christopher Hawthorne's On the Boulevards

CHEAT SHEET: Spring Arts Preview

PHOTOS: Arts and culture in pictures
---
Your essential guide to the arts in L.A.
Get Carolina A. Miranda's weekly newsletter for what's happening, plus openings, critics' picks and more.
You may occasionally receive promotional content from the Los Angeles Times.