Lego introduces a monochromatic, forgiving architecture set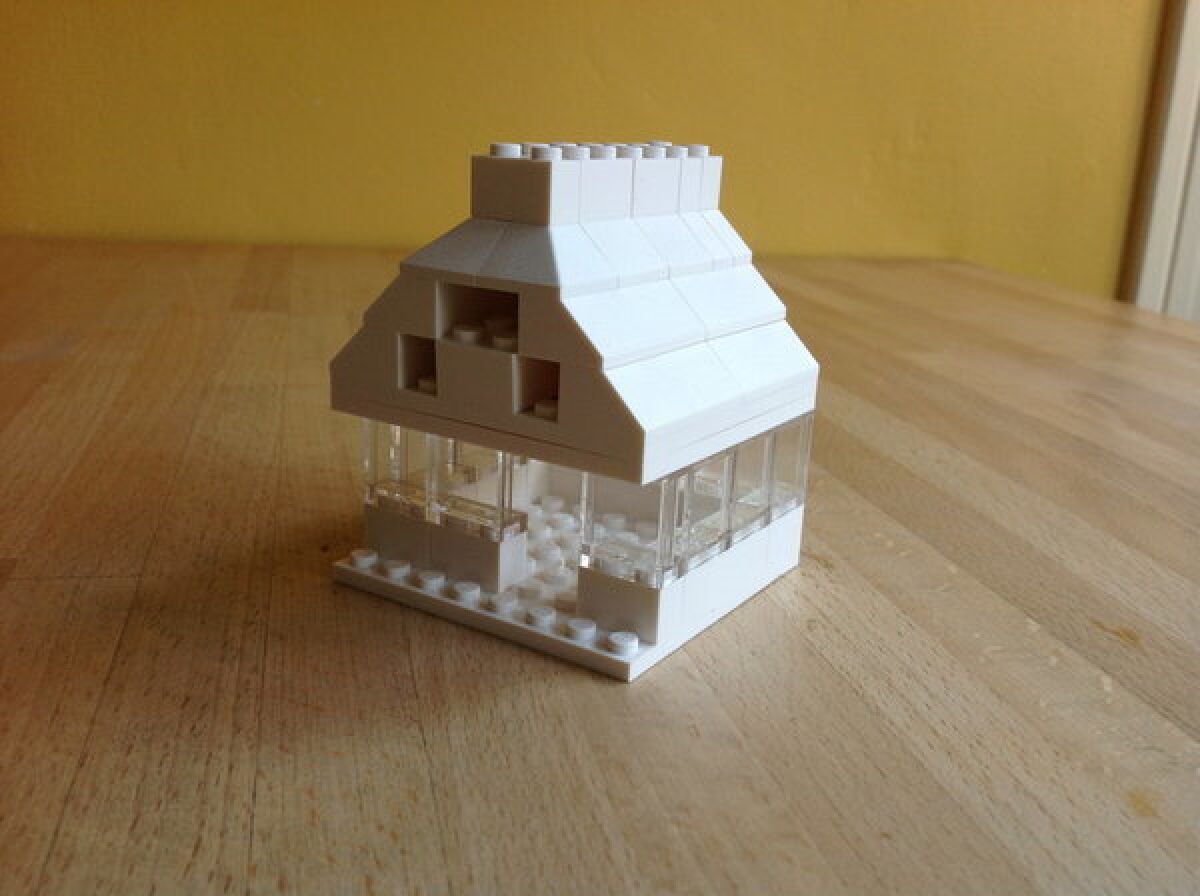 Times Architecture Critic
Over the last couple of weeks, a tiny monochromatic skyline has been growing in my kitchen.
Since opening Lego's new "Architecture Studio," my two daughters (who are 9 and 4) and I have been putting together, dismantling and redesigning a group of about 10 buildings. We've kept the results on display on a shelf above the sink.
Because the Architecture Studio includes bricks in just two shades – white and transparent – the buildings we've created all seem to be related, at least distantly, to modern architecture. This is a decidedly Corbusian color scheme; as my 9-year-old put it, gesturing in the direction of a house she'd made, "If that was hot pink, it wouldn't look modern."
Even her barn-like structure with a pitched roof, shown above, looked as much Cliff May as old-fashioned stable, thanks in part to a transparent ground floor. The limited palette also seems to make the kit more forgiving — nearly any design looks pretty good in all white or the Lego equivalent of all glass (or some mixture of the two).
CRITICS' PICKS: What to watch, where to go, what to eat
Lego has produced a number of architecture-related products, but they've tended to be kits to design a single famous building: Frank Lloyd Wright's Fallingwater, for example, or the Sydney Opera House. The Architecture Studio is closer in spirit to the original Legos, the ones that allow you to build whatever you feel like building.
And as Edwin Heathcoate, the British architecture critic, pointed out recently, there's something to be said for simplicity and open-endedness in toys. Part of that is nostalgia, I think, for a pre-digital age; but you can't argue with the number of accomplished architects who talk about playing with Legos or the most basic of wooden blocks as a formative experience. In that sense it's surprising Lego didn't release a set like this years ago.
The Architecture Studio comes with a pretty thick book featuring interviews with (and design advice from) a variety of architecture firms, including Tokyo's Sou Fujimoto and the Swedish office Tham & Videgård. But it's as much a collection of conceptual essays on the nature of architectural play as instruction manual -- and, to be fair, this is a product pitched at a target audience a good bit older than my kids, really teenagers and up.
PHOTOS: Prince William and Kate Middleton's Lego royal wedding
In the end I decided I liked the limited color scheme: It made the ungainly buildings I put together seem to come from the same architectural family as the ones the girls made, even if the shapes and sizes were quite different. I suspect more than a few kids, though, will open the box and immediately wish for brighter colors, hot pink or otherwise.
As I thought back on the time we've played with the set, I realized something surprising: The only time the three of us spent a sustained period of time using it together was right after we first took it out of the box.
The 1,200 pieces in the set come, for some reason, all mixed up in a bunch of small pouches. Before we built anything we decided to sort them by type as we all sat on the floor. That took a full hour. It was strangely meditative. A rare quiet descended on the house as we tossed the little bricks into growing piles.
ALSO:
Review: 'Never Built Los Angeles'
Getty makes scores of images available to general public
MORE
PHOTOS: Hollywood stars on stage

CHEAT SHEET: Spring Arts Preview

PHOTOS: Arts and culture in pictures
Get our L.A. Goes Out newsletter, with the week's best events, to help you explore and experience our city.
You may occasionally receive promotional content from the Los Angeles Times.