Oh, the selfies you'll make at L.A.'s 14th Factory, where the art is so social. Our Instagram tour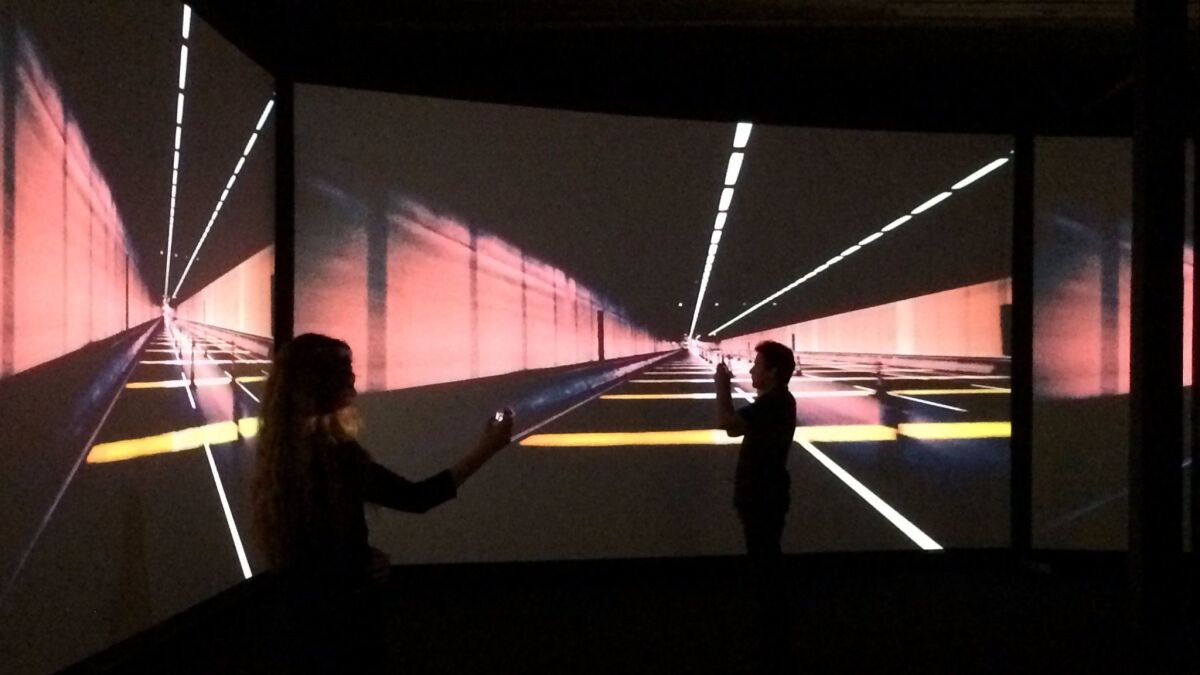 In the final scenes of Stanley Kubrick's mysterious space masterpiece "2001: A Space Odyssey," astronaut David Bowman, having just been sucked through a turbulent wormhole, ends up in a brightly lit bedroom where he appears as himself through various ages and times. That eerie set — a neo-classical-meets-sci-fi site of death and rebirth — is the perfect place for an Instagram.
Which is exactly what's been going down at The 14th Factory, an art installation created by British-born, Hong Kong-based artist Simon Birch, along with a crew of international collaborators.
The exhibition, which popped up last month at an old warehouse on Los Angeles' Eastside, features a series of room-sized experiences chock full of slo-mo video installations. (Think: a Ferrari, crashing cinematically.) It also has plenty of photogenic installs, including a room filled with dangling pitchforks, a courtyard stuffed with airplane tails and the Kubrick-inspired set, which was executed with the assistance of KplusK Associates, an architectural firm based in Hong Kong.
The latter piece, titled "The Barmecide Feast," is well built — down to the corny Late Empire porcelains employed as backdrop on the luminous white set. But the creepiness is lost in the absence of the film's mysterious black monolith and floating space fetus — not to mention the unsettling score. (Kubrick was really about the sum of his parts.)
According to The 14th Factory website, all of the installations in the show come together to form "a contemporary hero's journey … a kind of guerilla [sic] action where art occupies and re-energizes underutilized or even derelict urban spaces and gifts them back to the community in the form of a transformative experience."
Of course, you'll have to fork over $18 to be transformed — three dollars more than the adult admission fee at the Los Angeles County Museum of Art.
Needless to say, The 14th Factory is less ruminative art experience (sooooo muuuuch slooooo-moooooo) than it is a series of wondrous, over-the-top sets for the perfect selfie.
This makes Instagram the perfect platform through which to experience all the high-budget spectacle. Herewith, a tour:
And last but not least…
The following image isn't part of the show at The 14th Factory. (I snapped it afterward as I was driving through Lincoln Heights.) But it strikes me as the sort of environmental installation that definitely deserves to be called art.
The 14th Factory
Where: 440 N. Ave. 19, Lincoln Heights, Los Angeles
When: On view indefinitely
Info: the14thfactory.com
Sign up for our weekly Essential Arts & Culture newsletter »
ALSO
Datebook: Photos of Frida Kahlo, art inspired by sci-fi, and lots o' Jeff Koons
Michael Patterson and Candace Reckinger turn animation into a wild sensory art installation
NEA study explains financial effect of the arts nationally — and California's huge cultural economy
Get our L.A. Goes Out newsletter, with the week's best events, to help you explore and experience our city.
You may occasionally receive promotional content from the Los Angeles Times.