Must Reads: Meet the anonymous artist installing bus benches at neglected stops on L.A.'s Eastside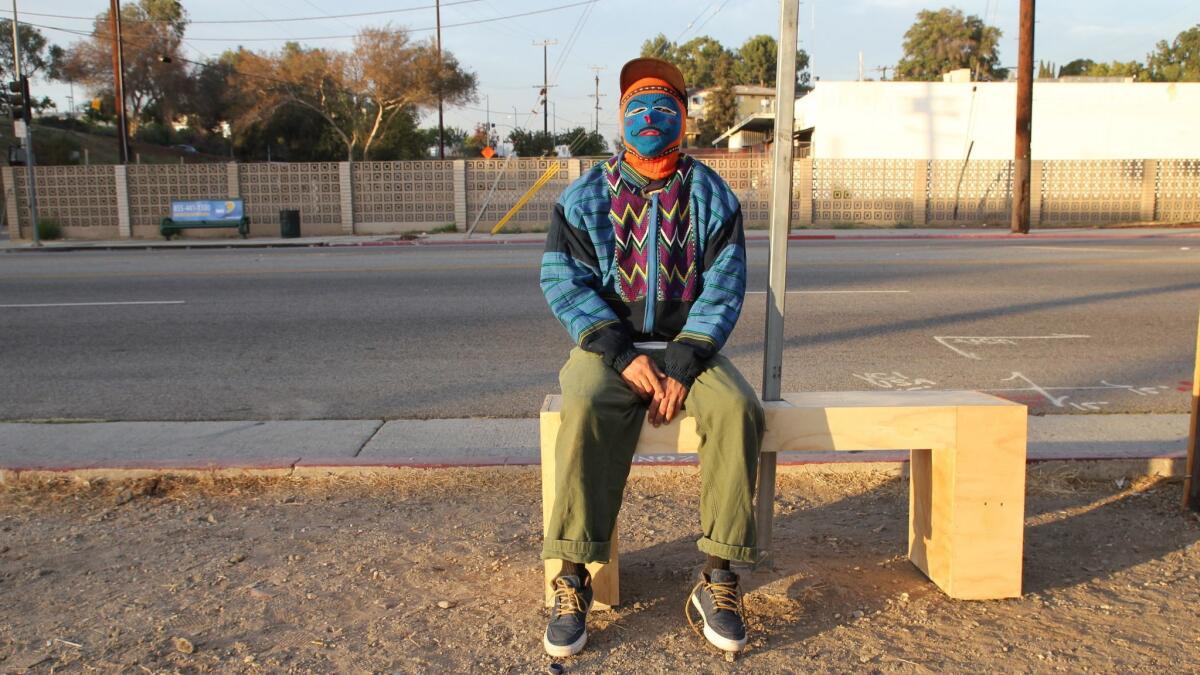 It is one of those Los Angeles bus stops for which "grim" would be a generous description. The eastbound stop of the Metro 76 bus on Valley Boulevard, just east of Soto in Boyle Heights, is more like a monument to urban neglect.
There is the setting: a rocky patch of dirt alongside railroad tracks that lead east out of downtown Los Angeles.
Then there is the complete lack of amenities: no shelter, no landscaping — and no place to sit. Unless you count the fragments of tarmac that someone has thoughtfully arranged into an improvised stool at the base of a commercial billboard nearby.
It's the sort of stop you might see on Streetsblog's annual "Sorriest Bus Stops" competition: Forlorn. Inhospitable. Designed with little regard to anyone who might take a bus. Which is why one Los Angeles artist has taken the matter of bus benches into his own hands.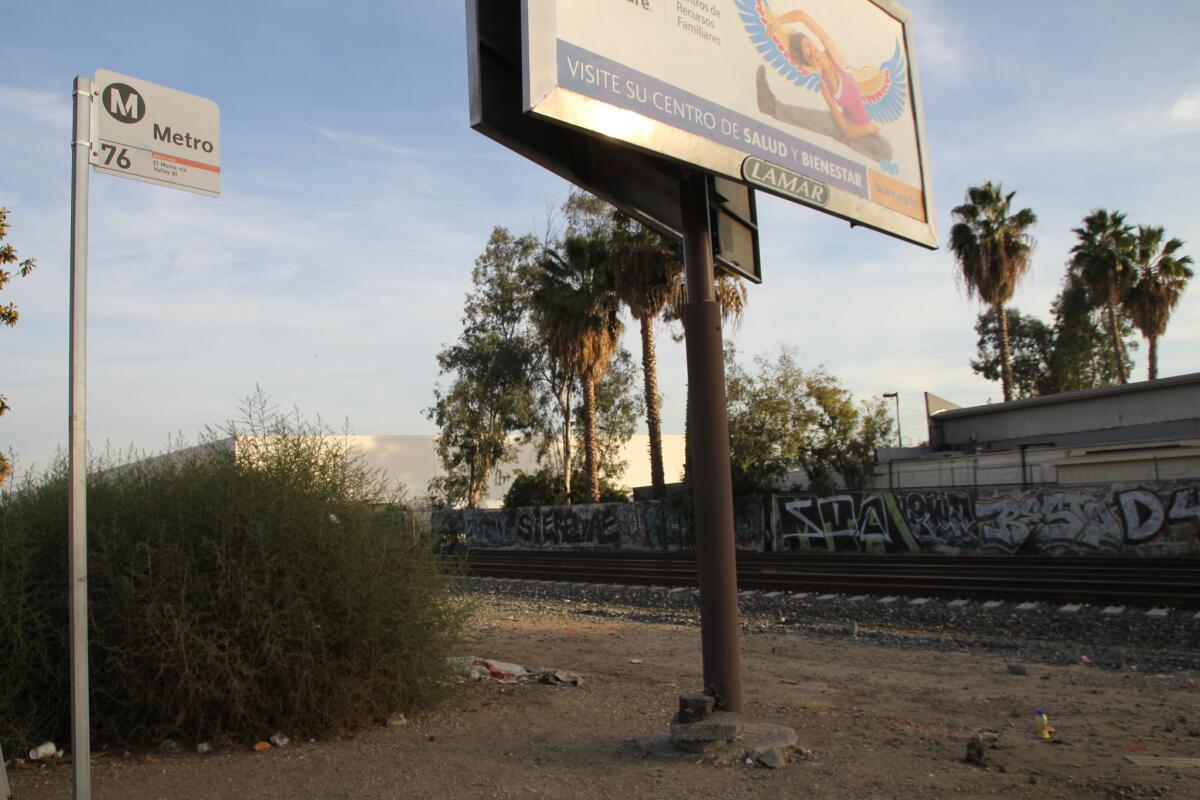 On a Sunday afternoon earlier this month, I find him at Valley and Soto, laying out slabs of wood and power tools. He is decked out in a bright waq'ollo mask typical of the Peruvian Andes (imagine a balaclava with a mustachioed face embroidered on it). The mask is to protect his identity; he prefers to remain anonymous.
Over the past 11 months, the artist has surreptitiously installed more than a dozen wood benches around the Eastside, and he has it down to a science: He props a ladder next to the bus sign, slips a handmade wooden bench over the pole and proceeds to screw, hammer and glue it into place. In about 15 minutes, the stop has a brand-new bus bench.
"This is allegedly the new biotech corridor," he says, gesturing at the neighborhood around us. We are less than half a mile from LAC+USC Medical Center. "But they don't care about the health of the people already here. It's like the city has refused to build benches for them."
So he builds them instead, depositing them at bus stops in Boyle Heights, El Sereno and downtown.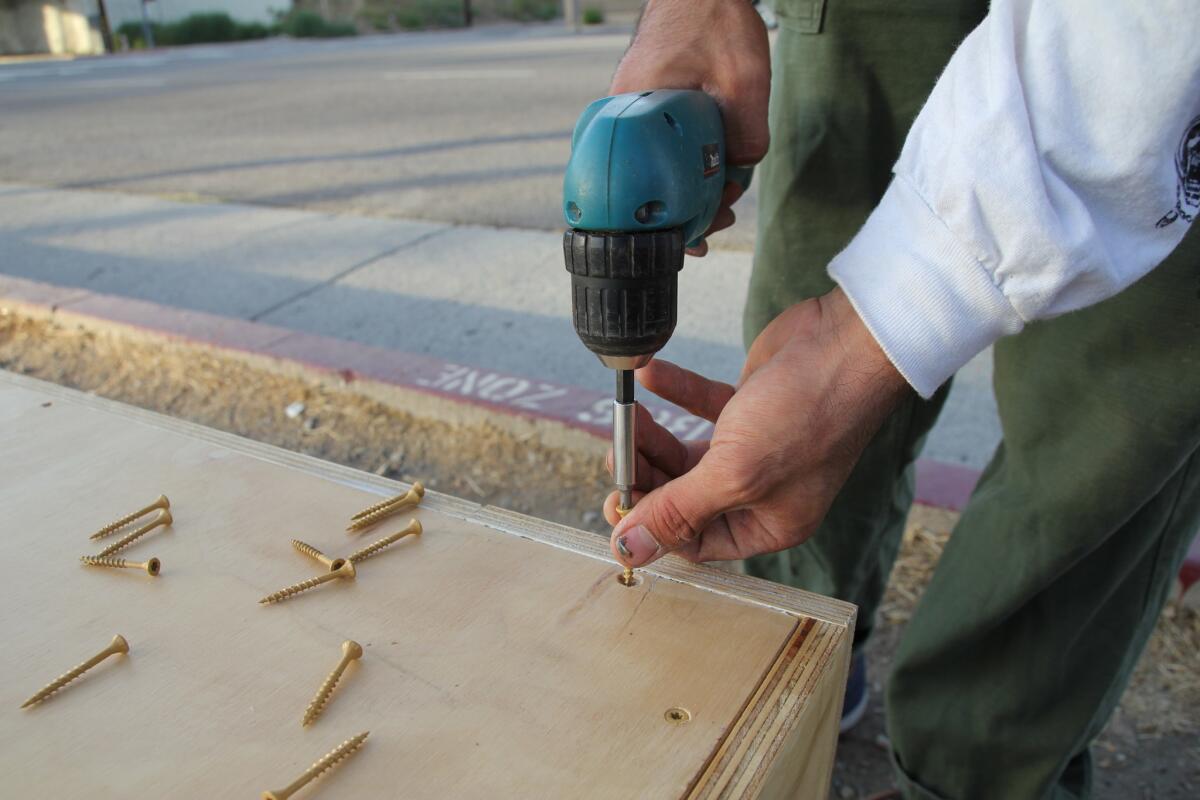 The installations were inspired by his encounters with the transit system in the wake of a debilitating knee injury he suffered two years ago. The stop near his Eastside home has no shade and no place to sit. One day, while waiting for the bus, he says he thought to himself, "If my knee gets better, I'll build a bus bench."
His knee did get better, so he built and placed a bench near his home, as well as near the home of a good friend who had cancer and used public transit to ride to medical appointments. Others have since followed.
Some of his benches have become part of the fabric of the city — sat on and rained on, captured on Google Street View and even vandalized. Scrawled in tidy handwriting on one bench was, "i love it, thank you," punctuated by a small heart.
Other benches (particularly those attached to sign poles) have been removed. Some disappear outright, others are broken into pieces and abandoned nearby — no easy feat, since the artist anchors them with cinder blocks and uses professional hardware.
"I work in the art industry as a carpenter," he says. "I use specific hardware to attach the benches … so you really have to demolish it."
His greatest frustration is that whoever is removing them is leaving bus riders with no place to sit.
"They're not providing any alternative," he says.
The benches and their removal get at one of the more byzantine corners of transit bureaucracy in Los Angeles. It would seem logical that L.A. Metro, the entity that oversees much of L.A.'s public transit, would also be the agency that manages street furniture. But it does not.
Instead, the allocation and installation of street furniture — including benches and shade structures at bus stops — fall to a combination of government bureaucracies. Namely, the Bureau of Street Services (part of the Department of Public Works) in combination with a respective city's local government. In the case of Los Angeles, that would be the individual council districts in which a given stop might exist. Also in on the mix are two private contractors — Martin Outdoor Media and Outfront / JCDecaux Street Furniture — which maintain a small network of benches and shelters, respectively, financed by advertising.
Naturally, this means that getting a bench or a shelter installed at a bus stop in the city of Los Angeles requires a frustrating level of red tape.
Any street furniture has to first be approved by the Los Angeles City Council. After that, a single bus bench travels through an extensive permitting process, requiring approval from the Department of Public Works, as well as eight — eight! — other city agencies including the Department of City Planning, the Bureau of Engineering, the Los Angeles Police Department and the Bureau of Street Lighting. Nearby property owners also have a say.
It is a process that the advocacy group TransitCenter described as "bloated and inefficient" in a nationwide report on bus stops issued last month.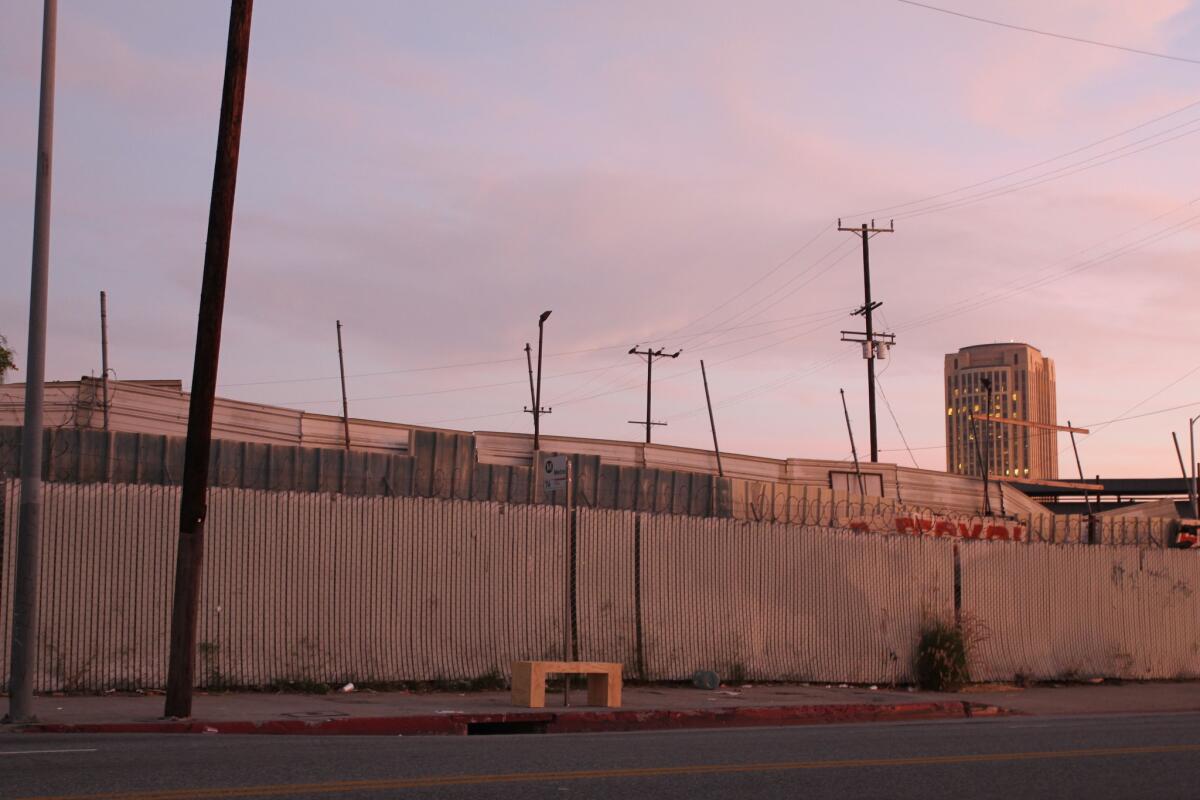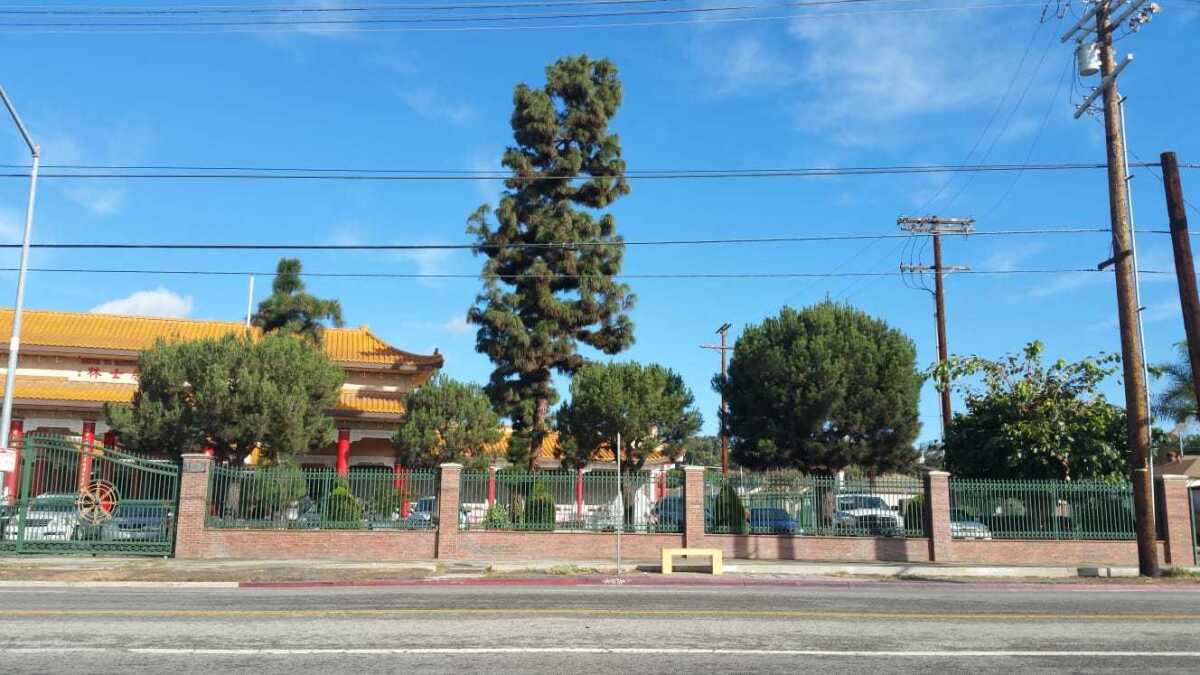 It is so bloated, in fact, that it has even hindered the installation of advertising-driven benches and shelters (from which the city gets a percentage of revenue). The city first contracted with JCDecaux for shelters in 2001. According to the TransitCenter report, as of 2018, only 1,700 of the 2,500 promised shelters have been installed. (As a point of comparison: under a similar program, JCDecaux installed 3,500 shelters in New York City over five years.)
But even if all of JCDecaux's shelters were to be installed, it wouldn't begin to solve the street furniture needs of a city transit system with nearly 16,000 bus stops — among them, lonelier stops in working-class districts, such as the one on Valley and Soto.
Which may explain why a single artist has taken it upon himself to provide Angelenos with a place to rest as they wait for the bus. (He isn't the only artist to take L.A. transportation infrastructure in his own hands: In 2001, Richard Ankrom installed a freeway sign over the 110 to better mark the exit for the northbound 5 Freeway. It remained in place for more than eight years.)
The big mystery with the bus benches is trying to figure out why some of them disappear.
Not five days after I watched the artist install his bench at Valley and Soto — the second one he has installed there — it was gone. Was it the city? Was it a random dude with a crowbar? Is there someone with a deep-seated enmity toward public seating reporting them as garbage to 311?
The no man's land of bureaucracy that bus stops inhabit has made that difficult to determine. A spokesman for the Department of Public Works said they don't know. The Bureau of Street Services did not return a request for comment. The two outside contractors say they maintain only the street furniture they provide and aren't responsible for removing other objects.
The Valley/Soto bus stop lies in Councilman Jose Huizar's district. But a request for comment on the matter also went unreturned. (That may be because the councilman's office was raided by the FBI earlier this month.)
The removals have been disheartening for the artist, who takes great care in fabricating his pieces. But he says it hasn't dissuaded him from making more.
"I will slowly continue rebuilding the benches that were destroyed," he says, "unless the city beats me to it."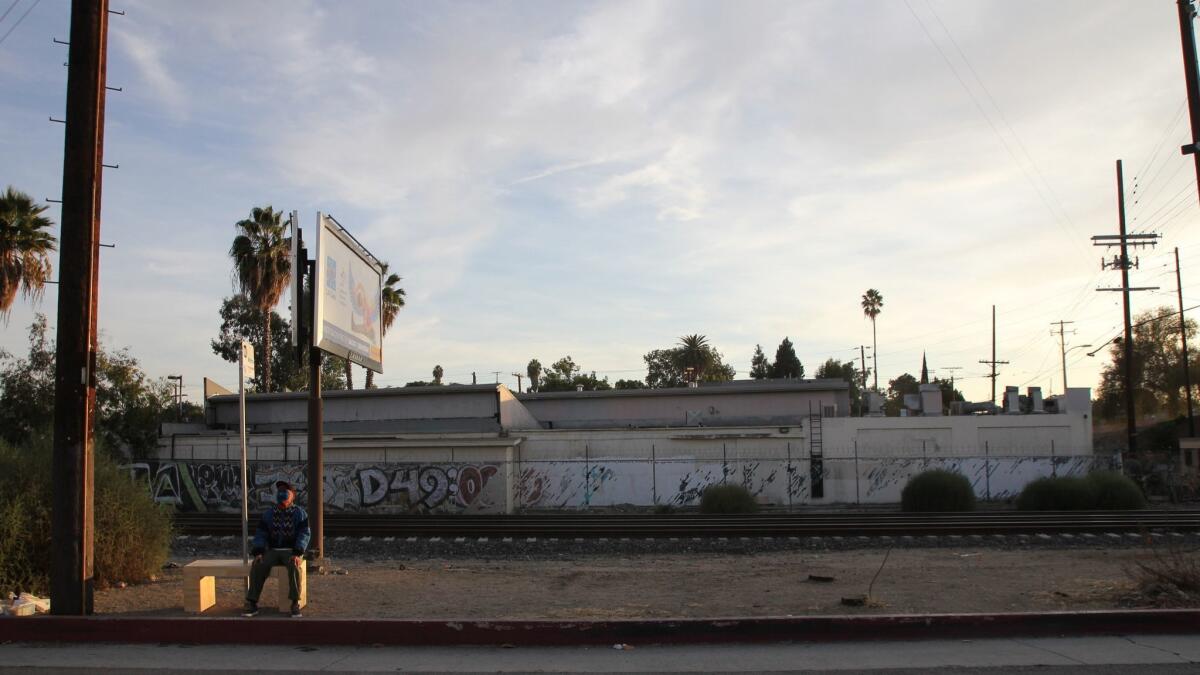 ALSO
In artist's freeway prank, form followed function
Guadalupe Rosales used Instagram to create an archive of Chicano youth of the '90s — now it's an art installation
The best of times, the worst of times: art in the age of rising white supremacy
French street artist Invader heads 'into the white cube' for a solo show — and into the streets for a new L.A. 'invasion'
Review: Architecture and sculpture in perfect union at the Schindler House
Sign up for our weekly Essential Arts & Culture newsletter »
carolina.miranda@latimes.com | Twitter: @cmonstah
Get our L.A. Goes Out newsletter, with the week's best events, to help you explore and experience our city.
You may occasionally receive promotional content from the Los Angeles Times.