Photos:: Architect Smiljan Radic's striking redo of Chile's pre-Columbian museum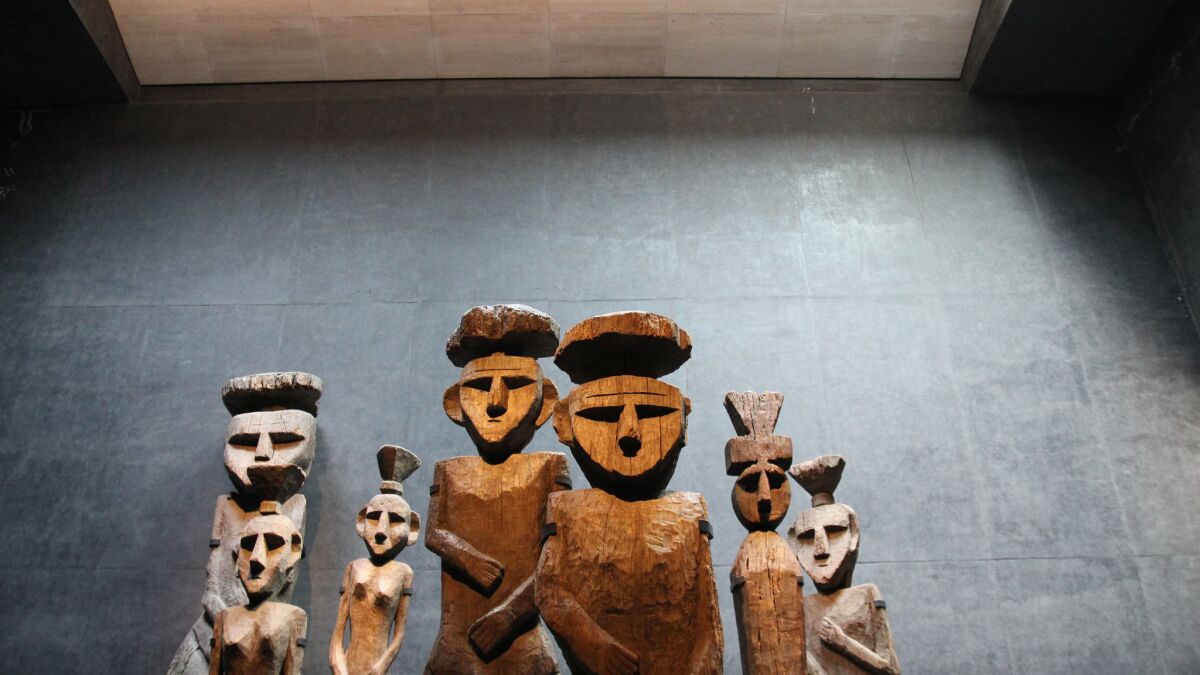 reporting from Santiago, Chile —
First in a series of dispatches by Carolina A. Miranda exploring the art and architecture of Chile.
Chilean architect Smiljan Radic is best known for seemingly coming out of nowhere to create the 2014 summer pavilion for London's Serpentine Gallery, which each year chooses a different architect to design a temporary structure open to the public for three months. Frank Gehry, Zaha Hadid, Peter Zumthor and Oscar Niemeyer are some of the series' previous architects.
For his pavilion, Radic produced a form that was somewhere between a neolithic doughnut and a luminous alien egg (its thin fiberglass shell allowed light to escape at night). The whole structure rested on array of over-sized rocks. The unusual piece was well-received by critics. A writer for the Telegraph described it as "heroically peculiar," a structure that "seems to stand out of time."
Radic may have been little-known abroad before his Serpentine pavilion, but he has far more acclaim in his native Chile, where he has designed homes, restaurants and a winery. One of his more notable public projects inside Chile is the redesign of the Chilean Museum of Pre-Columbian Art in Santiago, housed in what was once a royal customs house. Visiting the museum and wandering the halls of Radic's freshly reworked space was a chance to indulge my interest in the intersection of art and architecture.
And, like his alien egg, it does not disappoint. The architect has taken a somewhat dour neoclassical building from the late colonial era (c. 1805) and turned it into a remarkable space in which to look at pre-Columbian art.
The redesign honors the footprint of the original structure — two stories of rectangular rooms that surround a pair of interior courtyards, typical of the Spanish style.
But Radic has deftly reworked the building's guts.
Gone are the creaking wood floors that you find in most colonial structures, replaced by cool black granite. A stark, charcoal-hued staircase brings together the first and second floors. It also descends into what is without a doubt the building's pièce de résistance: a 5,000-square-foot underground gallery (unable to build up, Radic went down) that houses masterworks of Chilean pre-Columbian art. The space is majestic, lined with Amazonian woods and Béton brut concrete, and flanked at each end by a pair of slim skylights. The whole experience is like entering some fantastical ancient tomb.
Combined with Geoffrey Pickup's elegant installation design (he knows how to let a work breathe), it all comes together to reinvigorate the art.
Pre-Columbian galleries are often overstuffed, musty affairs — a million clay shards in endless vitrines. But the Chilean Museum of Pre-Columbian Art brings drama to the works in its collection, which are just divine: tender Moche vessels in the shape of wild animals, a curious Chimu tunic full of crazy knots, and totemic Mapuche grave markers with their impassive gazes.
ArchDaily has a good explanation of the Radic design. But check out my photo essay above for a tour of the building. Unfortunately, I wasn't able to get a clean shot of the Taíno vomit spatulas — gagging devices used to help clean the system prior to religious ritual — so you'll just have to click through to see them on the museum's website.
The Chilean Museum of Pre-Columbian Art (Museo Chileno de Arte Precolombino) is located at Bandera 361 in downtown Santiago, precolombino.cl.
Find me on Twitter @cmonstah. While I'm traveling, I'll also be posting to Instagram, also at @cmonstah.
---
Get our L.A. Goes Out newsletter, with the week's best events, to help you explore and experience our city.
You may occasionally receive promotional content from the Los Angeles Times.